Celestial reliefs depicting the heavens uncovered in the Temple of Esna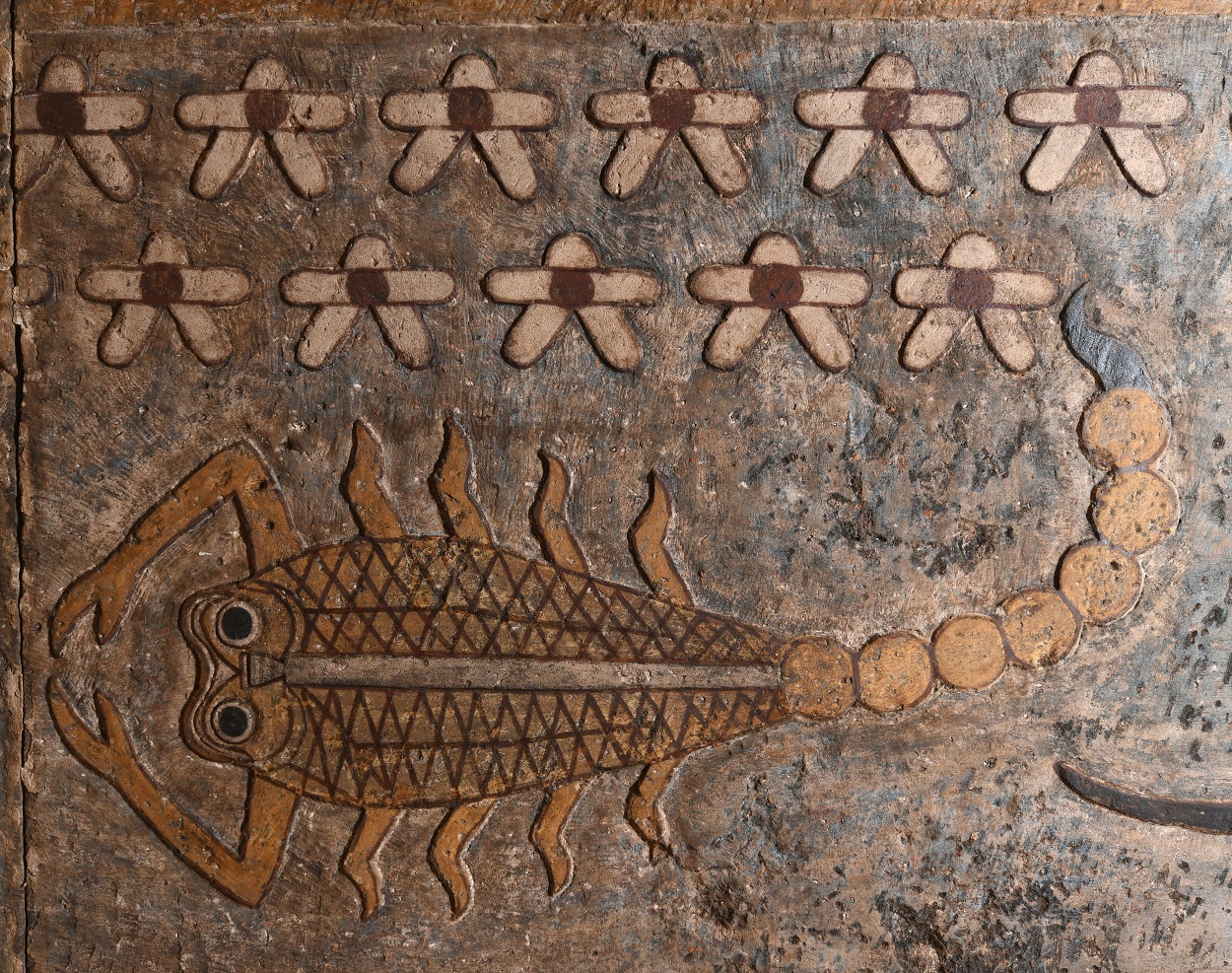 A team of researchers from the Egyptian Ministry of Tourism and Antiquities, and the Universitaet Tübingen, have uncovered a collection of ceiling reliefs during restoration works in the Temple of Esna.
The Temple of Esna, also known as the Temple of Khnum, is a temple complex dedicated to the Ancient Egyptian god, Khnum, and his consorts Menhit and Nebtu, their son, Heka, and the goddess Neith.
The temple was constructed during Ptolemaic times in the Egyptian city of Esna, which during antiquity was known as Latopolis.
During restoration and re-colouring works, the team found a representation of the heavens that depicts the signs of the zodiac, several planets such as Jupiter, Saturn, and Mars, in addition to a number of stars and constellations used to measure time.
Image Credit : Ahmed Emam, Ministry of Tourism and Antiquities
Over the centuries, the reliefs and their vibrant colours became covered by a layer of dirt and soot, preserving them for nearly 2,000 years.
Christian Leitz, Director of the Department of Egyptology at the University of Tübingen said: "Representations of the zodiac are very rare in Egyptian temples. The zodiac itself is part of Babylonian astronomy and does not appear in Egypt until Ptolemaic times."
The archaeologists suggest that the system of zodiac signs and their related constellations didn't appear in Egypt until they were introduced by the Greeks, which were then used to decorate private tombs and sarcophagi. The zodiac was also of great importance in astrological texts, such as horoscopes found inscribed on pottery sherds.
Image Credit : Ahmed Emam, Ministry of Tourism and Antiquities
"It is rare in temple decoration: Apart from Esna, there are only two completely preserved versions left, both from Dendera," added Leitz.
The team also found images of various creatures, including a snake with a ram's head, a bird with a crocodile's head, the tail of a snake and four wings, and depictions of snakes and crocodiles.
Header Image Credit : Ahmed Emam, Ministry of Tourism and Antiquities
Clusters of ancient qanats discovered in Diyala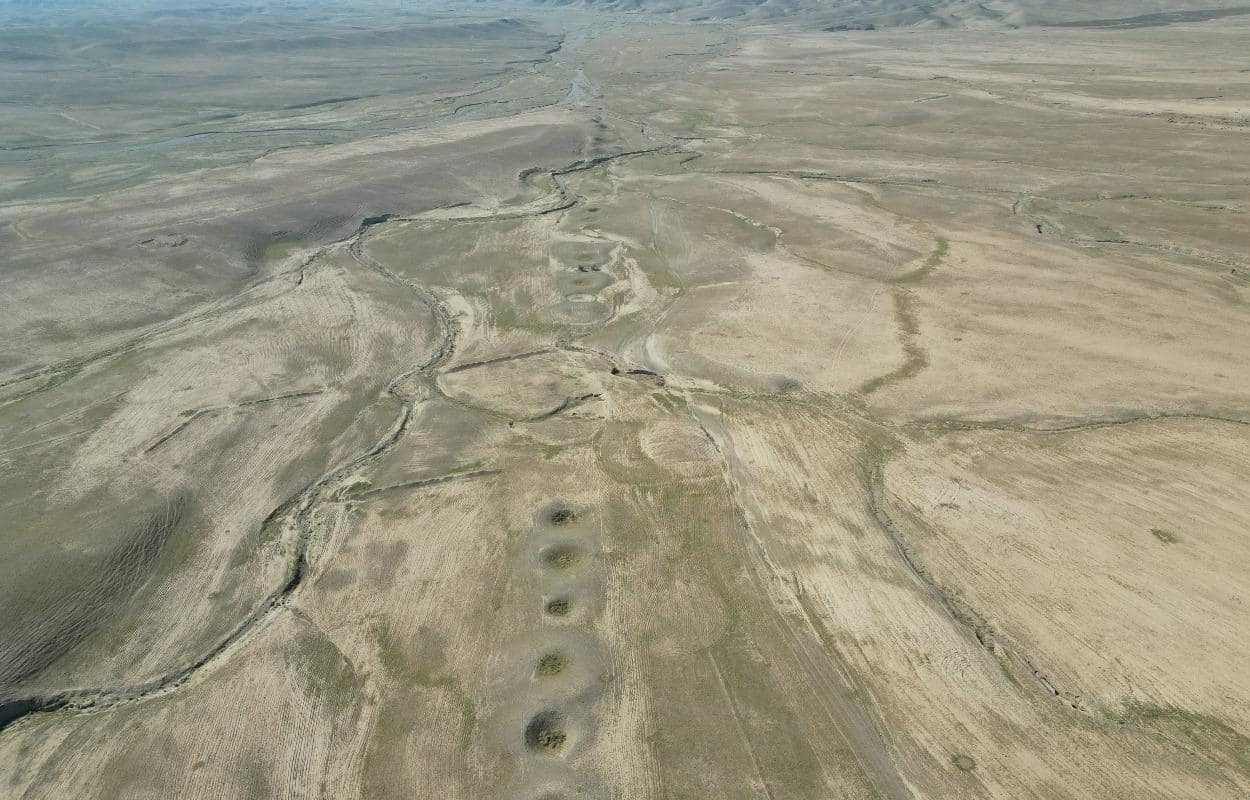 An archaeological survey has identified three clusters of ancient qanats in the Diyala Province of Iraq.
A qanat, also known as a kārīz, is a system for transporting water from an aquifer or water well over long distances in hot dry climates without losing water to evaporation.
Qanats use a sequence of vertical shafts resembling wells, linked by a gently inclined tunnel that serves as a conduit for channelling water. Qanats efficiently transport substantial volumes of underground water to the surface without requiring pumps.
The water naturally flows downhill by gravity, with the endpoint positioned at a lower level than the origin. When the qanat is still below ground, the water is drawn to the surface via water wells or animal driven Persian wells.
Image Credit : State Board of Antiquities & Heritage
Some Qanats are divided into an underground network of smaller canals known as kariz, functioning similarly to qanats by staying beneath the surface to prevent contamination and evaporation. In certain instances, water from a qanat is stored in a reservoir, usually with nighttime flow reserved for daytime usage.
The technology for qanat's first emerged in ancient Iran around 3,000-years-ago and slowly spread westward and eastward.
A recent survey within the Diyala Province has discovered three clusters of qanats stretching between the areas of Jalulaa and Kortaba. Initial studies dates the clusters to around AD 1000, a period known as the "Iranian Intermezzo", when parts of the region were governed by a number of minor Iranian emirates.
The first cluster consists of 25 wells on a linear alignment connected to an adjacent 10 metre deep water channel. The second cluster also has 25 wells and is connected to a 13 km long hand dug channel, while the third cluster consists of 9 wells connected to water canals dug on both sides.
Header Image Credit : State Board of Antiquities & Heritage
This content was originally published on www.heritagedaily.com – © 2023 – HeritageDaily
16,800-year-old Palaeolithic dwelling found in La Garma cave
Archaeologists have discovered a 16,800-year-old Palaeolithic dwelling in the La Garma cave complex, located in the municipality of Ribamontán al Monte in Spain's Cantabria province.
The La Garma cave complex is a parietal art-bearing paleoanthropological cave system on the southern side of the La Garma Hill.
The cave complex is noted for one of the best preserved floors from the Palaeolithic period, containing more than 4,000 fossils and more than 500 graphical units.
A project led by Pablo Arias and Roberto Ontañón from the University of Cantabria has recently announced the discovery of a Palaeolithic dwelling within the cave system, described as "one of the best preserved Palaeolithic dwellings in the world."
The dwelling is an oval space and is delimited by an alignment of stone blocks and stalagmites that supported a fixed structure of sticks and skins leaning against the cave wall. The total area of the space is around 5 square metres that centred on a camp fire.
Archaeologists also found vestiges of various daily activities associated with Magdalenian hunters and gatherers at the dwelling, including evidence of stone manufacturing, bone and antler instruments, and the working of fur.
In total, over 4,614 objects have been documented, such as dear, horse and bison bones, 600 pieces of flint, needles and a protoharpoon, shells of marine mollusks, as well as numerous pendants worn by the cave dwelling inhabitants.
Additionally, the researchers also found a number of decorated bones, including a remarkable pierced aurochs phalanx engraved with a depiction of both the animal itself and a human face—a distinctive artefact unique to the European Palaeolithic era.
Due to the national importance of the discovery, the team used innovative non-intrusive techniques in their study of the dwelling. This includes continuous tomography of the soils, 3D cartography, the molecular and genetic analysis of soils and Palaeolithic objects, mass spectrometry, and hyperspectral imaging.
Header Image Credit : University of Cantabria
This content was originally published on www.heritagedaily.com – © 2023 – HeritageDaily