Excavation uncovers early medieval "folding chair" made from iron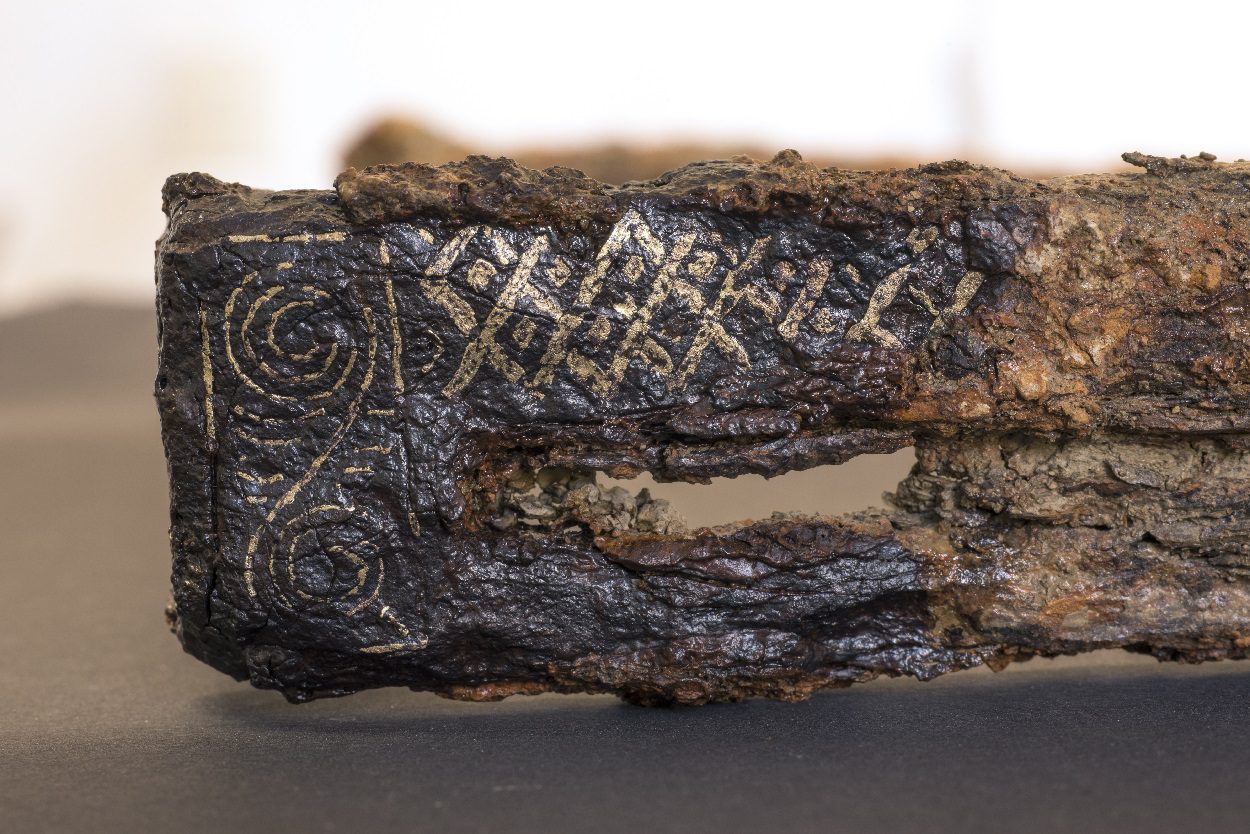 Archaeologists have uncovered a "folding chair" from the 7th century AD during excavations in the village of Endsee, located in Middle Franconia, Germany.
The chair was first discovered in 2022, deposited as a funerary offering in a burial from the early medieval period. The grave contained the remains of a woman aged 40-50-years-old, along with a necklace made of small multi-coloured glass beads, two brooches, an almandine disc brooch, a large millefiori bead, and a whorl.
In addition to the woman's grave, the archaeologists also uncovered a man's grave containing richly decorated weapons (lance, shield, spathe). According to the researchers, the graves are probably related to the Franconian influence of the Main and Tauber regions in the 6th and 7th centuries.
Now unveiled to the public at the "Archaeology in Bavaria" conference following a lengthy restoration process, the chair consists of two frames connected with an axle pin and is decorated with brass non-ferrous metal inlays. There are narrow slots on the horizontal struts, which were used to attach a seat likely made from animal fur (as indicated by mineralised organic remains).
Image Credit : Bayerisches Landesamt für Denkmalpflege
Folding chairs deposited as grave goods are exceptionally rare. Within scholarly investigations they suggest that the deceased held a prominent position or occupied a higher social status. To date, there have been 29 instances of early medieval graves containing folding chairs discovered throughout Europe, with merely six of them being crafted from iron.
Prof. Mathias Pfeil, head of the Bavarian State Office for Monument Preservation, said: "The extremely rare discovery of an early medieval iron folding chair in 2022 was already a sensation, but the fact that such details have been preserved after remaining in the ground for over 1,400 years was a surprise."
"This find, which at first glance seems so modern, is an absolute rarity and of the highest cultural and historical interest, because it provides insight into the grave furnishings of prominent sections of the population," added Prof Pfeil.
Bayerisches Landesamt für Denkmalpflege
Header Image Credit : Bayerisches Landesamt für Denkmalpflege
Archaeologists find 22 mummified burials in Peru
A Polish-Peruvian team of archaeologists have uncovered 22 mummified burials in Barranca, Peru.
The discovery was made on the Cerro Colorado hill, where the researchers unearthed the burials in one of four mounds located in a cluster.
Bioarchaeologist, Łukasz Majchrzak, said: "The bodies are wrapped in fabrics and plant material known as burial bundles. Between the layers of the fabrics we found ceramics, tools, and cult objects placed as funerary offerings."
The team also found corn cobs and unidentified plant materials, which were likely placed as food for the deceased on their journey to the afterlife.
Six of the burial bundles contain the remains of adults placed in the fetal position, with their upper and lower limbs tucked under their chests.
According to the researchers, the adult burials are arranged vertically, which makes them appear as if they were sitting. They all have a similar external appearance, wrapped in thick fabric and entwined with rope.
One of the adult bundles is decorated with geometric patterns, while the remaining bundles – as Majchrzak suggests – may contain representations of animals and deities.
The other 16 burial bundles mostly contain the remains of children no older than 2 years old who were placed in a horizontal position.
The team plan to use computed tomography to examine completely preserved burial bundles that have no visible damage to allow for a non-invasive anthropological analysis. In further stages, they plan to carry out a chemical and isotope analysis, including the strontium isotope, which will determine whether the burials are from a local population.
Header Image Credit : R. Dziubińska
This content was originally published on www.heritagedaily.com – © 2023 – HeritageDaily
Oldest prehistoric fortress found in remote Siberia
An international team, led by archaeologists from Freie Universität Berlin has uncovered an ancient prehistoric fortress in a remote region of Siberia known as Amnya.
According to a study, published in the scientific journal "Antiquity", the fortress is a complex system of defensive structures around an ancient settlement, dating from 8,000 years ago.
The fortress is spread across two settlement clusters, Amnya I and Amnya II. Amnya I consists of extant surface features such as banks and ditches, which enclose the tip of a promontory, and 10 house pit depressions. Ten further house pits, located approximately 50m to the east, comprise the open settlement of Amnya II.
Excavations have uncovered approximately 45 pottery vessels within the wider complex, including pointed and flat-based forms that reflect two distinct typological traditions.
The Amnya settlement complex signifies the start of a distinctive, enduring trend of defensive sites among hunter-gatherers in northern Eurasia—an almost continuous tradition that persisted for nearly eight millennia until the Early Modern period.
Tanja Schreiber, archaeologist at the Institute of Prehistoric Archaeology in Berlin and co-author of the study, explains, "Through detailed archaeological examinations at Amnya, we collected samples for radiocarbon dating, confirming the prehistoric age of the site and establishing it as the world's oldest-known fort.
"Our new palaeobotanical and stratigraphical examinations reveal that inhabitants of Western Siberia led a sophisticated lifestyle based on the abundant resources of the taiga environment," added Schrieber.
The construction of fortifications by foraging groups has been observed in different parts of the world, primarily in coastal regions during later prehistoric periods. However, the early in inland western Siberia is unparalleled.
According to the researchers, the discovery transforms how we perceive ancient human communities, questioning the notion that the establishment of permanent settlements with grand architecture and intricate social systems began solely with the rise of agriculture.
Header Image Credit: Nikita Golovanov
This content was originally published on www.heritagedaily.com – © 2023 – HeritageDaily