UFOs Shot Down: Developing Story Feb 2023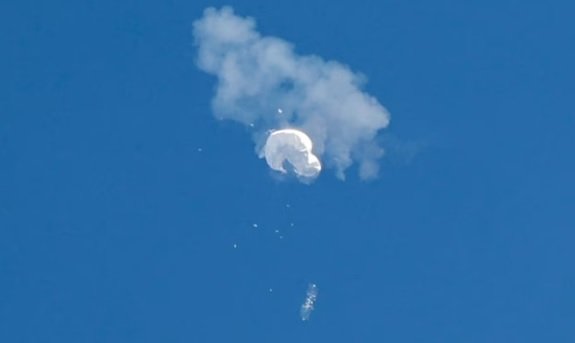 The UFOs shot down this week have been described as silvery and cylindrical in shape, much like previous descriptions of Tic Tac UFOs like in this photo taken by the Department of Defense.
There have been reports of several unidentified objects being shot down by US, Canadian and Chinese Military at the beginning of February 2023. What is going on?
UFO Shot Down over Alaska
On Feb 9th, US officials announced that the military took down a mystery flying object over the Arctic Ocean near Alaska for safety reasons. Spokesperson for the National Security Council, John F. Kirby, gave a statement about the incident during a press conference.
Over the weekend, US Northern Command, Alaska National Guard, FBI, and local law enforcement joined forces to recover the object and figure out what it is. Due to harsh conditions, such as freezing temperatures and limited daylight on the sea ice, the recovery process is moving slowly.
The Pentagon's statement regarding the Alaskan incident stated that they don't have any further information on the object, including its capabilities, purpose, and where it came from.
UFO Shot down over Canada
Early Saturday 11th Feb, Pentagon officials announced that an object taken down over the Yukon was spotted on radar as it flew over Alaska on Friday.
American and Canadian fighter jets were sent to track it. Brig. Gen. Patrick S. Ryder, the Pentagon press secretary, said that monitoring continued as the object entered Canadian airspace.
The F-22 took it down using the same missile that was used to shoot down two previous objects, including the Chinese spy balloon a week earlier.
Defense Secretary Lloyd J. Austin spoke with Canadian counterpart Anita Anand on Saturday, according to General Ryder. At a news conference that evening, Anand described the object as cylindrical and smaller than the spy balloon that was taken down over the Atlantic the previous weekend.
UFO Shot Down Over China
According to a report by The Hindustan Times, the Chinese Military has seen a mystery flying object near Qingdao and they're getting ready to shoot it down. An employee from the marine development authority in Qingdao's Jimo district said the "relevant authorities" are prepping to take down the object. The same employee said that local fishermen have been warned to watch out for their safety.
US Closes Airspace over Lake Michigan – Another Object is shot down
The New York Times has confirmed that another unidentified object has been shot down over Lake Michigan. This is the fourth.
Increased UFO sightings by civilians in February 2023
Reddit's High Strangeness subreddit has been inundated with UFO sightings over the last few days. Here is a particularly impressive one captured at Doncaster in the UK:
Incredibly fast UFO spotted at Doncaster in the UK around the same time as the UFOs being shot down by the US Military
Theories about the UFOs That Have Been Shot Down
A Chinese spy balloon is shot down over South Carolina on Feb 4th 2023. Photo: Washington Post
The most prevalent theory about these UFOs is that they are Chinese Spy Balloons attempting to capture as much information as they can about US Military bases.
Chuck Schumer, US Senate Majority Leader, spoke to the media before the US took down another flying object on Sunday. Although he didn't mention that the objects from Friday and Saturday were Chinese, he told ABC that it's probably a bunch of Chinese balloons that have "been all over the world".
When asked about Chuck Schumer's comments, the US Department of Defense spokesperson said that the two objects he mentioned "didn't look much like" the original balloon and were much smaller, according to Reuters.
This would lead us to believe that perhaps these objects are not just more spy balloons but something stranger.
We could let our imaginations run wild with speculation but we will wait for more information to come forward before coming to a conclusion on this one.
Have you seen any UFOs in the last few weeks that mght add to this mystery? Let us know in the comments.
If you are interested in the UFOs that have been shot down you might also be interested in 2022 UFO Congressional Hearing or a mysterious ome of light seen by military aircraft.

The Mysterious Chinese Pyramids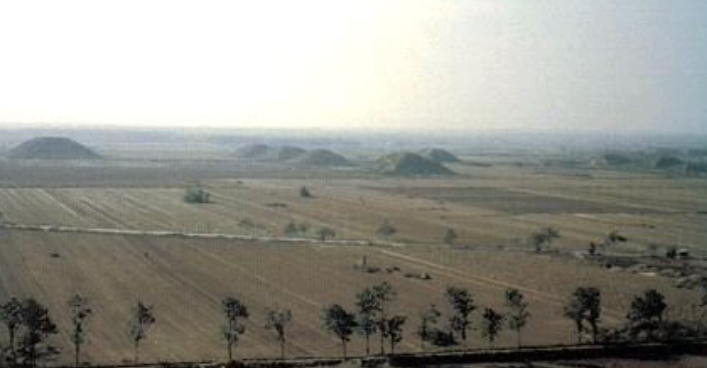 The Chinese Pyramids of Shaanxi Province, China. Photo: Atlas Obscura
Xi'an, Shaanxi, China, is home to numerous mysterious pyramids located alongside the Wei River. Some people believe the pyramids have alien connections.
Where are the Chinese Pyramids?
A map showing Xi'an, where many of the Chinese Pyramids are located.
Shaanxi Province in Central China contains ancient secrets dating back almost 8,000 years. Xi'an, the province's capital, is home to dozens of pyramids situated along the Wei River, while numerous others are scattered throughout different regions of the country.
While some of these monuments feature step-like structures reminiscent of those found in Mesoamerica, many others are simply enormous earthen mounds that conceal intricate underground chambers and passages constructed for the benefit of royalty. The tallest of these pyramids stands at 154 feet, although it was originally 249 feet tall during its prime.
It is widely accepted among archaeologists that China's pyramids were constructed as a means of paying tribute to esteemed emperors and their families.
According to History101.com, some of these tombs contain subterranean palaces, kitchens, and even toilets. Chinese historian Sima Qian once claimed that over 700,000 workers were involved in constructing Qin Shi Huang's tomb, although this figure is now thought to be an exaggeration. British historian John Man suggests that the project likely required 16,000 workers and two years to complete.
Legend has it that Qin Shi Huang had been planning his tomb since his youth, with the site situated at the base of Mount Li. The pyramid was reputed to have been booby-trapped with crossbows and mercury to deter thieves from stealing the emperor's treasures.
Intrigued by these tales, archaeologists explored the mausoleum and discovered unusually high levels of mercury, lending some credence to the legends.
The famous Terracotta Warriors, found near an ancient Chinese pyramid
One of the most astounding archaeological discoveries occurred in 1974, when Chinese farmers stumbled upon over 6,000 terracotta warriors. These statues were left behind to safeguard the emperor and ward off malevolent spirits as he journeyed through the afterlife. The tomb also contained chariots and around 40,000 weapons.
CHinese Pyramids ANd Feng SHui
Another Chinese Pyramid
In 2018, Italian archaeoastronomer Giulio Magli put forward a novel theory regarding China's pyramids, suggesting a possible link to celestial bodies.
Magli is renowned for his expertise in uncovering the astronomical connections to ancient sites in regions like Greece, Egypt, Central and South America.
In addition to examining the pyramids themselves, Magli also explored the potential use of the ancient practice of feng shui in the placement of these royal burial sites.
By studying satellite imagery, he hoped to identify any correlation between the positioning of the pyramids and the stars, given the belief of ancient Chinese rulers that their reigns were divinely ordained.
According to Magli, the emperors of the Western Han dynasty may have chosen to align their tombs with the Earth's cardinal points – north, south, east, and west – to demonstrate their supreme authority over the world.
The Alien Connection to the Chinese Pyramids
There is a group of emperors whose tombs display a noticeable lack of alignment, with some being off by as much as 14 degrees. According to Magli, this off-kilter positioning of the pyramids and burial sites can be attributed to a slight tilt in the Earth's axis as it revolves around the sun. During the construction of the pyramids, they would have aligned with the star Polaris.
Magli posits that in ancient times, Polaris held significant celestial importance. He suggests that certain emperors may have deviated from tradition and opted to construct their tombs in honor of Polaris rather than the Earth.
The first widespread exposure of China's pyramids came from U.S. Army Air Corps pilot James Gaussman, who claimed to have spotted a bejeweled pyramid while flying missions between China and India. On March 30, 1947, the "New York Times" published a story by Colonel Maurice Sheahan, detailing the strange pyramid he had observed in China. Gaussman's photo accompanied the article.
The story soon became connected to theories that linked China's pyramids to both the ancient lost city of Atlantis and extraterrestrial life. Some claimed that Xi'an villagers had passed down stories of their ancestors conversing with "people from the sky."
The "Alien Launchpad" Pyramid
A video about the Ancient Pyramids in China
In 2002, CNN reported on a mysterious pyramid situated on Mount Baigong, thousands of miles southwest of Xi'an. Mount Baigong features three caves and pipes that stretch from the mountain to a nearby lake. According to ancient alien theorists, the pyramid was a launch tower intended for extraterrestrial spacecraft. Ancient alien theorists seized upon this story, but Chinese researcher Yang Ji urged the use of scientific methods to verify its authenticity.
Do you think the Chinese pyramids are connected with aliens? Let us know in the comments.
If you enjoyed learning about the Chinese pyramids you might also be interested in the Shining Ones of Ireland or the mysterious disappearance of Vladimir Bastl.
The Shining Ones: The Tuatha Dé Danann of Ireland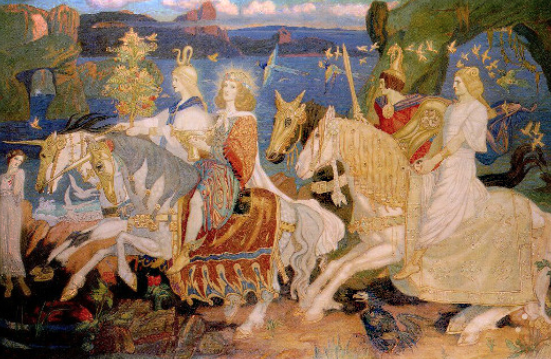 Were the Shining Ones of ancient Ireland an alien race? Photo: Sanna Hines
The Tuatha Dé Danann or the Shining ones of Ireland were an ancient race of people believed to be the descendants of fairies. Some believe they were extraterrestrial in origin.
Who were the Shining Ones?
The Tuatha Dé Danann were a race of magical beings who possessed extraordinary powers and were often worshipped as divine creatures in Ancient Ireland.
The Shining Ones held a strong belief in Goddess Danu, also known as "the mother," and were sometimes referred to as "followers of Danu."
They originated from four major cities: Falias, Gorias, Finias, and Murias. When they arrived in Ireland, they brought with them fascinating skills and wisdom gained from the four wise men residing in each of the four cities.
The Shining Ones are said to have brought four treasures that proved to be beneficial to Ireland.
The small, dark native peoples of Ireland during that time appeared significantly different from the Shining Ones, who were commonly depicted as tall with fair skin, red or blonde hair, and blue or green eyes.
Interestingly, during the same period when the Tuatha De Danann arrived in Ireland, there were discoveries in archaeology that revealed small populations of red-haired individuals around the world.
For example, excavations conducted in Xinjiang Province, China, revealed mummies with blonde or red hair, which dated back to around four thousand years ago.
The well-preserved mummy of nobleman Yoya from ancient Egypt, who lived around 1400 BC, also exhibited Nordic features and blonde hair, much like his wife, Thuya, who was also the great-grandmother of Tutankhamun.
The Gods, in particular, were often depicted with features that symbolized their powers, such as Brigit, the Goddess of light and fire, who was believed to have sparked flames with her bright red hair at birth.
The magical abilities and otherworldly artifacts of the Tuatha de Danaan left an indelible mark on the history of Ireland.
The Shining Ones were known to possess a variety of magical, or perhaps technologically advanced, devices. According to ancient sources, they wielded a Magical Rod that enabled them to transform objects and individuals into different forms.
On the Mound of Tara, they placed the Lia Fail, or the Stone of Destiny, which would roar upon the election of the rightful king.
Lugh possessed an invisible sword that guaranteed victory to anyone who wielded it, and the Cauldron of Dagda was a vessel capable of feeding an army without ever being emptied.
The Tuatha de Danaan also possessed a remarkable boat known as the Ocean-sweeper, which sailed without a traditional sail and could be steered through the power of the sailor's thoughts. Aonbarr, their steed, was believed to be a flying machine capable of traversing both land and sea.
Where did the Shining Ones come from?
Arriving from the sky on top of Sliev-an-lerin, the Iron Mountain in the County Leitrim, the Shining Ones had to engage in two significant battles before they could establish their authority over Ireland.
Their first battle was against the Firbolgs (also known as the Men of the Bags), which took place at Magh-Tuireadh, where the Tuatha De Danaan used their ability to appear and disappear at will, thanks to their cloaking technique, to confuse the Firbolgs.
In the second battle, the Shining Ones confronted the Fomore, a group of malevolent giants notorious for their raids on Ireland from Tory Island.
Among the leaders of the Fomore was the giant Balor, who possessed the ability to unleash a potent beam of energy, known as the "flux of energy," to strike his foes across the channel separating Tory Island from Ireland. Accounts of Balor's appearance suggest that he resembled a machine rather than a living being.
Were the Shining Ones Ancient Aliens?
The History Channel's Ancient Aliens series covered the possibility that the Shining Ones were an alien race
Many people believe that the Shining Ones were an ancient race of aliens who visited the ancient Irish people.
To someone who doesn't understand, even the simplest modern technologies can appear to be powerful magic.
An airplane may appear to be a ship sailing through dark clouds, while a television screen can feel like a window to another realm, and a phone can seem like a magical stone that speaks and provides divine guidance.
Those who control such magical tools may seem godlike, with their height, red-golden hair, and sky-blue eyes, wielding powerful and fiery weapons. They may even appear ageless, immortal, wise, beautiful, and terrifying – much like gods themselves.
The 'magic' attributed to the Shining Ones could have been misunderstood technology by the local population. Whether this technology was man-made or of extraterrestrial origin is a matter of debate.
It's possible that these people were migrants from advanced civilizations in our world, possibly displaced by the Great Flood, searching for new homes and bringing with them remnants of their knowledge and technology.
Experts argue that the lack of physical evidence proves that the Shining Ones never existed and are just a myth that helped the ancient Irish people understand their world.
What do you think? Are the Shining Ones an example of an ancient alien civilization visiting earth? Let us know in the comments.
If you enjoyed this article about the Shining Ones you might also be interested in learning about ancient alien sightings or UFO sightings from the early modern era.