Sluagh: Hosts of the Unforgiven Dead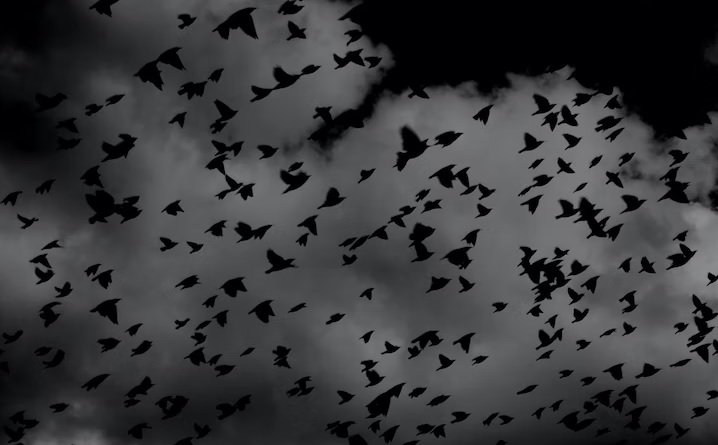 A flock of ravens… or are they sluagh? Photo: Unsplash.
In Irish folklore the sluagh, pronounced sloo-ah, are a dark type of faerie that take the form of a flock of birds. They are said to be able to pick up a human being and fly away with them or even steal their souls.
Description of the Sluagh
Photo: Unsplash.
The sluagh are a type of faerie that has embraced the darkness and become evil. They are said to be evil without reason, have no loyalty to anyone and bring chaos wherever they go.
The sluagh are said to be very thin and haggard looking with skin clinging to their bones. They have leathery wings that cling to their bodies like a cloak when not in flight. They have bony hands and feet with claws, sparse patches of dark hair covering their bodies and sharp teeth protruding at odd angles from a beak like mouth.
When in flight they fly together in a crescent formation similar to a flock of birds. While appearing to be quite frail they are said to be able to pick up an adult human while in flight.
From a distance a pack of sluagh look just like a flock of ravens but upon closer inspection it can be seen that these aren't any ordinary birds.
In some traditions the sluagh are said to be the souls of evil humans, cursed to forever wander the earth after their deaths. They feed on the souls of the living to sustain themselves.
Some believe the sluagh is a harbinger of doom, appearing before horrible events are about to occur.
The sluagh look for humans who are about to pass away and swoop in from the west and steal their souls before they can be given their last rites. Because of this sometimes the Irish make sure all west facing windows are closed when someone is on their deathbed.
How to Summon the Sluagh
Photo: Unsplash.
It is possible to inadvertently summon a sluagh by saying their name out loud. It is also possible to attract the sluagh if you are feeling sad or hopeless. The sluagh are drawn to people who are grieving or depressed. It is said that when people die of a broken heart it is actually the sluagh that have claimed them.
Once you've attracted the attention of the sluagh the only way to be sure to escape them is to sacrifice another human to be taken instead. You can also try to evade them by running indoors and staying there until daybreak.
You can protect yourself from the sluagh by staying away from secluded areas such as forests and wilderness areas.
Once a soul has been taken by the sluagh there is no escape, not even in death. You are doomed to become one of the sluagh, circling dark skies and stealing souls for all eternity.
Encounters with the Sluagh
Encounters with the Sluagh have been reported for over a thousand years in Scotland and Ireland with some other accounts popping all across Europe.
From 1908-1910 a scholar named W.Y. Evans-Wentz, travelled through England, Ireland and Scotland collecting first-hand accounts of encounters with the fae folk, including the sluagh. He collated them into a book called The Fairy Faith in Celtic Countries.
Included in this book was the story of a child from the island of Barra in Scotland. The locals claimed the boy was taken by the sluagh and his body was found behind the parents home the next day having been dropped from a great height.
Wentz also received many reports of Sluagh sightings, all with eerily similar elements. The locals claimed to see vast, swarming clouds of very large black birds.
Many historians would claim the sluagh are simply a coping mechanism for unexplained and unexpected death or a misidentification of crows or ravens. While this no doubt accounts for some of the stories of the sluagh we can't be certain that they are not lurking out there somewhere in the hidden places across Europe.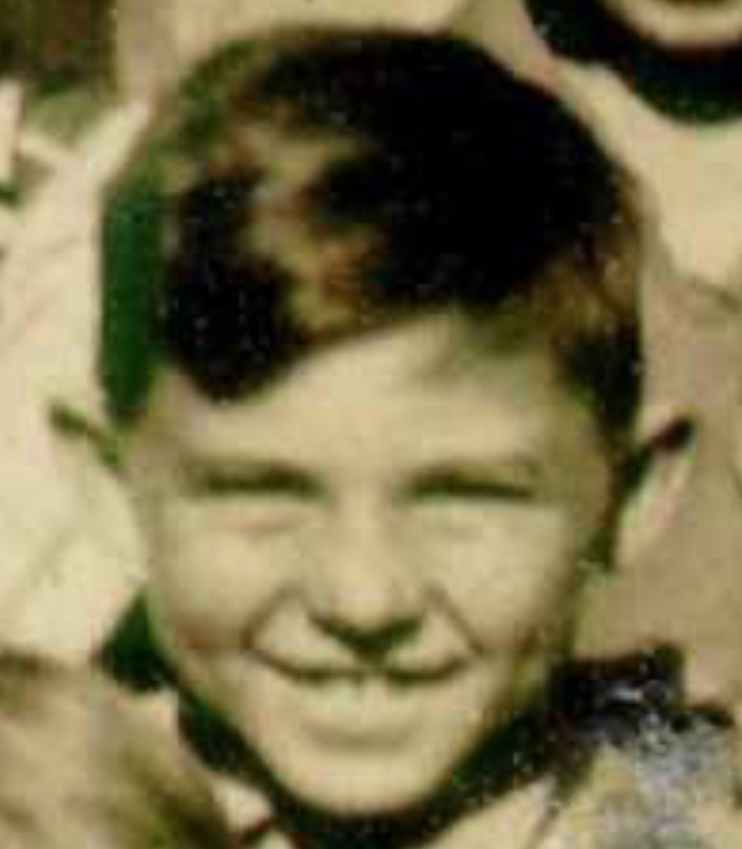 Gerald Floyd Bettis – The Arkansas Dog Boy
A Victorian-era house stands proudly at 65 Mulberry Street in Quitman, Arkansas. It was built in 1891 and is reportedly haunted by numerous spirits including a WWI soldier, an old man, and a particularly terrifying entity known as the "Dog Boy".
The History of 65 Mulberry Street, Quitman
The house where the spirit of the Arkansas Dog Boy is said to reside. Photo: Jason Roberts Online
Quitman is an old town in north-central Arkansas. During the Civil War, many men joined the Army there. Until 1870, Quitman was a busy place where people traded goods, and it was a key point for those traveling across the state. It had large, beautiful houses and buildings.
The Garrett family built a beautiful house there around 1890. After living happily there for a few years the Garrett's sold the house to the Jackson family. Benjamin Jackson lived there with his wife, who died young. Their son, Joseph, was born in 1898, fought in WWI, and died young too.
In more recent times, the Garrett House got a bad reputation because of the Bettis family and it's now known as the Bettis House. Floyd and Alline Bettis moved into the big house in the early 1950s.
After many years without kids, they had a son, Gerald Floyd Bettis, in 1954. People who knew Gerald said he was a naughty kid. "His parents were good people, but Gerald was a troublemaker," Holabird said. Gerald liked to collect cats and dogs, which is why he got the nickname "Dog Boy."
The Dog Boy of Arkansas
Gerald, the Dog Boy, would torture stray animals for fun. Neighbors could hear the animals cries and were incredibly unsettled.
Gerald was desperate for attention as a child and was constantly showing off and behaving strangely. He never moved out of his parents home and as her grew older he allegedly imprisoned his elderly parents in their own home, at times being abusive.
When Bettis grew up, people in town say he was very tall, about 6'4″, and heavy, almost 300 pounds, much larger than his old parents. It was often said that he physically abused his father, and there's even a story about him throwing his dad out of an upstairs window when he was a teenager. His dad, who was in his 70s then, managed to hold on to the window ledge until the police arrived.
As an adult, Gerald sold plants, including marijuana, from a sunroom he built, leading to his arrest based on his mother's abuse testimony and his illegal activity. He later died in prison from a drug overdose. After his mother's death, the house was inherited and then sold to Tony Weaver, whose family experienced repeated paranormal activity in the home.
The Hauntings at 65 Mulberry Street
Karen Shillings, founder of The Central Arkansas Society for Paranormal Research (CASPR),became interested the house after speaking with the Weavers about their paranormal experiences.
Weaver's wife told Shillings that she would switch off all the lights when she went to work at night, but they would be on when she came back. She first thought someone was breaking in, but then weirder things happened. Once, a handful of pennies fell down the stairs from upstairs all at once, right in front of her, Shillings said. After half a year of these things happening, she was really scared and didn't want to live there.
Tony Weaver also saw strange things. Once when he was working on the house, he saw a man who looked like a soldier from World War I in the living room. But when he went for a closer look, he was gone.
Another couple, Quinton and Stephanie White, lived in the house in 2003. They saw strange things like the toilet flushing by itself. One evening, Quinton heard a noise upstairs, and when he checked, some wooden boards that he had stacked were all standing up straight. They only lived there for a few months.
Weaver still owns the house and tries to sell it, but hasn't been successful. He says strange things keep happening. Once he lost his glasses and medicine after complaining about not being able to sell the house. He also said that if people the ghosts don't like come in, they will feel cold and their hair will stand on end.
One woman who wanted to buy the house said her daughter, who is sensitive, felt very sad in the house. Another time, a chair reclined by itself and stayed like that while people were looking at the house. A dog refused to go into the house.
Ed Munnerlyn, who was fixing up the house in 2007, also has had spooky experiences. He said he feels uncomfortable, like someone is watching him, and he thinks he has seen ghosts. He also believes he saw the ghost of the Dog Boy, who was a big, scary-looking man. Sometimes he feels like a cold wind is blowing on his neck and hears noises, but can't see anything. He believes the ghosts are letting him know they're there.
The CASPR Investigations into the Dog Boy of Arkansas and other hauntings
Mr. Creep's Crypt covers the story of the Arkansas Dog Boy
In 2005, Shillings and her ghost research team visited the house two times. "The first time, we felt areas that were colder by 10-15 degrees than the rest of the house. We used a special tool that measures electrical energy, and it found something we couldn't explain," she said.
Shillings also said that they sensed a ghost in the kitchen, and one of them felt like he was touched. "We saw a face looking at us from upstairs when we were outside, and we all saw it, but no one was upstairs," she added.
The second time, they brought along a spirit medium, who made contact with what seemed like the ghost of Gerald Bettis. This ghost was angry and told them to leave.
They took video footage of strange things like balls of light moving through the wall and flashes of light that couldn't be explained. However, Shillings said that the most impressive footage is lost and they haven't been able to find it, which troubled her.
Have you heard of any stories similar to the Dog Boy of Arkansas? Let us know in the comments.
If you enjoyed this article you might be interested in other hauntings such as the story of the Sallie House or the Entity Haunting.
Tomino's Hell: The Cursed Japanese Poem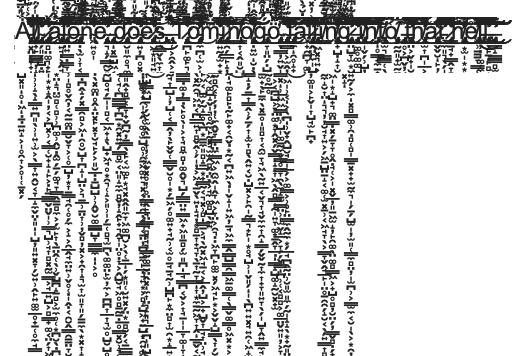 An excerpt of the cursed poem, Tomino's Hell
According to the legend of Tomino's Hell, if you read the poem aloud you will become cursed.
The Legend of the Cursed Poem: Tomino's Hell
Tomino, was a young boy living in Japan in the early 1900s. Tomino reportedly lived his life with a severe physical disability that confined him to a wheelchair.
He enjoyed writing poetry as a way of helping him cope with the overwhelming emotions he had connected to his disability. Upon composing a rather grisly poem, Tomino's parents were anything but pleased. This reaction was not surprising given Japan's tendency for strict cultural norms, and the fact that the poem dove into some pretty intense details.
To discipline him for his chilling verse, Tomino's parents confined him to their basement without food. In time, due to the harsh conditions of the damp and frigid cellar, Tomino tragically passed away from bronchitis.
The legend goes that Tomino's spirit lingered within his disturbing poetry. Anyone who dares to recite his poem out loud risks invoking a curse upon themselves, causing bad fortune and despair.
Victims of the Curse of Tomino's Hell
The curse of Tomino's Hell Poem became famous when people began to suffer unfortunate events after reading the poem aloud.
In 1974, a movie was released called "To Die in the Countryside". It was written and directed by a man named Terayama Shuji. He got a lot of ideas from Tomino's Hell Poem for his film. People started saying that he died because of the poem.
There were also rumors throughout Japan about some college kids dying after they read the poem.
The legend spread, claiming that if you read the poem aloud you could have a bad fall, lose your voice forever, get really sick suddenly, or even have a car crash.
Back in the 1980s in Japan, it became fashionable to record friends while they read the poem aloud. This fad took off and it was said that reading the poem aloud didn't usually cause any problems.
It appears that the curse has an unpredictable nature. It could even be part of a mysterious pattern that we don't fully understand yet. These days in Japan, even the older and wiser folk avoid talking about the poem, worried that it might bring them bad luck.
If you would like to try it for yourself, here is a version of Tomino's Hell translated into english by David Bowles:
Tomino's Hell
Elder sister vomits blood,
younger sister's breathing fire
while sweet little Tomino
just spits up the jewels.
All alone does Tomino
go falling into that hell,
a hell of utter darkness,
without even flowers.
Is Tomino's big sister
the one who whips him?
The purpose of the scourging
hangs dark in his mind.
Lashing and thrashing him, ah!
But never quite shattering.
One sure path to Avici,
the eternal hell.
Into that blackest of hells
guide him now, I pray—
to the golden sheep,
to the nightingale.
How much did he put
in that leather pouch
to prepare for his trek to
the eternal hell?
Spring is coming
to the valley, to the wood,
to the spiraling chasms
of the blackest hell.
The nightingale in her cage,
the sheep aboard the wagon,
and tears well up in the eyes
of sweet little Tomino.
Sing, o nightingale,
in the vast, misty forest—
he screams he only misses
his little sister.
His wailing desperation
echoes throughout hell—
a fox peony
opens its golden petals.
Down past the seven mountains
and seven rivers of hell—
the solitary journey
of sweet little Tomino.
If in this hell they be found,
may they then come to me, please,
those sharp spikes of punishment
from Needle Mountain.
Not just on some empty whim
Is flesh pierced with blood-red pins:
they serve as hellish signposts
for sweet little Tomino.
Who really wrote Tomino's Hell?
Buzzfeed Unsolved covers the legend of Tomino's Hell
After a little bit of online research we have found that Tomino's Hell was actually written by a man named Saijō Yaso and published in 1919. Saijō Yaso was a popular children's author at the time. He wrote Tomino's hell during a difficult period in his life shortly after the passing of his father. Whether he intended to create a cursed poem or just express the negative emotions he was feeling is unknown.
Have you ever read Tomino's Hell aloud? Did anything spooky happen? Tell us about it in the comments!
If you enjoyed this article you might be interested in other curses such as Rudolph Valentino's cursed ring or the curse of the Passion of the Christ movie.