The Varginha UFO Incident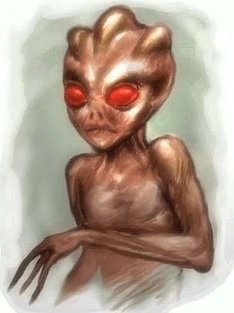 The UFO themed water tower in Varginha, Brazil
Varginha, Brazil is a city known for it's coffee production, commerce and.. aliens! In Varginha in 1996 residents of the city reported seeing a number of unexplained creatures and UFOs. Some residents believe the government was involved in covering up evidence of alien contact.
The Varginha Devil
Three young women, sisters Liliane and Valquíria Fátima Silva, and their friend Kátia Andrade were walking home during a rainstorm. They decided to take a shortcut through a vacant lot. To their horror in amongst the weeds growing in the lot they found a creature like nothing they had ever seen before.
The girls described the creature as having oily brown skin with rubbery looking limbs. It was about 5ft tall and very thing with glowing red eyes and V shaped feet. It had a head that seemed to be too big for its body with three round horns sprouting from it. It smelled strongly of ammonia. The creature appeared to be a bit dazed and possibly injured. When it looked at the girls they ran off in fear.
An artist's rendering of the Varginha Devil
The Silva sisters ran home and told their mother what they had seen. She didn't believe them until she went to the vacant lot to have a look for herself. The creature was gone but the strong smell remained and a dog was found intently sniffing the area.
News of the sighting spread quickly around Varginha. Before long more reports of similar creatures came forward.
Another sighting was reported by the janitor at the local zoo. In the several months following the sighting three of the zoos animals died in mysterious circumstances.
In Roger Leir's book UFO Crash in Brazil several witnesses claimed that two of the zoo's animals were taken to a special military clinic before they passed away.
UFO Sightings
The de Freitas Sighting
It was about 1am on the 13th January 1996 when Oralina de Freitas was awakened by her cattle running and making noises near the house. She went outside to investigate and saw the cattle being disturbed by an object in the sky.
It was a large grey object, the size of a bus, with smoke coming out of it. The smoke dropped towards the ground and covered the area in a fog. The object didn't make any noise.
She called out to her husband who was inside watching television. The two of them stared in wonder as the strange craft floated above their farm for around 40 minutes.
Eventually the object headed towards Rodovia Fernão Dias and then disappeared from view. The couple did not sleep that night.
Carlos de Souza's Sighting
In the 13th of January 1996, local pilot Carlos de Souza described seeing, on an object with the same characteristics reported by the couple. He was heading to Minas Gerais where he was going to fly in an ultralight flight demonstration with some friends. While driving along the Fernão Dias Highway, he saw the strange object passing in the sky and apparently falling somewhere between Varginha and the neighboring city, Três Corações.
Assuming the object was a human aircraft he followed it to where is crashed and was preparing to offer help. When he reached the crash site he was surprised to see that the Army and the Military Police had already surrounded the wreckage. The ground was littered with metallic debris but he could see no victims.
After a few minutes one of the soldiers present told him to leave and not mention what he has seen to anyone.
Theories
Many in Brazil and around the world believe these events to be genuine encounters with extraterrestrials that have been covered up by the Brazilian Government.
The Brazilian Military and government claim that there are mundane explanations for everything that occurred on January 13, 1996.
The Military argues that the girls didn't see an alien creature but saw a homeless man named Mudinho who was mentally ill and simply covered in mud from the rain.
The firefighters and military trucks seen in the area were claimed to be carrying out routine army exercises.
If you enjoyed this story you may also like to learn about the flatwoods monster or some medieval UFO sightings.
The Newmill Green Blob UFO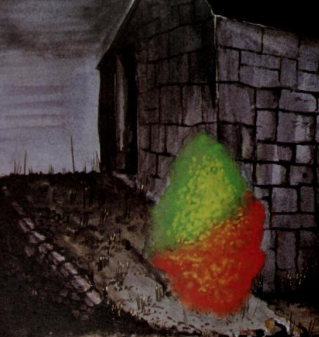 An artist's recreation of the Newmill Blob UFO
In September 1977 a young Cornish couple saw a strange glowing blob floating around the outside of their cottage. In the days afterwards the couple both became violently ill with an unexplained illness resembling radiation poisoning.
Caroline Bond and Peter Boulton See Something Unexplainable at Newmill
The driveway leading to the home of Caroline Bond and Peter Boulton
In The Cornishman newspaper on September 22, 1977 there was a report that suggested that there might have been unusual activity related to unidentified flying objects in the area of Newmill.
Newmill is a small settlement located about three kilometers north of Penzance in the UK. The surrounding region is known for having many ancient features like stone circles, tall standing stones, and ancient burial mounds. Of particular interest is the well-preserved ancient village of Chysauster, situated approximately one and a half kilometers to the northeast.
According to this report, a young couple named Caroline Bond and Peter Boulton saw a strange ball of light floating around their property for several minutes in September 1977. A few days after witnessing this strange phenomenon, Caroline and Peter both became very ill with symptoms resembling radiation sickness but their doctors were not able to determine a cause of their illness.
UFO investigator Terry Cox, the Bodmin representative of UFOIN, decided to interview the couple shortly after these events to try and get to the bottom of what happened. We have decided to summarize the interview here to give you a clear picture of his investigations.
Terry Cox Interviews Caroline Bond and Peter Boulton about the Newmill UFO
Caroline Bond and Peter Boulton were a young couple who own and are working on fixing up the old post office located near the road from Penzance to Treen on the north coast of Cornwall. Terry claimed that the couple seemed truthful when talking about what happened, and it seemed clear that they were well-educated and intelligent.
On the evening of Saturday, September 17, 1977, which was a calm and clear night, Caroline came downstairs from the road entrance to her house. She was heading out for the evening on her moped, which was parked by the door.
In her own words, Caroline recounted:
"It was about 9.30 p.m. when I went downstairs to get on my bike and go out for the evening. I had a feeling Pete had followed me down and was standing behind me, so I turned around and saw this kind of green-haze-thing no more than four metres away from me. I just could not believe it, so I walked up to the thing. It seemed about two metres away and coming closer. I was just staring at it in disbelief, then went to tell Pete.
When he came down it was moving away and up the barn steps and crossing in front of the barn. We watched it for about two minutes, then Pete went and fetched his spectacles to have a really good look at it.
Meanwhile I went around to the front of thehouse because there were some people using the telephone kiosk by our front door. I said: 'Can you come and look at this? I have just seen this green-haze-thing, can you come and look?
They arrived just as Pete came downstairs with his spectacles. We could not spot the thing at first, but when we looked over towards the big tree on the edge of Mr. Stone's property, there it was — sort of red and green and silver, flashing at a thirty degree angle above the tree. I did not really feel frightened at the time, I just felt interested."
Terry then asked: "I understand you saw something like a pole or fin projected from it?"
Caroline: "I cannot really say, it seemed to have something below it, but I could not see clearly what
it was. It seemed as if it was on top of another thing. Quite narrow I think."
Terry: "You say it was like a green haze. Do you think it was like a vapour?"
Caroline: "No, it was not vapour. It seemed quite solid. You could not see through it when it moved in
front of the barn. In fact it blotted out the stones. I could not hear any noise at all."
Terry: "Were you upset in any way by the experience?"
Caroline: "No, I was quite interested in it, I wanted to go and look for it the next night. I was quite excited and told everyone else, it seemed like a kind of space-ship to me. When it was above the tree it appeared a bit elongated although it was oval when I first saw it in the yard. It did seem as if it was on a sort of pole. It did not look like a figure of any sort but I cannot be sure, it was not that clear. It glided in front of the barn about two metres above the ground and appeared about one metre wide and bright. But it was much brighter when it was up in the sky. I have never been interested in this sort of thing before, but I am now."
Peter was able to add some other interesting details about the encounter:
Peter: "It lit up the corner stones of the barn when it moved across the front. I do not know why it moved that way. I would have expected it to move towards the field."
Terry: "Then it came back across the front of the barn and went into the field?"
Peter: "Yes. I went upstairs for my spectacles and by that time it had returned across the front of the barn, because I saw it from the upstairs window and then it was over the trees. That was when Caroline returned with the people from the kiosk."
Other Witnesses of the Newmill UFO
The path taken by the Newmill UFO as described by Caroline Bond
The people who came from the telephone booth turned out to be Bill and Sally Beard, from Birmingham. They were staying with Sally's mom, Mrs. Gibbons.
Mrs. Gibbons' property is just up the road from the old post office and almost right across from Mr. Stone, who shows up a little later.
Mrs. Gibbons works as someone in charge of a place for young mothers who aren't married. She also saw the thing in the sky when it moved above the tree and agreed with what the other people said. They all saw a second thing that looked the same in the night sky toward the northwest.
All the people who saw these objects, including George Stone, who first saw one of them above a tree, agree that these things seemed to have red lights inside a clear green shape. They didn't move in a straight line but seemed to wander around the sky, making small, zigzaggy movements. They looked like they were flying at the height where helicopters usually fly.
George Stone said that the object he saw up close stayed visible in the northern sky for about half an hour before disappearing. But the one to the northwest was still there when he went inside, and he watched it from his bedroom window with his sister until they went to bed, which was around 11:00 to 11:30 p.m.
The next day, Sunday, September 18, Peter, Caroline, a schoolteacher named Mr. Chiswell and his wife, along with a Mr. Rose and a Mr. Berry, all from the village, saw what seemed to be the same things, and maybe even a third one, in the night sky.
The Chiswell family looked at one of these things using an ex-military telescope, but they couldn't see many extra details. Peter Boulton noticed that one of these objects was in the same spot in the sky as the one they first saw. There was also another one to the northwest. They moved strangely, just like before.
Then, on the night of the 18th, Mr. Anthony Laity, who works as a civil servant nearby in Crowlas, saw a saucer-shaped object while he was driving on the Redruth by-pass road. It showed up on the side of his car at about the height of the roof. The top part of it was glowing white, and the bottom part had a yellowish color. When he sped up, the saucer did too, staying alongside him until its light faded, and he couldn't see it anymore.
A Mysterious Illness Affects Caroline and Peter
After the close encounter on September 17th, both Peter and Caroline got sick about a week later. Peter got so sick that he had to go to the hospital, and the doctors did lots of tests but couldn't figure out what was wrong. Later, he stayed with his sister, who's a doctor, and even she couldn't figure out what was making him throw up, have muscle pains, and headaches. They didn't have any skin problems or clear signs of being exposed to radiation.
But Caroline had some similar symptoms, although not as bad as Peter's. Doctors initially thought that she had appendicitis and removed her appendix. Once removed it turned out Caroline's appendix was healthy. Peter and Caroline were disturbed by this outcome. To this day they still do not know the cause of their illness.
A video by Project Bluebook describing the connection between UFO encounters and Radiation Sickness
What do you think caused the UFO sighting at Newmill and the mysterious illness that affected Peter and Caroline Tell us your theories in the comments. If you liked this article you might be interested in other UFO encounters such as the Petrozavodsk Jellyfish UFO or Kristina Florence's UFO Abduction.
The Blue Man of Studham Common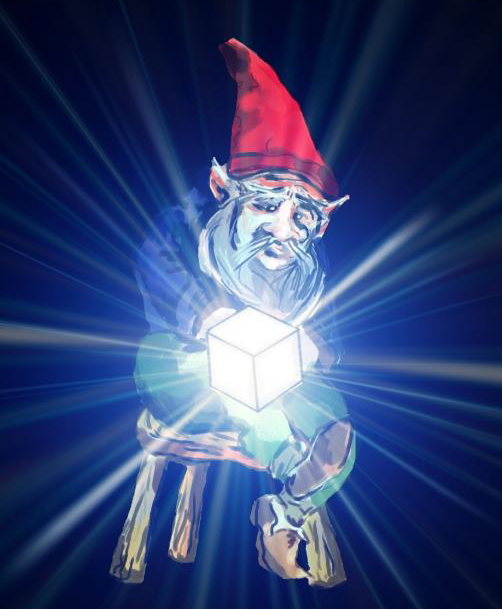 An artist's interpretation of the Blue Man of Studham Common. Image: NEN Gallery
Many think that over 50 years ago, aliens came to Studham, a peaceful village near Dunstable, Bedfordshire, UK. This belief was sparked by a strange story told by six young boys in January 1967, who said they saw something very unusual.
Six Boys and the Blue Man of Studham
Studham Common, where the boys saw the strange blue man. Was it an alien?
The event occurred on January 28, 1967, around 1:45 p.m., right after lunch. It took place near the Whipsnade Park Zoo, at Studham Common in Bedfordshire, U.K. Five, six, or seven boys, all 10 and 11 years old – Alex Butler, Tony Banks, Terry Cahill, Colin Lonsdale, David Inglis – were involved. They were playing before school started again at 2:00 p.m. at Studham Lower School.
The sky was clear even though it had been raining earlier. The boys were near a footpath leading to a low valley called Dell. This area, full of bushes and trees next to Studham Common, was a great place for them to play hide-and-seek.
The boys were playing and having fun at Studham Common when suddenly a blue lightning bolt appeared nearby. A 10-year-old boy noticed a small blue figure standing about 20 yards away, next to some bushes.
The figure was said to be around three feet tall, and it had a hat or helmet that was about two feet tall. The hat looked like a bowler hat without a brim, with a rounded top. The figure's body was a shiny dark blue-grey color, which made it hard to see the figure's shape and details clearly. It had a large black belt that was hanging down, with a black box about 6 square inches in size attached at the front.
The figure's face had two round eyes and a flat, triangular shape where the nose should be. It had a split blue or blueish beard, with the two parts running down each side of the chest. There seemed to be a line or edge of hair or something similar at the top of the helmet, just above the eyes. The figure's arms were short and stayed by its sides without moving. Its legs and feet were barely visible.
When they tried to approach the figure, he vanished as if he disappeared into smoke. Interestingly, they spotted him again, standing another 20 yards away. Each time they tried to get closer, he disappeared and reappeared further away. Eventually, the boys decided to hide and watch him from behind the bushes.
The Flying Saucer Review, a publication that spoke to the children, said they started hearing voices that seemed like unintelligible chatter from somewhere near them in the bushes. The boys felt like the blue figure was communicating with others, even though he didn't move.
This made them cautious, so they didn't rush towards the figure anymore. They continued to watch from a distance until they saw him standing still in the same spot for the fourth and last time.
The boys ran to their classroom and told their teacher about it, who didn't believe them, but the local media and people who believe in UFOs took it seriously.
Apparently, all the different stories about this event were gathered in a book titled The Little Blue Man On Studham Common, but we have not been able to track this down.
Possible Explanations for the Blue Man of Studham Common
Drone footage of Studham Common, where the strange blue man was reportedly seen.
Some have suggested that the story is probably a hoax, made up by the school boys to get attention. The boys involved however have never wavered from their stories.
If the story is not just a hoax perpetrated by the school boys perhaps it truly was an encounter with something extraterrestrial or paranormal. Many alien abductees report missing time or having memories that don't make sense, like they were planted. Perhaps the "blue man" was a memory planted in all of the boys' minds to cover up something more sinister.
What do you think really happened at Studham Common? Tell us your theories in the comments.
If you enjoyed learning about the blue man of Studham Common you might also be interested in Sam the Sandown Clown or the UFO encounter of Kristina Florence.