Ghosts of the Tower of London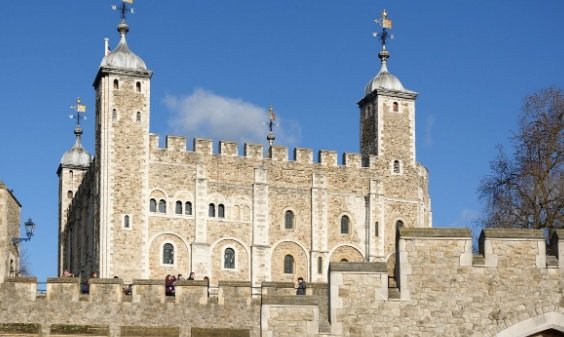 It's a landmark everyone wants to see when visiting the city of London, UK but not everyone is aware of the spooky secrets hidden within. It is claimed there are at least 13 separate ghosts living in the tower including the spirits of some of England's most famous royals.
The Tower of London was built in the decades following the Norman conquest of England in 1066. The tower complex was primarily a royal residence but was also used as a prison from 1100 until 1952. The tower has a grim reputation where many people have been tortured and executed for nearly 1000 years.
The 13 Ghosts
Anne Bolelyn
Anne Boleyn was the second wife of Henry VIII. Henry was originally married to Anne's sister Catherine. When Catherine couldn't produce an heir to the throne Henry divorced her and married Anne. Henry and Anne had a daughter, Elizabeth I, but their marriage also failed to produce a male heir. Desperate to have someone to continue his legacy Henry began courting another woman and needed to find a way to get rid of Anne. He accused Anne of high treason, adultery and plotting to kill the king. She was subsequently imprisoned in the Tower of London. It is believed these accusations were false but she was convicted by a jury of her peers and executed four days later.
Some visitors to the Tower claim to have seen Anne's spirit wandering the Tower Green where she was executed. Others have seen her in St. Peter ad Vincula where she was buried or even wandering the corridors of the Tower as a headless apparition.
Henry VI
In the 1400's Henry VI stood to inherit the thrones of both the French and the English. During the War of the Roses the House of York imprisoned him. Shortly after Edward IV seized the throne and Henry VI was stabbed to death while praying in Wakefield Tower. It is claimed that his spirit still wanders the tower where he was murdered often appearing at the stroke of midnight.
Lady Jane Grey
Lady Jane Grey was put forward as an alternative Queen to the catholic Mary Queen of Scotts, also known as Bloody Mary. As soon as Queen Mary caught wind of this plot Lady Jane was executed at the Tower of London along with her husband, Lord Guildford Dudley. Lady Jane's ghost is often seen as a solitary figure wandering amongst the battlements.
Lord Guildford Dudley
As mentioned above the husband of Lady Jane Grey was also executed at the Tower of London. Before he died he carved his dear wife's name into the stone of the tower which can still be seen today. It is believed to be his spirit heard weeping and calling out to his love in the Beauchamp Tower.
Margaret Pole, Duchess of Sainsbury
Margaret Pole was a devout Catholic and as such she was not viewed favorably by the Protestant Monarchy. She was imprisoned in the Tower of London for two and a half years before the king decided to execute her. Before she was killed she carved the following poem onto the walls of her cell:
For traitors on the block should die;
I am no traitor, no, not I!
My faithfulness stands fast and so,
Towards the block I shall not go!
Nor make one step, as you shall see;
Christ in Thy Mercy, save Thou me!
The usual executioner was not available when she was to be killed so an inexperienced one was brought in. Some sources claim she refused to kneel for her execution and attempted to run away from the executioner. He chased her, swinging at her when he could causing her to die in an incredibly horrific manner with her head and neck being hacked into several pieces.
Some visitors to the tower claim to have seen this grisly scene being recreated as a residual haunting. Others have heard her ghostly screams echoing over the Tower Green.
The White Lady
The White Lady often makes her self known with the sudden appearance of an overwhelming smell of cheap perfume that has been said to make some visitors feel ill. Some visitors to the Tower have felt a tap on the shoulder and when they turned around to see who was there they saw nothing but a wisp of white smoke.
The Grey Lady
The Grey Lady is another spirit that hasn't been identified as anyone in particular. It is a shrouded grey figure spotted in various locations around the Tower Complex. It is said that this spirit only appears to women.
The Smothering Force
Many visitors have reported that while in the gallery featuring the armor of Henry VIII they have felt a strong smothering force. Some have been so overwhelmed that they had to leave the building to get their breath back.
Guy Fawkes
Guy Fawkes was captured attempting to blow up the British Parliament Building. He was brought to the Tower of London and tortured before being executed. It is said that you can hear Fawkes screaming and crying from the council chamber in the White Tower.
Arabella Stuart
King James I did not give his permission for Arbella to marry William Seymour, nephew of Lady Jane Grey. Enraged at the insult, and perceiving the marriage as a possible threat to his throne, James I imprisoned Arbella in the Tower. She died there in 1615—conflicting reports claim she either stopped eating or was murdered. She haunts the Queen's House.
Sir Walter Raleigh
Sir Walter Raleigh was imprisoned in the Tower for treason and then executed. It is said that his ghost wanders around the Bloody Tower to this day as well as across the battlements. The area has even been named after him as Raleigh's Walk.
The Princes – Richard, Duke of York and Edward V
Two young boy princes were made prisoners in the Tower by their uncle Richard the Duke of Gloucester and assumed to have been murdered by his order as they were a threat to the crown. The bones of two young boys were found buried under the stairs in 1674 and are assumed to be the remains of the boy princes. Visitors to the tower often report seeing two young boys wandering around in the White Tower wearing antique nightshirts. They have also been seen playing on the battlements and heard giggling throughout the tower complex.
The Grizzly Bear
The Tower of London has been home to a menagerie of animals over the years and some of their spirits are reported to still roam the grounds. One guard at the Tower of London claimed that the ghost of a Grizzly Bear charged at him. The guard attempted to bayonet the animal but his sword when straight through. The guard then lost his mind and was taken to his quarters where he died two days later.
If you liked this article you may also be interested in the ghosts of the London Underground or the ghost stories of Uwharrie Forest.
Walking Sam: The Suicide Spirit of Pine Ridge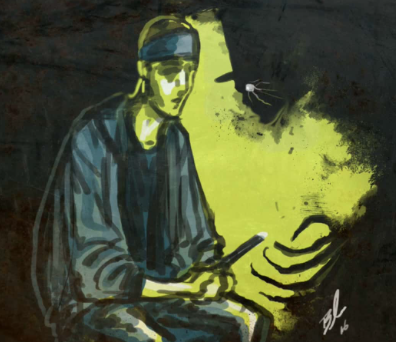 Walking Sam: The Suicide Spirit. Photo: Ranker.
In 2015 a spree of suicides took place in the Pine Ridge Indian Reservation. Some believe these were caused by an evil spirit called Walking Sam.
Who is Walking Sam?
An artist's depiction of Walking Sam. Photo: Ranker
Walking Sam is known by various names, including "Tall Man" and "Stovepipe Hat Bigfoot." He is a towering figure standing at seven feet tall and has eyes but no mouth, sometimes wearing a stove-pipe hat.
When he raises his arms, people can see the bodies of his past victims hanging beneath him. Walking Sam is said to call out to teenagers and try to convince them that they are worthless, urging them to take their own lives. Some believe that he targets young people because they are more vulnerable to his manipulations.
According to Native American legends, Walking Sam is an ancient being closely linked to "Stick Indians," who are dark and shadowy spirit entities.
Kids grow up hearing spooky stories about these evil forces that haunt reservations and try to lure unsuspecting victims to their doom. They're always followed by a creepy cloud of death that just hangs around them.
If you hear whistling, it might be one of these Stick Indians nearby. But if you follow the sound, you could get paralyzed, hypnotized, or even lose your mind completely.
If you disrespect them, they'll hold a grudge and seek revenge no matter what. Some tribes are so scared of them that they won't even talk about them, so we don't know everything about these beings. But Walking Sam is supposed to be one of the most powerful ones.
There are those who believe that Walking Sam represents the pain and trauma that the Lakota Indians endure on a daily basis. Given the deep spiritual connection that the Lakota people have with their land and heritage, some see Walking Sam as a physical embodiment of this suffering.
The Pine Ridge Suicides
A video telling the story of Walking Sam
The Pine Ridge Indian Reservation is located near the Black Hills of South Dakota and is home to the Oglala Lakota tribe. It's one of the largest Indian reservations in the US. Sadly, Pine Ridge has a sad past as hundreds of Lakota Indians were killed during the Wounded Knee Massacre.
It's one of the poorest counties in the US. In 2015, a number of young people committed suicide on the reservation, and some people thought that supernatural forces like the legendary Walking Sam were to blame.
From December 2014 to March 2015, there were a staggering 103 suicide attempts, with nine of them being successful, and tragically, none of the victims were older than twenty-five.
The majority of those who died had used hanging as the method of suicide. Although there had been other clusters of suicides in previous years, this was the largest. As the community struggled to understand and deal with the crisis, some looked to traditional Native American beliefs for answers.
Lakota children are raised hearing stories about "suicide spirits," "stick people," and shadow people who try to lure young people away from their homes at night. These stories may have evolved over time, influenced by the popularity of Slender Man, into the figure now known as Walking Sam.
Walking Sam Sightings
During meetings of reservation officials, one of the topics that often comes up is Walking Sam. These officials advise reservation members to avoid walking on the streets at night as it would be an ideal time for Walking Sam to approach his victims.
Several residents have expressed concern and requested the police to keep a lookout for Walking Sam. Many residents have reported seeing his shadow and have shared their encounters with the police. Some residents have even reported hearing whistling sounds coming from nowhere.
Have you ever seen Walking Sam? Let us know in the comments.
If you enjoyed learning about Walking Sam you might also be interested in Diao Si Gui: Chinese Hanged Ghosts or La Ciguapa: The Woman with Backwards Feet.
Diao Si Gui: Chinese Hanged Ghosts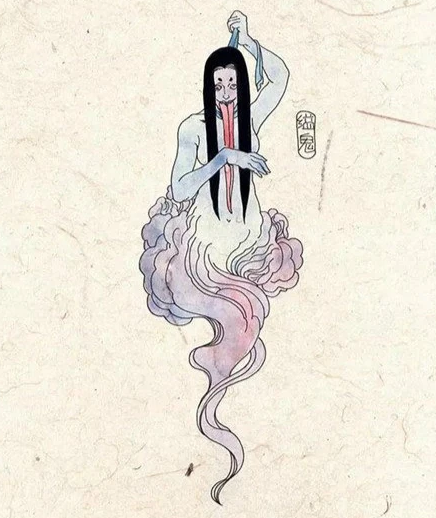 A Diao Si Gui or Hanged Ghost. Photo: Cryptid Wiki
According to Chinese legend, Diao Si Gui are the souls of those who took their own lives or were executed. These spirits may manifest as a body with a protruding, lengthy red tongue and attempt to persuade those who cross their path to join them in the world beyond.
The Legend of the Diao Si Gui
Diao Si Gui, or Hanged Ghosts can be created in two ways: when a person takes their own life by hanging or when they are executed by hanging as a punishment for their crimes.
The more prolonged and painful the death, such as by slow suffocation instead of a quick snap of the neck, the greater the likelihood of them becoming a Diao Si Gui.
These ghosts are said to haunt the vicinity of the location where they committed suicide and are often depicted with a noose around their neck, dangling feet, and long red tongues hanging from their mouths.
It is believed that one should avoid making eye contact with a Dio Si Gui as they may lure you into a hypnotic state and persuade you to hang yourself.
In some versions of the legend, if the ghost successfully persuades someone to hang themselves, that person becomes a Hanged Ghost while the original ghost goes free.
Other versions suggest that a Hanged Ghost is not limited to a specific location and can torment a person for days, gradually convincing them to take their own life. When the time is right, the ghost will appear to the person in a high place and lower a noose to them.
Stories About Diao Si Gui
In the Chinese Fairy Book by Dr. R. Wilhelm (1921), there is a story known as The Hanged Ghost, which tells the tale of a soldier seeking refuge for the night in an old, run-down temple.
While there, he witnesses a female ghost descending from the rafters, unaware of his presence in the shadows. Intrigued, he follows her to a farmhouse where he discovers the ghost urging a young mother and her child to hang themselves. The soldier intervenes, saving the woman's life and causing the ghost to flee.
On his way back to the temple, the soldier takes the rope left behind by the ghost, but she appears on the road and demands that he give it back.
He refuses and wraps the rope around his arm, causing the ghost to transform and attack him. The soldier defends himself by flinging his own blood at the ghost, causing her to retreat. He continues his journey with the rope now part of his arm, unfazed by the encounter.
A video telling the tale of Diao Si Gui or hanged ghosts
Possible Explanations for the Diao Si Gui
It is possible that the legend of the hanged ghost came about as a way to help families come to terms with the unexpected suicides of their loved ones. It's easier to believe that a loved one may have been manipulated in to killing them self by a spirit than it is to believe that they wanted to die.
Have you ever seen a Diao Sui Gui or Hanged Ghost? Let us know in the comments.
If you enjoyed learning about the Diao Sui Gui you might also be interested in the mysterious stain left behind by the body of Margaret Schilling or how the ghost of Teresita Basa solved her own murder.