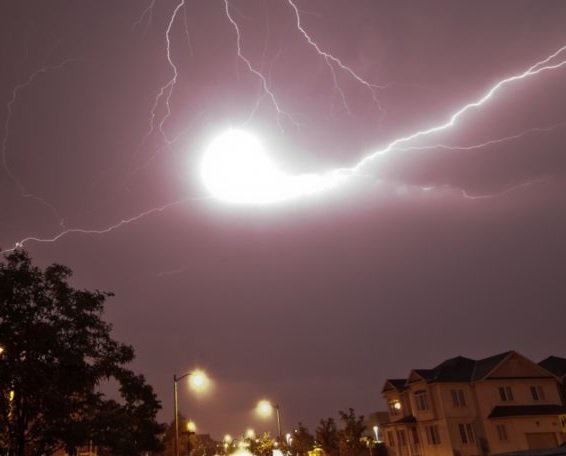 Some UFO activity is thought to be explained by the mysterious and elusive phenomenon of ball lightning. Reports of events that could potentially be examples of ball lightning go back to ancient cultures. It is estimated that approximately 5% of the population has witnessed ball lightning but very few incidents have been documented due to its rarity.
Ball lightning is described as having many and varied characteristics. The most common attributes are:
– occur during a thunderstorm, particularly if there is a lot of lightning
– loosely spherical in shape with fuzzy edges
– range in size from 1-100cm with most being around 10-20cm
– they are about as bright as a domestic lamp
– they last from just seconds to over a minute with brightness remaining consistent
-they move at a pace of several metres per second in any direction
– some are able to pass through walls and other solid objects
– some appear to be drawn towards metal objects
There have been many reported encounters dating back thousands of years. In Paris in 1852 during a fierce thunderstorm, a man living next door to the Church of the Val-de-Grâce saw a bright glowing ball the size of a human head come out of the church's fireplace. It flew haphazardly around the room before reentering the fireplace and exploding, destroying the chimney in the process.
In April 1877 at the Golden Temple in Amritsar, India, a bright coloured ball was said to have entered and exited through a side door. Several witnesses are reported to have observed the ball causing a great stir. The incident is depicted in art form on the front wall of Darshani Deodhi.
Perhaps the most frightening documented encounter with ball lightning is the events during the Great Thunderstorm of Widecombe-in-the-moor in Devon, England on the 21st of October 1638. Witnesses recounted seeing a 2 metre ball of fire colliding with and entering the church nearly completely destroying it. Several large stones from the church's structure were thrown to the ground and large wooden beams collapsed. The ball smashed through pews and windows and the church filled with a strong odour of sulphur and burning. Approximately 60 people were injured and four people were killed. The incident was assumed to be the work of the devil punishing the parishioners for a lack of faithfulness to God.
It is possible that some sightings of ghost orbs could actually be an electrical phenomenon similar to ball lightning. Some theorise that faulty wiring or short circuits could cause a tiny version of ball lightning to appear for a split second or even appear in photographs. Ball lightning is a great example of one of the many things in our world that science still can't explain. While we have documented it's existence we can't say for sure what causes it nor can we replicate it in a lab setting. Perhaps with more research into ball lightning we will find answers for some of the worlds many unexplained phenomena.
The Blue Man of Studham Common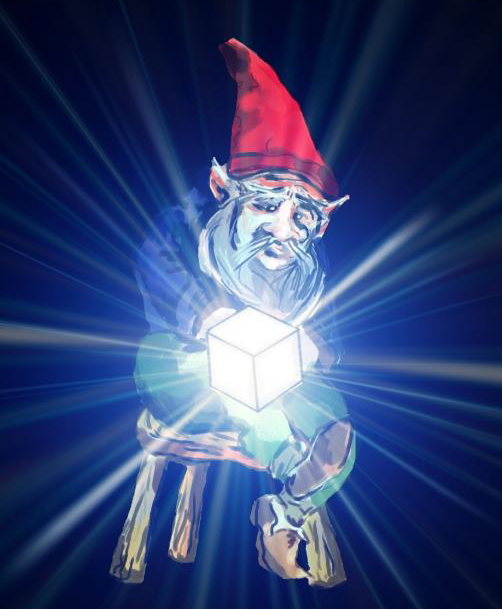 An artist's interpretation of the Blue Man of Studham Common. Image: NEN Gallery
Many think that over 50 years ago, aliens came to Studham, a peaceful village near Dunstable, Bedfordshire, UK. This belief was sparked by a strange story told by six young boys in January 1967, who said they saw something very unusual.
Six Boys and the Blue Man of Studham
Studham Common, where the boys saw the strange blue man. Was it an alien?
The event occurred on January 28, 1967, around 1:45 p.m., right after lunch. It took place near the Whipsnade Park Zoo, at Studham Common in Bedfordshire, U.K. Five, six, or seven boys, all 10 and 11 years old – Alex Butler, Tony Banks, Terry Cahill, Colin Lonsdale, David Inglis – were involved. They were playing before school started again at 2:00 p.m. at Studham Lower School.
The sky was clear even though it had been raining earlier. The boys were near a footpath leading to a low valley called Dell. This area, full of bushes and trees next to Studham Common, was a great place for them to play hide-and-seek.
The boys were playing and having fun at Studham Common when suddenly a blue lightning bolt appeared nearby. A 10-year-old boy noticed a small blue figure standing about 20 yards away, next to some bushes.
The figure was said to be around three feet tall, and it had a hat or helmet that was about two feet tall. The hat looked like a bowler hat without a brim, with a rounded top. The figure's body was a shiny dark blue-grey color, which made it hard to see the figure's shape and details clearly. It had a large black belt that was hanging down, with a black box about 6 square inches in size attached at the front.
The figure's face had two round eyes and a flat, triangular shape where the nose should be. It had a split blue or blueish beard, with the two parts running down each side of the chest. There seemed to be a line or edge of hair or something similar at the top of the helmet, just above the eyes. The figure's arms were short and stayed by its sides without moving. Its legs and feet were barely visible.
When they tried to approach the figure, he vanished as if he disappeared into smoke. Interestingly, they spotted him again, standing another 20 yards away. Each time they tried to get closer, he disappeared and reappeared further away. Eventually, the boys decided to hide and watch him from behind the bushes.
The Flying Saucer Review, a publication that spoke to the children, said they started hearing voices that seemed like unintelligible chatter from somewhere near them in the bushes. The boys felt like the blue figure was communicating with others, even though he didn't move.
This made them cautious, so they didn't rush towards the figure anymore. They continued to watch from a distance until they saw him standing still in the same spot for the fourth and last time.
The boys ran to their classroom and told their teacher about it, who didn't believe them, but the local media and people who believe in UFOs took it seriously.
Apparently, all the different stories about this event were gathered in a book titled The Little Blue Man On Studham Common, but we have not been able to track this down.
Possible Explanations for the Blue Man of Studham Common
Drone footage of Studham Common, where the strange blue man was reportedly seen.
Some have suggested that the story is probably a hoax, made up by the school boys to get attention. The boys involved however have never wavered from their stories.
If the story is not just a hoax perpetrated by the school boys perhaps it truly was an encounter with something extraterrestrial or paranormal. Many alien abductees report missing time or having memories that don't make sense, like they were planted. Perhaps the "blue man" was a memory planted in all of the boys' minds to cover up something more sinister.
What do you think really happened at Studham Common? Tell us your theories in the comments.
If you enjoyed learning about the blue man of Studham Common you might also be interested in Sam the Sandown Clown or the UFO encounter of Kristina Florence.
The Green Whale of Bantam Lake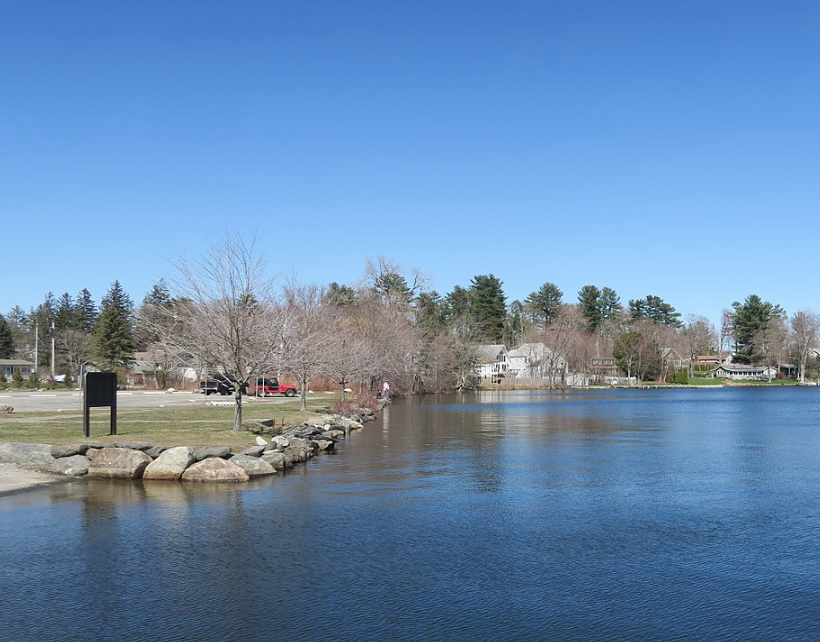 Picturesque Bantam Lake where the Green Whale UFO was spotted in 2012. Image: Wikipedia
Before dawn on April 10, 2012, a motorist and a state trooper ten miles apart reported witnessing a colossal, neon-green object plunging from the sky into Bantam Lake, Connecticut.
Sightings of the "Green Whale"
A map of the location of Bantam Lake in Connecticut
The Republican American newspaper first reported the story on a Thursday morning. They said a driver in Litchfield saw a green, glowing object as big as a whale fall from the sky into Bantam Lake around 2 a.m. on the previous Tuesday. At the same time, a police officer about 10 miles away in Warren told the police station he saw something fall from the sky near Bantam or Morris.
Firefighters from Morris went up and down the lake in a boat to see if a plane had crashed, but they didn't find anything. The search was stopped, and the mystery was not solved.
People living in the area found the story interesting, and some businesses tried to use the story to attract customers. But some people wanted to know what really happened.
Robert LaBonne, who used to be the president of the Bantam Lake Protective Association, wrote an email to two local politicians, State Sen. Andrew Roraback and State Rep. Craig Miner. He told them he was getting emails from people as far away as Florida asking what was being done to figure out the mystery.
Bob Leigh, called The Litchfield County Times one late Thursday afternoon. He said that he and two of his friends saw the same thing at the same place about two years ago, around the same time.
Mr. Leigh said that the whole sky turned into a strange green light and then it was gone.
Leigh and his friends looked at each other and wondered what that thing was. He said it came from the sky like a green blob.
A new report covering the story of the Green Whale of Bantam Lake
Possible Mundane Explanations for the Green Whale
It is not known for sure what exactly fell from the sky on that fateful April monring and so far there have been no searches conducted in the lake.
Brian Koberlein, a space scientist and writer, told CT Insider that meteoroids and asteroids can look green when they burn up in our atmosphere because of the iron-nickel in them. He thinks a meteor might be responsible for what was seen.
He said that it's hard to tell where something is and how big it is in the night sky. For example, the moon looks really big when it's low in the sky, but it's always the same size. The same thing can happen with meteors.
They might look big, bright, and close to the ground, but they're usually higher up and just look like they're near the horizon. Since this event happened during a meteor shower, and green meteors are not unusual, he thinks it was probably a meteor.
Have you ever seen anything like the Green Whale of Bantam Lake? Tell us about it in the comments.
If you enjoyed learning about the Green Whale of Bantam Lake you might also be interested in the story of Sam the Sandown Clown or Kristina Florence's Alien Abduction story.