The Hunter Met A Mysterious Wild Man Who Asked For Help In A Female Voice

Reddit user "PerpetualConnection" recently told a story that he encountered something very strange and frightening in the night forest.
We publish his story below.
I'm a hunter, I like to hunt wild boar specifically. Though I have been deer hunting and have been known to get a turkey for Thanksgiving I mostly hunt boar. For those of you that don't know, boars are a big problem in the United States.
A sow can have two litters a year and it's not uncommon for a litter to consist of 10 or more pigs. Given that pigs eat anything and everything it's not hard to see why the Department of Fish and Wildlife makes it legal to hunt them with almost no restrictions.
In my state it's illegal to hunt most large mammals with night or thermal vision scopes, with the exception of boar and coyote. I'd been saving for a year, mostly fun money. It's hard to explain to your wife that a scope that costs literally twice as much as the rifle I was mounting it on was worth it.
But I did it, I took it to a range and sighted it in. There was an area that was peppered with boar activity that I knew would be perfect for a night hunt. It was easily accessible with my truck with easy to find spots that I could set up in that overlooked a large easy to navigate clearing.
The night started uneventful, mostly me tinkering with my new toy, cycling through the settings. I was a little impatient, I'd spotted multiple deer but they were out of season and like I mentioned earlier, my current set up wasn't legal for deer.
I moved to another spot I'd seen days earlier that probably wasn't much better than my first but it gave me something to do and a new angle to look around with my new scope.
After an hour or so of glassing the area it dawned on me. This spot doesn't have much animal activity at all, no rabbit or owls, the deer that I'd seen were hundreds of yards from where I was. Why was this pocket of land so dead at night but lively in the day?
I'd set up around 10pm and it was about 2am when I started to think about packing up, maybe setting up a target before I left and taking some practice shots. I heard a crunch come from the direction I came from before. I panned my scope over and saw the silhouette of a small bear pushing through the bushes. It's important to note that my scope isn't exactly "night vision". It's a thermal scope, kind of like a black and white version of what you see in the predator movies.
I adjusted my range and zoomed in a little. I remember jolting a little when I saw that it wasn't really a bear, it was a man. Because he was so low and hunched over I thought I was looking at a young bear. Is that a game Warden?
It couldn't be, I would've seen the headlights coming up the road from where I was perched. And where could he have walked from ? I was 30 miles away from anything and on public lands.
I was about to call out when I adjusted my sights and noticed, he was naked. No shoes, pants or anything. I remember being disturbed by his movements, like a squirrel or something. Twitchy and grabbing at the foliage, sniffing around and palming the tree.
Was that my tree? The one I'd been leaning against earlier? The thought terrified me, could he smell me ? Than he did something I still have nightmares about today. He squated and placed his hands in the dirt between his feet and stared straight up like a dog mid howl.
And I heard it, a voice coming from that direction, a very compelling female voice. "Help ! I'm lost !" There was a long pause but neither of us moved a muscle. The center of my sights was trained at the dirt in front of his feet, I couldn't bring myself to aim directly at another person, it went against everything I'd been taught about firearms.
Were they lost? Was this some guy that had gone crazy out here ? Why was his voice so feminine? "Help! Please! I can't walk !" The voice called out. That's when I called bullshit. Not only could he walk, when I first saw him he was traversing the land with ease for a naked person, so good I mistook him for a bear.
That's a fucking trap, this guy is trying to lure me to him with a damsel in destress routine. Luckily the lack of activity before had caused me to pack up most of my gear. I think I may have left behind a hat and a sitting pad but I didn't give a shit at that moment.
I took my eyes off him for a moment to get my pack on. I buckled my chest strap and scrambled for my rifle. To my horror, he was in the same position but his face was staring in my direction and I swear I saw smile, the thermal scope has an effect that makes animal's eyes appear white. How the hell had he heard me get up and put my gear on ? He must've easily been 150 yards away. "Fuck off !," I screamed in that direction.
He stood upright and it hit me how tall and skinny he was. Easily six feet and very lean. He took a couple of long strides in my direction and I instinctively sent a round sailing above his head into the treeline. He was freaky as hell but he hadn't really threatened me, what would I tell the cops ? I was unwilling and unready to shoot someone.
He stopped dead in his tracks and hunched down on all fours. "The next one will fuck you up! Go away!" he stayed on all fours and this time I had my sights trained on the center of him. His eyes were just above the grass like a large cat or something.
I was trying to stop my trembling and knew that my voice had cracked a little on that last warning. I was terrified, that standoff probably only lasted a minute or two, maybe less, but it felt like forever.
In an instant he bolted left towards the treeline opposite the road. So much for not being able to walk, I could barely keep him in my scope he was moving so fast.
He disappeared into the brush and I sent another bullet sailing high in his direction. I racked another round and tried to pocket that mag and swap for a fresh one, but I dropped it and didn't bother looking for it. I wasn't far from my truck and I wanted to get out of there.
I could hear him in the distace, yelling in this weird sound that could have been a laugh or a cry. I scrambled up the trail and arrived at my truck breathless. I tossed my gear into the cab but kept the rifle in the passenger seat and sped off.
For the longest time I told that story from the perspective of having spotted some deranged crack head living off the land like some kind of caveman. I reported it to fish and game but all they did was scold me for hunting at night alone, never received an update.
It wasn't until I told this story at a camping trip that my nephew told me about wendigos, rakes, and skinwalkers. My story scared the piss out of him because the spot we were camping was technically the same forest I'd seen the bastard. Just 50 miles east of it.
He was so spooked his mom (my cousin) had to take him home, she was really pissed. I've gone down the rabbit hole one these scary stories, I'm not saying what I saw definitely was a wendigo or a skinwalker.
I'm saying that if such a thing exists, I may have dodged quite the bullet that night. Or maybe it was just a tweaker being Donnie Thornberry in the middle of the night. Either way, thought I'd share.
Believe what you like. These are events as I recall them. And no, I'm not a writer.
Bigfoot Researcher Leads Historic Expedition in Thailand

C. Thomas Biscardi, a renowned Bigfoot researcher with more than 50 years of experience, has announced
the launch of "Bigfoot in Thailand: The Definitive Expedition", a
groundbreaking venture that aims to uncover proof of the legendary
creature in a country where it is known as Orang Pendek.
Biscardi
and his team of experts will collaborate with Thai government
officials, academic leaders and locals who have witnessed or encountered
the elusive beast in the remote jungles of Southeast Asia.
Biscardi
said that Thailand and other parts of Southeast Asia have a long
history of Bigfoot reports, dating back to the 16th century, but they
have been largely neglected by serious researchers due to various
challenges such as weather, terrain, wildlife, culture and politics.
He
said that his team, which includes tracker Robert "The Swede" Holmberg
and researcher Chris Contrearas, has the skills and experience to
overcome these obstacles and conduct a thorough and rigorous
investigation. He also said that Buddhist Monk "Att" will be a vital
part of the expedition, providing access and guidance to the lands and
people associated with Bigfoot sightings.
The
expedition will be documented by cameras that will capture every aspect
of the historic journey, from interviews with witnesses and experts to
field investigations and possible encounters with the monster.
The
footage will be used for a new documentary that will showcase the
definitive historical library of Bigfoot in Thailand, as well as the
clear evidence that Biscardi hopes to find.
"I am confident that
this expedition will be informative and successful in not only creating
the definitive historical library of Bigfoot in Thailand, but will also
produce clear evidence of the monster," Biscardi said.
He added:
"Bigfoot is no stranger to the people of Southeast Asia, yet the
legendary monster remains just that – a legend. To add some real
evidence to the centuries of stories surrounding the mysterious beast,
we need to go where no one has gone before."
Robert
"The Swede" Holmberg, who will be in charge of the field crew, said: "I
have been tracking and hunting animals for most of my life, but nothing
compares to the thrill of pursuing Bigfoot. I have seen some amazing
things in my previous expeditions with Tom, but I am ready for a new
challenge in Thailand. I believe we have a good chance of finding
something there."
Chris Contrearas, who will be responsible for
collecting and analyzing information, said: "I have been fascinated by
Bigfoot since I was a kid, and I have dedicated my career to finding the
truth behind this phenomenon. I have studied hundreds of reports and
cases from around the world, but Thailand is a unique and intriguing
location. I am looking forward to working with Tom and his team to
uncover the secrets of this region."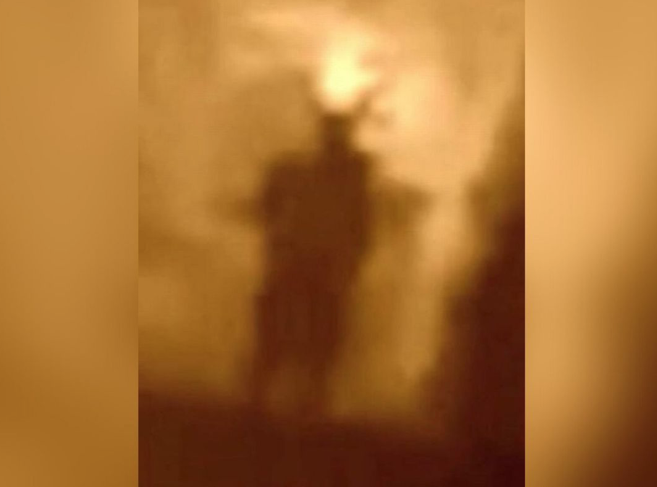 A photo of the Cornwall Owlman taken in 2019. Photo: Cornwall Live
The Cornwall Owlman is a Mothman-like creature spotted repeatedly since the 1920's in a churchyard in the UK.
What is the Cornwall Owlman?
A sketch of the Cornwall Owlman
St Mawnan and St Stephen's Church, located in Cornwall, is believed by some to be home to a creature that looks like a mix of a man and an owl. This creature has been scaring the local people and tourists since the 1920s. The church is in a peaceful area surrounded by trees and a beautiful view of the sea.
The first sighting of the Owlman was in 1926. The Cornish Echo newspaper told a story about two boys who were being chased by a really huge, angry bird. The boys were extremely frightened, but luckily they were able to get away and find safety behind a strong metal grating.
St Mawnan and St Stephen's Church, located in Cornwall.
Another sighting of the Owlman of Mawnan Smith was reported 50 years later in April 1976. Two girls, June (12) and Vicky (9) Melling were on vacation with their parents They decided to walk to the old church for a look around. While they were on top of the church tower, they saw something they didn't expect. It was a menacing creature that looked like a mixture of a bird and a man, with wings and feathers.
The girls were so terrified by what they saw that their father made the decision to end their vacation and leave Cornwall right away.
In July of that same year, two other 14-year-old girls chose to go camping in the woods surrounding the church. They also reported seeing a gigantic owl that looked like a human, and its eyes were glowing.
News about the sightings travelled quickly and even made it to the front pages of national newspapers.
Two years later, there was another incident where some people saw something strange. At first, they thought it was someone trying to prank them by wearing a costume, dressed as a very big bird that looked silvery-gray.
They quickly changed their minds however when they saw the creature actually fly up into the sky and vanish. After it flew away, they noticed a weird buzzing sound coming from the trees for a while.
In 1989 and then again six years later, there were more sightings of the owl man. This time, an American tourist was the witness. She described the owl man as being at least 5 feet tall and having enormous claws coming from its large wings.
At the end of the summer in 1995, she wrote a letter about her experience and sent it to Simon Parker, who was the night editor of the Western Morning News at that time.
Here is what she wrote:
"Dear Sir
I am a student of marine biology at the Field Museum, Chicago on the last day of a summer vacation in England. Last Sunday evening I had a most unique and frightening experience in the wooded area near the Old Church at Mawnan, Cornwall. I experienced what I can only describe as a 'vision from hell'.
The time was 15 minutes after 9, more or less. And I was walking along a narrow track through the trees. I was halted in my tracks when about 30m ahead I saw a monstrous 'Birdman' thing. It was the size of a man with a ghastly face, a wide mouth, glowing eyes and pointed ears. It had huge clawed wings and was covered in feathers of silver grey colour. The thing had long bird legs which terminated in large black claws. It saw me and rose, floating towards me. I just screamed then turn and ran for my life. The whole experience was totally irrational and dreamlike.
Friends tell me that there is a tradition of a Phantom Owlman in that District. Now I know why. I have seen the phantom myself. Please don't publish my real name and address. This could adversely affect my career. Now I have to rethink my 'worldview' entirely.
Yours very sincerely scared Eyewitness."
Recent Sightings of the Cornwall Owlman
Another sketch based on sightings of the Cornwall Owlman
In 2019, a paranormal investigator in Falmouth claimed that he saw the Owlman, and that his friend was attacked by it.
Mark Davies, was in the graveyard with his friend Chris Power from Manchester. Suddenly they heard a hissing sound coming from the trees, accompanied by flapping noises. The sound seemed to pass right above their heads. At that moment, they saw a figure with horns on its head, which greatly alarmed them. They were carrying a meter used to detect electromagnetic energy, typically used for detecting ghosts. Surprisingly, they received coherent responses to their questions through the meter.
These occurrences indicated the presence of a demonic energy, which made them feel unsafe. Their friend experienced an attack in the form of scratches on his arm. Mark claimed that his camera broke during the incident. Although he didn't see anything, he suddenly felt a surge of energy. It wasn't until around half an hour later that he began to feel a burning sensation.
Mark and Chris managed to capture this photo that they claim may be the Owlman:
Could the Cornwall Owlman be Mothman?
The sightings of the Cornwall Owlman have a striking resemblance to stories of the Mothman, a legendary creature often described as a large, winged humanoid with glowing red eyes, known for its association with sightings of impending disasters and a sense of foreboding.
Could the Cornwall Owlman be Mothman? We decided to check if the reported sightings of the Owlman line up with any disasters in Cornwall's history over the last 100 years.
There are a few disasters that the Cornwall Owlman could have been trying to warn us about.
The Accident at Castle-an-Dinas
Not long after the reported Owlman sighting in 1995, Cornwall's worst ever traffic accident occurred.
On December 15, 1995, a digger's arm, being carried on a lorry, swung out unexpectedly and hit the cars behind it, causing a devastating collision with shattered glass and twisted metal. Five people lost their lives, and others suffered severe head injuries.
The accident happened on a minor road at Castle-an-Dinas at 6:30 PM when the driver was returning the vehicle to the depot after a long day's work. The companies responsible for the vehicle, Bazeley Plant Hire and Chepstow Plant Hire, were fined a total of £500,000 for not ensuring its safety.
The driver, who hailed from Fraddon, was found guilty of causing the death of five people due to dangerous driving. He was ordered to receive treatment at a psychiatric hospital due to mental illness linked to post-traumatic stress disorder and depression resulting from the accident.
The Camelford Poisoning
On July 6, 1988, a serious accident occurred at the water treatment plant near Camelford, Cornwall. Due to a mistake made by a relief lorry driver, around twenty tonnes of aluminium sulphate were dumped into the wrong water tank, contaminating the water supply for about 20,000 people in the area. This resulted in the water becoming highly acidic and filled with metals.
As a consequence, numerous residents experienced health problems such as stomach cramps, rashes, diarrhoea, mouth ulcers, and joint pain. Some even claimed that their hair turned green due to copper residues in the water. Despite receiving numerous complaints about the quality of the water, the South West Water Authority initially assured the public that it was safe to drink. However, it took nearly three weeks before a warning was finally issued. The incident left lasting health concerns within the community for many years.
The Cornwall Owlman wasn't sighted again until the year after the poisoning occurred, but perhaps it was trying to warn us about the ongoing affects of the poisoning.
Possible Explanations for the Cornwall Owlman
Shrouded Hand covers the Owlman of Cornwall
The reason behind all these strange events occurring near Mawnan church remains a mystery. Some people suggest that the sightings could be attributed to an escaped Great Grey Owl. These owls can have a wingspan of almost 2 meters, possess large talons, and reach a height of around 4.5 feet. The fact that the Owlman has been seen over such a long period of time makes it unlikely that witness are seeing the same owl.
Another theory proposes a connection between the stories and the church's location within ancient earthworks. Some researchers also mention the presence of a ley line, an energy line in the Earth, passing through the site. Some visitors to the area have described Mawnan Woods as brimming with a vibrant energy. Is it possible that this natural Earth energy is somehow linked to the reports of the Owlman?
Some people are skeptical about many of the sightings in the 1970's as they were connected to one man, a magician and paranormal researcher Tony "Doc" Shiels.
During that period, Doc Shiels gained attention and recognition for his involvement in a project dedicated to discovering and summoning monsters. He claimed to have witnessed the Loch Ness monster and even captured a photograph of it.
For a long time, he resided in St Ives before relocating to Ponsanooth. He has since departed Cornwall and moved to Ireland.
What do you think about the Cornwall Owlman? Tell us in the comments.
If you enjoyed learning about the Owlman of Cornwall you might also be interested in of reports of a train hitting and killing a bigfoot or the Fresno Nightcrawler.