The Hunter Met A Mysterious Wild Man Who Asked For Help In A Female Voice

Reddit user "PerpetualConnection" recently told a story that he encountered something very strange and frightening in the night forest.
We publish his story below.
I'm a hunter, I like to hunt wild boar specifically. Though I have been deer hunting and have been known to get a turkey for Thanksgiving I mostly hunt boar. For those of you that don't know, boars are a big problem in the United States.
A sow can have two litters a year and it's not uncommon for a litter to consist of 10 or more pigs. Given that pigs eat anything and everything it's not hard to see why the Department of Fish and Wildlife makes it legal to hunt them with almost no restrictions.
In my state it's illegal to hunt most large mammals with night or thermal vision scopes, with the exception of boar and coyote. I'd been saving for a year, mostly fun money. It's hard to explain to your wife that a scope that costs literally twice as much as the rifle I was mounting it on was worth it.
But I did it, I took it to a range and sighted it in. There was an area that was peppered with boar activity that I knew would be perfect for a night hunt. It was easily accessible with my truck with easy to find spots that I could set up in that overlooked a large easy to navigate clearing.
The night started uneventful, mostly me tinkering with my new toy, cycling through the settings. I was a little impatient, I'd spotted multiple deer but they were out of season and like I mentioned earlier, my current set up wasn't legal for deer.
I moved to another spot I'd seen days earlier that probably wasn't much better than my first but it gave me something to do and a new angle to look around with my new scope.
After an hour or so of glassing the area it dawned on me. This spot doesn't have much animal activity at all, no rabbit or owls, the deer that I'd seen were hundreds of yards from where I was. Why was this pocket of land so dead at night but lively in the day?
I'd set up around 10pm and it was about 2am when I started to think about packing up, maybe setting up a target before I left and taking some practice shots. I heard a crunch come from the direction I came from before. I panned my scope over and saw the silhouette of a small bear pushing through the bushes. It's important to note that my scope isn't exactly "night vision". It's a thermal scope, kind of like a black and white version of what you see in the predator movies.
I adjusted my range and zoomed in a little. I remember jolting a little when I saw that it wasn't really a bear, it was a man. Because he was so low and hunched over I thought I was looking at a young bear. Is that a game Warden?
It couldn't be, I would've seen the headlights coming up the road from where I was perched. And where could he have walked from ? I was 30 miles away from anything and on public lands.
I was about to call out when I adjusted my sights and noticed, he was naked. No shoes, pants or anything. I remember being disturbed by his movements, like a squirrel or something. Twitchy and grabbing at the foliage, sniffing around and palming the tree.
Was that my tree? The one I'd been leaning against earlier? The thought terrified me, could he smell me ? Than he did something I still have nightmares about today. He squated and placed his hands in the dirt between his feet and stared straight up like a dog mid howl.
And I heard it, a voice coming from that direction, a very compelling female voice. "Help ! I'm lost !" There was a long pause but neither of us moved a muscle. The center of my sights was trained at the dirt in front of his feet, I couldn't bring myself to aim directly at another person, it went against everything I'd been taught about firearms.
Were they lost? Was this some guy that had gone crazy out here ? Why was his voice so feminine? "Help! Please! I can't walk !" The voice called out. That's when I called bullshit. Not only could he walk, when I first saw him he was traversing the land with ease for a naked person, so good I mistook him for a bear.
That's a fucking trap, this guy is trying to lure me to him with a damsel in destress routine. Luckily the lack of activity before had caused me to pack up most of my gear. I think I may have left behind a hat and a sitting pad but I didn't give a shit at that moment.
I took my eyes off him for a moment to get my pack on. I buckled my chest strap and scrambled for my rifle. To my horror, he was in the same position but his face was staring in my direction and I swear I saw smile, the thermal scope has an effect that makes animal's eyes appear white. How the hell had he heard me get up and put my gear on ? He must've easily been 150 yards away. "Fuck off !," I screamed in that direction.
He stood upright and it hit me how tall and skinny he was. Easily six feet and very lean. He took a couple of long strides in my direction and I instinctively sent a round sailing above his head into the treeline. He was freaky as hell but he hadn't really threatened me, what would I tell the cops ? I was unwilling and unready to shoot someone.
He stopped dead in his tracks and hunched down on all fours. "The next one will fuck you up! Go away!" he stayed on all fours and this time I had my sights trained on the center of him. His eyes were just above the grass like a large cat or something.
I was trying to stop my trembling and knew that my voice had cracked a little on that last warning. I was terrified, that standoff probably only lasted a minute or two, maybe less, but it felt like forever.
In an instant he bolted left towards the treeline opposite the road. So much for not being able to walk, I could barely keep him in my scope he was moving so fast.
He disappeared into the brush and I sent another bullet sailing high in his direction. I racked another round and tried to pocket that mag and swap for a fresh one, but I dropped it and didn't bother looking for it. I wasn't far from my truck and I wanted to get out of there.
I could hear him in the distace, yelling in this weird sound that could have been a laugh or a cry. I scrambled up the trail and arrived at my truck breathless. I tossed my gear into the cab but kept the rifle in the passenger seat and sped off.
For the longest time I told that story from the perspective of having spotted some deranged crack head living off the land like some kind of caveman. I reported it to fish and game but all they did was scold me for hunting at night alone, never received an update.
It wasn't until I told this story at a camping trip that my nephew told me about wendigos, rakes, and skinwalkers. My story scared the piss out of him because the spot we were camping was technically the same forest I'd seen the bastard. Just 50 miles east of it.
He was so spooked his mom (my cousin) had to take him home, she was really pissed. I've gone down the rabbit hole one these scary stories, I'm not saying what I saw definitely was a wendigo or a skinwalker.
I'm saying that if such a thing exists, I may have dodged quite the bullet that night. Or maybe it was just a tweaker being Donnie Thornberry in the middle of the night. Either way, thought I'd share.
Believe what you like. These are events as I recall them. And no, I'm not a writer.
The story of Bigfoot, hit by a train in 1880

Cryptozoologist Scott White of the International Bigfoot Society spoke to an elderly woman named Rita Swift, who told him a story told by her grandfather.
Her grandfather's name was George Huhn, and in the late 19th century he worked as an engineer on a train that ran along the US-Canada border.
One night, while they were passing through a forest somewhere in the middle of nowhere, their train hit something on the tracks and it was something so large that it damaged the cowcatcher – a device made of metal rods that was attached to the front of the train.
Below is her story:
"My name is Rita Swift. I live in Orange Co. California. In 1945, my grandfather George Huhn told me a story about the time his train hit a large Ape creature and bent the cow catcher on his train.
"This was in the 1880's and he was an engineer on a train that ran along the borders of the US and Canada. It was night, and all of a sudden their train hit something and they stopped the train, because the cowcatcher was dragging on the tracks.
At first they thought it was a moose, but when they all got out with their lanterns, they discovered this huge smelly Ape, hung up in the catcher. They had only lanterns for light, and they were in the forest, basically in the middle of nowhere.
"It took most of the crew to pick it up and lift it into an open flat car. They noticed it was structured differently from a Gorilla of Ape, and smelled so bad, the crew got the smell on them.
"They left it on the flat car, because it took at least 2 hours to straighten out the cow catcher. Good thing my great grandfather was also a blacksmith. They were at least 2 hours from the next water tower and station of sorts.
"The break man noticed Indians sneaking around in the forest, but thought they had disappeared. When they were ready to go, the crew checked on their smelly passenger, but he was gone.
"They looked for tracks and decided the Indians had dragged it away into the forest and across a stream. They found the tracks and pieces of hair and of course the smell. They washed up in the stream and were glad to get rid of it. The smell had even remained in the flat car.
"My great grandfather took pieces of the hair back, and gave it to a doctor he knew in Michigan. They had all decided the creature had escaped from a circus or sideshow. Great grandfather thought it was 8 feet tall and weighed at least 500 lbs.
"It took six men to carry it off the tracks. When my daughter was a student at California State University at Fullerton in 1986, I met a Professor of Anthropology. The reason I was there, was I donated Indonesian Fighting Swords to her dept.
"They were very old and had belonged to my husband. I just didn't feel comfortable having them in my home anymore. I noticed in her office she had information on the walls about Big Foot. I told her the story and she believed it was documented.
"My grandfather said the Ape had a different face than what he remembered of a Gorilla. He said the teeth were like humans, but extremely wide and large. The body hair was thick dark brown, with light tipping and the eyes were large and dark. He said they agreed it was a male because of it's genitalia.
"Grandfather continued as a railroad engineer on the Colorado Wyoming line until he retired in 1925. He fought off outlaws with his six shooter from the cab. I have a photo of Grandfather with the crew, stopped in Eads, Colorado, with a large cannon hole in the side of the engine.
"This was in 1898, when some outlaws on horses pulled up an old Confederate cannon along the tracks, and fired at the engine. The crew chased them away, but left the train damaged. They were on their way to Durango carrying bank money from Denver.
"Grandfather would never tell stories that were not true. He was a devout Methodist, and said his prayers so loud every night, the whole house could hear him.
"He had originally come from Amish in Mercer, Co., Pa., but left to fight for the Union in the Civil War. His father did not accept his decision, and he never returned to Mercer Co. He was born in 1845 and died in 1947, in Claremont California."
Moehau: New Zealand's Bigfoot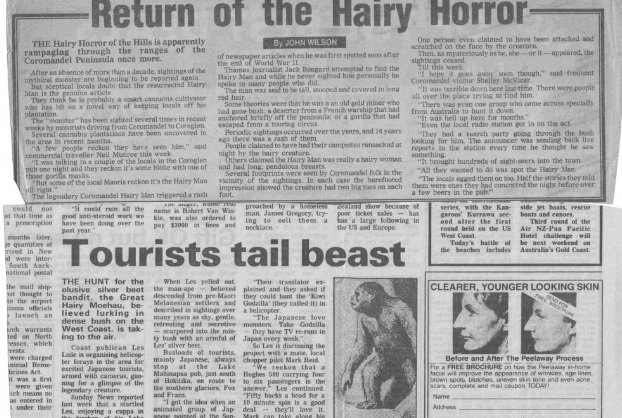 Tony Lucas's depiction of a Moehau. Photo:Cryptidz.Fandom
The Moehau is a legendary monster in Maori mythology, originating from the central plateau region of the North Island of New Zealand. It is said to be a large, hairy, man-like creature that inhabits the dense forests of the region and is known for its fearsome roar and aggressive behavior.
Description of the Moehau
The Moehau is described in Maori legend as a large, hairy, human-like creature with a fierce appearance. It is said to have long arms that reach down to its knees, and sharp claws on its hands and feet. Its hair is described as dark and shaggy, covering its entire body, and its face is said to be savage and frightening.
The Moehau is typically depicted as being six-seven feet tall, with a powerful build and an intimidating presence. Some legends describe the creature as having a mane of hair around its neck and glowing eyes that can be seen from a distance in the darkness of the forest.
Moehau Sightings
Reports of sightings of the Moehau are rare and mainly come from the central plateau region of the North Island of New Zealand, where the creature is said to inhabit. However, these reports are largely anecdotal and lack concrete evidence.
The sightings are often described as fleeting and difficult to verify, with people claiming to have seen a large, hairy, human-like creature moving quickly through the forest or hearing its distinctive roar echoing through the trees.
The most common evidence of the Moehau is found in the form of footprints.
Rex Gilroy holds up plaster casts of possible Moehau footprints. Photo: Haunted Auckland
In 1903 some very large footprints were found in the Karangahake Gorge in the Coromandel.
In 1971 a trail of huge footprints was discovered on snow-covered ground by a park ranger in the Karangahake Gorge.
In 1983 a man hunting a deer came across fresh footprints near the Heaphy River that appeared to be far larger then a normal human's.
In 1991 in the Cameron Mountains of the South Island some campers hastily abandoned their camp after finding some unsettlingly large footprints near their site.
Newspaper articles about the Moehau. Photo: Haunted Auckland
Several witnesses report having been attacked or chased by a Moehau. In 1970 some campers in the Coromandel abandoned their camp after a 6ft tall hairy man beast continued to screamed loudly and threw rocks at them.
Just two years later in the same area a hunter watched as a 6ft tall, ape-like creature worked its way through the bush on the other side of the gully. The hunter went to investigate and found large footprints left behind.
An undated report in New Zealand's Sunday News told of the owner of the Lake Mahinapua Pub on the South Island's West Coast regularly having his garden raided by a huge man-beast. The Moehau was particularly fond of his silver beet.
Killed by Moehau?
A few early account existed where people were reportedly killed by Moehau. The headless body of a prospector was found in the Martha Mine in 1882 and was blamed on a Moehau. A few years later, not far from the Martha Mine, a woman was dragged from her shack and found dead with a snapped neck a few hundred meters away.
Was the Moehau an Escaped Gorilla?
The theory that the Moehau is an escaped gorilla is a relatively recent and controversial one. It suggests that the creature may have escaped from a zoo or animal park in New Zealand and survived in the wild, leading to reports of sightings and encounters. This theory is based on the idea that the description of the Moehau as a large, hairy, man-like creature with sharp claws and a fearsome appearance is consistent with the physical characteristics of gorillas.
However, this theory is largely speculative and lacks concrete evidence. Gorillas are native to Africa and are not found in the wild in New Zealand, so it is unlikely that one could have escaped and survived in the wild there. Additionally, the forested regions of the central plateau are remote and inhospitable, making it unlikely that an escaped gorilla would be able to thrive there. The majority of experts in the field reject the idea that the Moehau is an escaped gorilla, and it remains a creature of legend and myth in Maori culture.
A video describing the Moehau, Maori Bigfoot
Have you ever seen a Moehau or something similar in your neck of the woods? Let us know in the comments!
If you enjoyed this article you may be interested in the Moehau's cousins: Bigfoot and Batutut.