The Hunter Met A Mysterious Wild Man Who Asked For Help In A Female Voice

Reddit user "PerpetualConnection" recently told a story that he encountered something very strange and frightening in the night forest.
We publish his story below.
I'm a hunter, I like to hunt wild boar specifically. Though I have been deer hunting and have been known to get a turkey for Thanksgiving I mostly hunt boar. For those of you that don't know, boars are a big problem in the United States.
A sow can have two litters a year and it's not uncommon for a litter to consist of 10 or more pigs. Given that pigs eat anything and everything it's not hard to see why the Department of Fish and Wildlife makes it legal to hunt them with almost no restrictions.
In my state it's illegal to hunt most large mammals with night or thermal vision scopes, with the exception of boar and coyote. I'd been saving for a year, mostly fun money. It's hard to explain to your wife that a scope that costs literally twice as much as the rifle I was mounting it on was worth it.
But I did it, I took it to a range and sighted it in. There was an area that was peppered with boar activity that I knew would be perfect for a night hunt. It was easily accessible with my truck with easy to find spots that I could set up in that overlooked a large easy to navigate clearing.
The night started uneventful, mostly me tinkering with my new toy, cycling through the settings. I was a little impatient, I'd spotted multiple deer but they were out of season and like I mentioned earlier, my current set up wasn't legal for deer.
I moved to another spot I'd seen days earlier that probably wasn't much better than my first but it gave me something to do and a new angle to look around with my new scope.
After an hour or so of glassing the area it dawned on me. This spot doesn't have much animal activity at all, no rabbit or owls, the deer that I'd seen were hundreds of yards from where I was. Why was this pocket of land so dead at night but lively in the day?
I'd set up around 10pm and it was about 2am when I started to think about packing up, maybe setting up a target before I left and taking some practice shots. I heard a crunch come from the direction I came from before. I panned my scope over and saw the silhouette of a small bear pushing through the bushes. It's important to note that my scope isn't exactly "night vision". It's a thermal scope, kind of like a black and white version of what you see in the predator movies.
I adjusted my range and zoomed in a little. I remember jolting a little when I saw that it wasn't really a bear, it was a man. Because he was so low and hunched over I thought I was looking at a young bear. Is that a game Warden?
It couldn't be, I would've seen the headlights coming up the road from where I was perched. And where could he have walked from ? I was 30 miles away from anything and on public lands.
I was about to call out when I adjusted my sights and noticed, he was naked. No shoes, pants or anything. I remember being disturbed by his movements, like a squirrel or something. Twitchy and grabbing at the foliage, sniffing around and palming the tree.
Was that my tree? The one I'd been leaning against earlier? The thought terrified me, could he smell me ? Than he did something I still have nightmares about today. He squated and placed his hands in the dirt between his feet and stared straight up like a dog mid howl.
And I heard it, a voice coming from that direction, a very compelling female voice. "Help ! I'm lost !" There was a long pause but neither of us moved a muscle. The center of my sights was trained at the dirt in front of his feet, I couldn't bring myself to aim directly at another person, it went against everything I'd been taught about firearms.
Were they lost? Was this some guy that had gone crazy out here ? Why was his voice so feminine? "Help! Please! I can't walk !" The voice called out. That's when I called bullshit. Not only could he walk, when I first saw him he was traversing the land with ease for a naked person, so good I mistook him for a bear.
That's a fucking trap, this guy is trying to lure me to him with a damsel in destress routine. Luckily the lack of activity before had caused me to pack up most of my gear. I think I may have left behind a hat and a sitting pad but I didn't give a shit at that moment.
I took my eyes off him for a moment to get my pack on. I buckled my chest strap and scrambled for my rifle. To my horror, he was in the same position but his face was staring in my direction and I swear I saw smile, the thermal scope has an effect that makes animal's eyes appear white. How the hell had he heard me get up and put my gear on ? He must've easily been 150 yards away. "Fuck off !," I screamed in that direction.
He stood upright and it hit me how tall and skinny he was. Easily six feet and very lean. He took a couple of long strides in my direction and I instinctively sent a round sailing above his head into the treeline. He was freaky as hell but he hadn't really threatened me, what would I tell the cops ? I was unwilling and unready to shoot someone.
He stopped dead in his tracks and hunched down on all fours. "The next one will fuck you up! Go away!" he stayed on all fours and this time I had my sights trained on the center of him. His eyes were just above the grass like a large cat or something.
I was trying to stop my trembling and knew that my voice had cracked a little on that last warning. I was terrified, that standoff probably only lasted a minute or two, maybe less, but it felt like forever.
In an instant he bolted left towards the treeline opposite the road. So much for not being able to walk, I could barely keep him in my scope he was moving so fast.
He disappeared into the brush and I sent another bullet sailing high in his direction. I racked another round and tried to pocket that mag and swap for a fresh one, but I dropped it and didn't bother looking for it. I wasn't far from my truck and I wanted to get out of there.
I could hear him in the distace, yelling in this weird sound that could have been a laugh or a cry. I scrambled up the trail and arrived at my truck breathless. I tossed my gear into the cab but kept the rifle in the passenger seat and sped off.
For the longest time I told that story from the perspective of having spotted some deranged crack head living off the land like some kind of caveman. I reported it to fish and game but all they did was scold me for hunting at night alone, never received an update.
It wasn't until I told this story at a camping trip that my nephew told me about wendigos, rakes, and skinwalkers. My story scared the piss out of him because the spot we were camping was technically the same forest I'd seen the bastard. Just 50 miles east of it.
He was so spooked his mom (my cousin) had to take him home, she was really pissed. I've gone down the rabbit hole one these scary stories, I'm not saying what I saw definitely was a wendigo or a skinwalker.
I'm saying that if such a thing exists, I may have dodged quite the bullet that night. Or maybe it was just a tweaker being Donnie Thornberry in the middle of the night. Either way, thought I'd share.
Believe what you like. These are events as I recall them. And no, I'm not a writer.
NASA Zone F: Has NASA discovered strange creatures under the sea?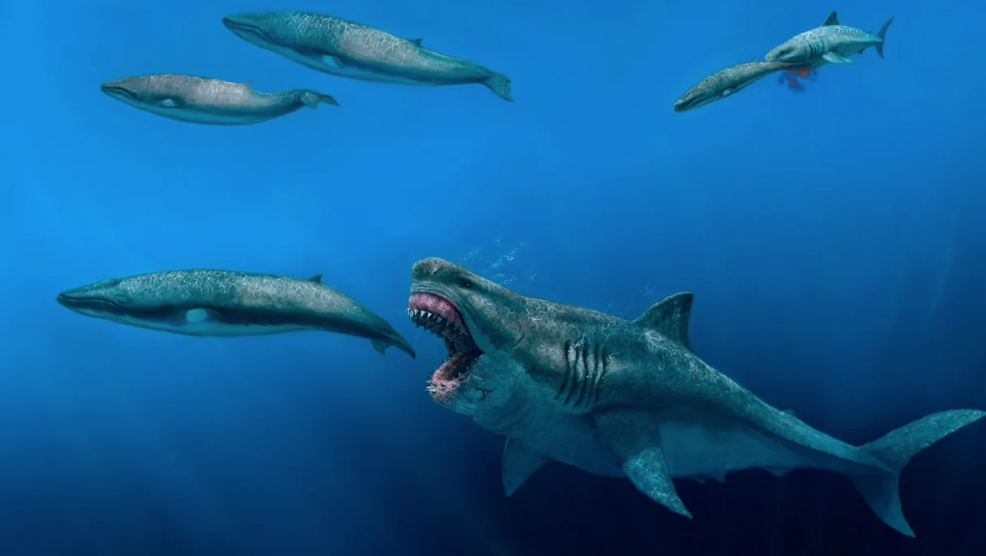 What is the connection between NASA, Zone F and the Megalodon?
A massive shark is caught on camera prowling near a research vessel off the Massachusetts coast, creating a buzz on social media. What is the link between NASA Zone F and this elusive megalodon?
What is a Megalodon?
The megalodon, from Nasa Zone F, compared with normal sized sharks and a human
The megalodon is an incredible creature from the past that once roamed the depths of our ancient oceans. It is often referred to as the largest shark that ever lived. Despite being extinct for millions of years, the sheer size and power of the megalodon continue to captivate our imaginations.
The megalodon was a massive shark, far larger than any shark we see in our oceans today. It is believed to have reached lengths of around 50 to 60 feet, which is like having three school buses parked end to end! Just thinking about it makes you realize how enormous this creature truly was. Its mouth alone was wide enough to swallow a human whole, with teeth that could grow up to 7 inches in length.
As a top predator, the megalodon had an insatiable appetite. It primarily fed on marine mammals, such as whales and seals, as well as large fish. With its powerful jaws and rows of sharp, triangular teeth, the megalodon would bite its prey with incredible force, incapacitating them instantly. Its strong body allowed it to swim swiftly, sneaking up on its unsuspecting victims, making it a true ocean hunter.
The megalodon was believed to inhabit oceans around the world during the Miocene and Pliocene epochs, which were about 2 to 20 million years ago. Its fossilized teeth have been found in various parts of the world, indicating its broad range. However, it suddenly disappeared from the Earth's oceans, and scientists are still trying to determine the exact cause of its extinction. Some theories suggest that changes in climate and the decline in its prey population played significant roles.
What is NASA Zone F?
NASA Zone F has been employed for capturing satellite images of the Earth's oceans, playing a crucial role in the identification and monitoring of oceanic phenomena. Leveraging cutting-edge technology, NASA holds the capability to unveil mysteries concealed beneath the ocean depths, potentially revealing the existence of the megalodon.
NASA scientists, in collaboration with the Woods Hole Oceanographic Institution, are exploring the Earth's hadal zone, the deepest parts of the oceans, to gain insights into extreme environments and develop technology for space exploration.
The hadal zone was once thought to be inhospitable, but discoveries of vibrant ecosystems around hydrothermal vents challenged that notion. Scientists are using autonomous underwater vehicles like Orpheus to map and study these depths, drawing parallels to environments on other planets, such as Jupiter's moon Europa.
The challenges faced in exploring the hadal zone, with its extreme pressure and temperature conditions, provide valuable lessons for designing robotic missions in outer space.
Near the boundary between the inner and outer core of the Earth, there might be a decrease in how fast things are moving (negative velocity gradient). This could happen because there are elements in that area that produce heat. From a chemical standpoint, it's expected that between one-third to more than half of all the Earth's heat-producing elements are present below the upper mantle. This matches what we see in terms of heat coming out from the Earth's surface.
When scientists conduct experiments at high pressure, they find that these heat-producing elements likely exist in the form of dioxides. These dioxides don't mix well with the main rocks in the mantle under the temperature and pressure conditions found in the lower mantle. These heat-producing dioxides are very dense, possibly even denser than the liquid iron-nickel core of the Earth, so they might be moved to the boundary between the inner and outer core, known as the F zone.
it is possible that "Zone F" could represent a particular region in the Earth's ocean where unique conditions exist, that allow the megalodon, to survive. It may have found a habitat in this specific zone due to favorable environmental conditions or the presence of certain prey species. This could mean that the megalodon still exists deep down in the ocean where they can hide away from human eyes.
The viral TikTok video of the Megalodon
Are these clips evidence that the megalodon still exists?
A huge shark was spotted from a research ship off the coast of Massachusetts in 2021, and a video of it has gone viral on social media.
The video was taken from the SSV Corwith Cramer, a research ship from the Sea Education Association. They were on a mission in the open ocean when they noticed the shark swimming next to the ship. A team member, Alex Albrecht, recorded the moment and shared it on TikTok, where it became viral. In the video, you can see the huge shark, some people think it might be a megalodon because of its size and shape, swimming slowly near the ship. Students on the ship can be heard shouting as the shark disappears into the water.
The sighting of the shark raised concerns, and NASA was contacted to check it out. Fortunately, it turned out that the shark wasn't a threat. Satellite footage revealed that the mysterious shadow in the water was actually a group of harmless microbes. Even though the shark wasn't dangerous, the video created a lot of excitement and got people interested in the idea that megalodons might still be living in our oceans.
Do you think megalodons still exist under the deep ocean? Tell us your theories in the comments.
if you enjoyed this article you might also be interested in a sea monster that attacked four teens off the coast of Florida or the Hook Island Sea Monster.
Human-Bear Cryptid Sighting told in 1883 Newspaper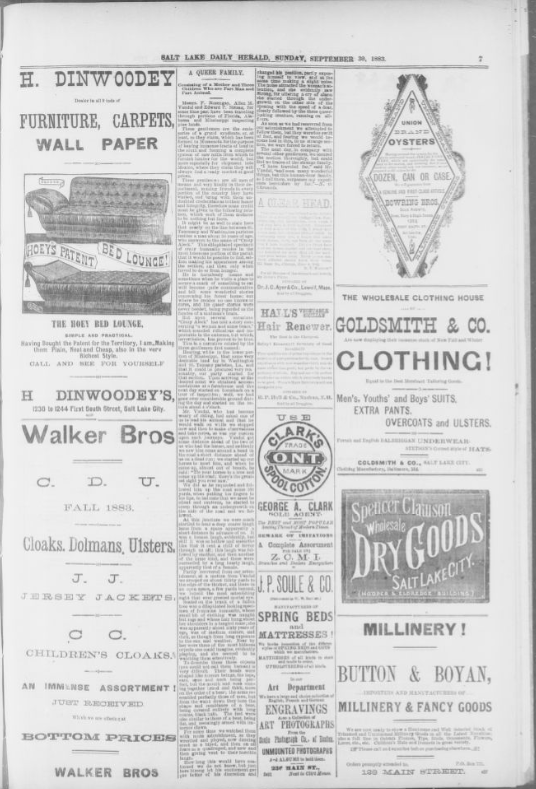 The newspaper article from 1883 discussing the sighting of three human-bear cryptids.
The Salt Lake Herald featured a story in 1883 about three businessmen who stumbled upon a wild woman with three children who seemed to be half human and half bear.
The Human-Bear Cryptid Sighting in Louisiana
The newspaper article can be viewed in context here. We have reproduced it below.
A Queer Family: Consisting of a Mother of Three Children Who are Part Man and Part Animal
The Salt Lake Herald, Sunday 30th September, 1883
Messrs. F. Rosengay, Allen M. Vandal and Edward P. Strong, for some time past have been traveling through portions of Florida, Alabama and Mississippi inspecting pine lands.
These gentlemen are the emissaries of a grand syndicate. Or, at least, so they claim, which has been formed in Minnesota for the purpose of buying immense tracts of land in the south and forming a complete system of saw mills from which to furnish lumber for the world, but more especially for shipment into Mexico, where they claim they will always find a ready market at good prices.
These gentlemen are all men of means and very kindly in their deportment, making friends in every portion of the country they have visited, and bring with them undoubted credentials as to their honor and integrity, therefore some credit must be given to the following relation, which each of them declares to be nothing but facts.
It might be as well to state here that nearly on the line between St. Tammany and Washington parishes resides a man about 50 years of age, who answers to the name of "Crazy Aleck." This dilapidated specimen of crazy humanity resides in the most lonesome portion of the parish that it would be possible to find, seldom making his appearance among the settlers, and then only when forced to do so from hunger.
He is harmlessly insane and sometimes when he visits a place to secure a snack of something to eat will become quite communicative and tell some wonderful stories concerning his forest home; but where he resides no one knows or cares, and his queer stories were never heeded, being regarded as the fancies of a madman's brain.
But upon several occasions "Crazy Aleck" has told a story concerning "a woman and some bears" which sounded ridiculous and improbable in the extreme, but which, nevertheless, has proved to be true.
This is the narrative related by the three gentlemen first named:
Hearing while in the lower portion of Mississippi, that some very desirable land lay in Washington and St. Tammany parishes, LA., and that is could be procured very reasonably, our party started for that section. Upon arriving at the desired point we obtained accommodations at a farmhouse and the next day started on horseback in a tour of inspection; well, we had gone over considerable ground during the day and started on the return about 4 o'clock.
Mr. Vandal, who had become weary of riding, had asked one of us to lead his animal and that he would walk on while we stopped now and then to make observations and take notes, as was our custom upon such journeys.
Vandal got some distance ahead of the two of us who had the horses, and suddenly we saw him come around a bend in the road a short distance ahead of us on a dead run; we started up our horses to meet him, and when he came up, almost out of breath, he said: "Tie your horses to a tree and come up the road; there's the greatest sight you ever saw."
We did as he requested and followed him up the road some 300 yards, when putting his fingers to his lips, to indicate that we must be silent and cautious, he started to creep through an undergrowth on the side of the road and we followed.
At this juncture we were much startled to hear a deep coarse laugh issue from a space apparently a short distance in advance of us.
It was a human laugh, evidently, but still it was so hollow and unearth like that it sent a chill of terror through us all; this laugh was followed by another, and then another of the same kind, and these were succeeded by a long hearty laugh, apparently that of a female.
Partly recovered from our astonishment, at a motion from Vandal we creeped on about thirty yards to the edge of the thicket, and there in an open space, a few yards beyond, we beheld the most astonishing sight that ever greeted mortal eye.
Seated on the trunk of a fallen tree was a dilapidated looking specimen of feminine humanity, whose small bit of clothing was naught but rags and whose hair hung about her shoulders in a tangles mass; she was apparently about sixty years of age, was of medium stature, and dark, as though from long exposure to the sun and weather.
Near by her were three of the most hideous objects one could imagine, evidently playing, and she seemed to be watching them attentively.
To describe these three objects (you could not call them human) is very difficult.Their heads were shaped like human beings, the tops, ears, eyes and neck being perfect, but the mouth and nose coming together broad and thick, more on the order of a bear; the arms resembled perfectly those of men, but from the waist down they bore the shape and semblance of a bear, being covered entirely with long, coarse, black hair. The feet were also similar to those of a bear, being flat, and seemingly armed with immense claws.
For some time we watched them with mute astonishment, as they wrestled and played, now dancing erect as a biped, and then on all fours as a quadruped, and now and then giving a vent to their horrible laugh.
How long this would have continued we do not know, but jut here Strong let his excitement get the better of his discretion and changed his position, partly exposing himself to view, and at the same time making a slight noise. The noise attracted the woman's attention, and she evidently saw Strong, for uttering a cry of alarm she started through the under growth on the other side of the opening with the speed of a deer, closely followed by the three queer-looking creatures, running on all fours.
As soon as we had recovered from our astonishment we attempted to follow them, but they were too swift of foot, and fearing we would become lost in this, to us strange section, we were forced to return.
The next day in company with several other gentlemen, we scoured the section thoroughly, but could find no traces of the strange family. "I have traveled far," said Mr. Vandal, "and seen many wonderful things, but this human-bear family, as I call them, surpasses my experience heretofore by far.
Theories about the Human-Bear Cryptid Children
If we assume this story is credible, what could be going on here?
Some cryptozoologists believe the wild woman in this account may have found some orphaned bigfoot children and chosen to raise them as her own. Bigfoot and other strange cryptids have been spotted all over America and it's possible that these young creatures were simply an undiscovered species being cared for by a reclusive woman.
It's somewhat more likely that the children were in fact human but perhaps horribly deformed. The extreme body hair and strange facial features could be a genetic abnormality. The "claws" could have simply been unkempt toenails that had grown to an unsightly length.
Perhaps the children were actually bear cubs that that the woman had taken. If they had mange it's possible that they would resemble humans a bit more closely. A recent viral video showing a bear in a Chinese zoo that people believed was actually human shows that some bears can be uncannily human-like.
A video of a bear showing strangely human qualities.
What do you think the truth is about the part-human- part bear family? Let us know in the comments.
If you enjoyed this article you might also be interested in the Stick Indians or the story of a Bigfoot being hit by a train in the 1800s.