The Story Of Russian Scientists Who Battled Creature Under Antarctic Ice

Since in Russia all stories with the inexplicable are strictly classified we cannot say that this is a real case. But, as is often the case, there may be some truth in every story.
A defecting Russian scientist has surfaced with a mind-bending account of what REALLY occurred when he and his colleagues went missing for five days in a mysterious lake 12,366 feet beneath the Antarctic ice.
Dr. Anton Padalka told authorities in Switzerland that the researchers discovered a bizarre and deadly life form dubbed Organism 46-B – a highly intelligent octopus-like creature that claimed the lives of three of the team members.
But the government of Russian president Vladimir Putin claimed that "nothing of scientific interest" was found – because the former KGB strongman hopes to weaponize the organism.
"The discovery of such unusual life in Lake Vostok was the most important scientific breakthrough in decades, but we were ordered not to divulge it because of Mr. Putin's sinister scheme," the whistleblowing geologist told the Swiss.
LAKE VOSTOK is more than 1,000 feet deep with a surface area equal to Lake Ontario.
It was in early February 2012 that members of the Russian Antarctic Expedition succeeded in the drilling through more than two miles of thick ice to Lake Vostok – a project that took more than 30 years. Because the freshwater lake has been sealed off from the rest of the world for between 15 and 34 million years, scientists had predicted they would find new species that had evolved far differently than any seen before.
"According to our research, the quantity of oxygen there exceeds that on other parts of our planet by 10 to 20 times. Any life forms that we find are likely to be unique on Earth," Sergey Bulat, the project's Chief Scientist said on Russian TV as the geologists were drilling down.
Previously, extremely weird creatures had been found in deep-sea vents off the coast of Antarctica including hairy-chested yeti crabs that feed on gardens of bacteria they cultivate on their bodies and carnivorous, seven-armed sea stars that can catch and kill those crabs.
Just as the eight man team neared the lake all communication with the outside world mysteriously ceased. As days crept by and the researchers failed to respond to increasing frantic efforts to reach them by radio, fellow scientists worldwide feared the worst.
The scientist claims two of the expedition members were killed by the beast. Image credit: express.co.uk
"No word from the ice for 5 days," Dr. John Priscu, a professor of ecology at Montana State University and head of a similar Antarctic exploration program grimly told Fox News at the time. "I can only imagine what it's like."
Or maybe he couldn't. Dr Padalka claims that during this time, he and his colleagues were fighting for their lives in the lost world deep beneath the earth's surface.
"We encountered Organism 46-B on day one as we were conducting a preliminary dive in our low-temperature wetsuits," he recounts. "It disabled our radio, which we later learned to our alarm, was intentional."
Although the creature has 14 arms instead of the usual eight, it kills in a similar manner to an ordinary octopus — seizing its prey, injecting it with paralyzing saliva then dismembering it into small pieces with its beak. But Organism 46-B has another trick up its sleeve.
"It is able to paralyze prey at a distance of up to 150 feet by releasing its venom into the water from an organ similar to its ink sac," explained Dr. Padlaka. "Tragically, my colleague and life-long friend Dr. Vindogradov was killed this way. He tread water wearing a blissful smile as the organism approached him. We watched helplessly as it used its arms to tear off his head, then popped his remains its mouth. It was as if it had hypnotized him telepathically."
The 33-foot-long man-eater also boasts extraordinary camouflage that helped it stalk the researchers.
"Many species of octopus can alter their appearance, usually to avoid larger predators," Dr. Padalka explained. "Sacs of colorful pigments called chromatophores allow them to change colors, and by contracting their muscles they can blend in with the smooth ocean floor or a craggy coral reef. The well-known mimic octopus can contort its boneless body to take on the shape of a sea snake or stingray."
But the shape-shifting abilities of Organism 46-B sound almost diabolical.
"It shaped itself into the form of a human diver. We thought it was one my colleagues swimming toward us in scuba gear. By the time the closest scientist realized what it was, it had grabbed him and torn him to bits."
If an arm of an ordinary octopus is cut off, the severed limb will crawl away – sometimes even seize prey and place it in the mouth of the octopus. Experts say that's because each arm contains a cluster of neurons – essentially its own brain. The arms of Organism 46-B demonstrated a chilling knack for operating autonomously.
"After our sole female researcher chopped off one of the arms with an ax, the severed limb yanked the weapon out of her hands," recalled the scientist. "That night the arm slithered onto the icy bank where we were sleeping and strangled her."
Octopuses lare known for extreme intelligence.
The experts believe that not only does the octopus regenerate its limbs, the brainy severed tentacle may be able to form a new octopus.
Octopuses are extraordinarily intelligent, able to negotiate mazes, use tools and even build structures with Legos. The newly discovered entity is in a class by itself.
"From the way it adapted each time we changed our tactics, we became convinced it is at least as intelligent as an average human," Dr. Padalka revealed. "If we were not all Ph.Ds, I fear it would have in the end outwitted us."
Miraculously, the eggheads were able to capture the creature in a tank. After the five surviving scientists made their way to the surface, the program's director ordered that the bore hole be immediately plugged.
The geologists expected to be honored internationally for their amazing find. To their great disappointment, however, the Russian government claimed that the team had found no life in Lake Vostok – and denied that divers had even entered the water.
"There's nothing much down there, I can assure you," according to a statement by the chief of the Vostok Research Station, A. M. Yelagin. The director of the Russian Antarctic Expedition, Valery Lukin, admitted that the plug had been put in place but called the precaution "routine."
U.S. and British experts were puzzled by the announcement.
"It's a little bit of an anti-climax," geologist Dr. David L. Meckenroy of the U.K. said on TV at the time. "It's hard to believe we were so wrong about there being unusual life down there."
Dr. Padalka claims he fled his native country in July after learning to his horror that the government is planning to put the discovery to military use.
"Some species of octopus lay 200,000 eggs," he pointed out. "Imagine if they were deposited in reservoirs and lakes across North America?"
The Russian government calls the whistleblower's claims preposterous.
"It is laughable. Ho, ho, ho," declared Mikhail Belochkin of the Bureau of Truthful Information. "It sounds like something you might see on one of your science fiction TV channels. The Cold War is over, my friends. If our scientists made a discovery of such magnitude, do you seriously doubt that we would share it with the world?"
NASA Zone F: Has NASA discovered strange creatures under the sea?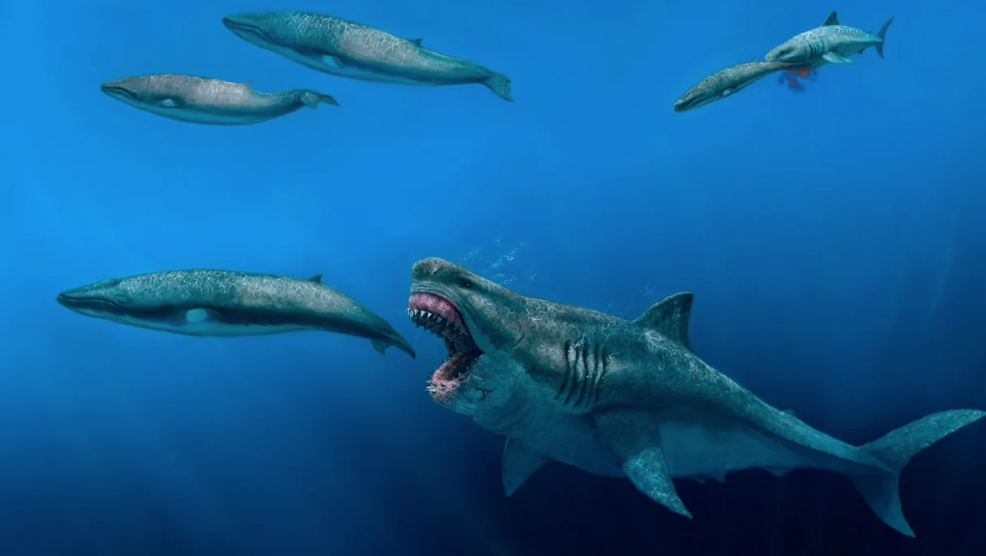 What is the connection between NASA, Zone F and the Megalodon?
A massive shark is caught on camera prowling near a research vessel off the Massachusetts coast, creating a buzz on social media. What is the link between NASA Zone F and this elusive megalodon?
What is a Megalodon?
The megalodon, from Nasa Zone F, compared with normal sized sharks and a human
The megalodon is an incredible creature from the past that once roamed the depths of our ancient oceans. It is often referred to as the largest shark that ever lived. Despite being extinct for millions of years, the sheer size and power of the megalodon continue to captivate our imaginations.
The megalodon was a massive shark, far larger than any shark we see in our oceans today. It is believed to have reached lengths of around 50 to 60 feet, which is like having three school buses parked end to end! Just thinking about it makes you realize how enormous this creature truly was. Its mouth alone was wide enough to swallow a human whole, with teeth that could grow up to 7 inches in length.
As a top predator, the megalodon had an insatiable appetite. It primarily fed on marine mammals, such as whales and seals, as well as large fish. With its powerful jaws and rows of sharp, triangular teeth, the megalodon would bite its prey with incredible force, incapacitating them instantly. Its strong body allowed it to swim swiftly, sneaking up on its unsuspecting victims, making it a true ocean hunter.
The megalodon was believed to inhabit oceans around the world during the Miocene and Pliocene epochs, which were about 2 to 20 million years ago. Its fossilized teeth have been found in various parts of the world, indicating its broad range. However, it suddenly disappeared from the Earth's oceans, and scientists are still trying to determine the exact cause of its extinction. Some theories suggest that changes in climate and the decline in its prey population played significant roles.
What is NASA Zone F?
NASA Zone F has been employed for capturing satellite images of the Earth's oceans, playing a crucial role in the identification and monitoring of oceanic phenomena. Leveraging cutting-edge technology, NASA holds the capability to unveil mysteries concealed beneath the ocean depths, potentially revealing the existence of the megalodon.
NASA scientists, in collaboration with the Woods Hole Oceanographic Institution, are exploring the Earth's hadal zone, the deepest parts of the oceans, to gain insights into extreme environments and develop technology for space exploration.
The hadal zone was once thought to be inhospitable, but discoveries of vibrant ecosystems around hydrothermal vents challenged that notion. Scientists are using autonomous underwater vehicles like Orpheus to map and study these depths, drawing parallels to environments on other planets, such as Jupiter's moon Europa.
The challenges faced in exploring the hadal zone, with its extreme pressure and temperature conditions, provide valuable lessons for designing robotic missions in outer space.
Near the boundary between the inner and outer core of the Earth, there might be a decrease in how fast things are moving (negative velocity gradient). This could happen because there are elements in that area that produce heat. From a chemical standpoint, it's expected that between one-third to more than half of all the Earth's heat-producing elements are present below the upper mantle. This matches what we see in terms of heat coming out from the Earth's surface.
When scientists conduct experiments at high pressure, they find that these heat-producing elements likely exist in the form of dioxides. These dioxides don't mix well with the main rocks in the mantle under the temperature and pressure conditions found in the lower mantle. These heat-producing dioxides are very dense, possibly even denser than the liquid iron-nickel core of the Earth, so they might be moved to the boundary between the inner and outer core, known as the F zone.
it is possible that "Zone F" could represent a particular region in the Earth's ocean where unique conditions exist, that allow the megalodon, to survive. It may have found a habitat in this specific zone due to favorable environmental conditions or the presence of certain prey species. This could mean that the megalodon still exists deep down in the ocean where they can hide away from human eyes.
The viral TikTok video of the Megalodon
Are these clips evidence that the megalodon still exists?
A huge shark was spotted from a research ship off the coast of Massachusetts in 2021, and a video of it has gone viral on social media.
The video was taken from the SSV Corwith Cramer, a research ship from the Sea Education Association. They were on a mission in the open ocean when they noticed the shark swimming next to the ship. A team member, Alex Albrecht, recorded the moment and shared it on TikTok, where it became viral. In the video, you can see the huge shark, some people think it might be a megalodon because of its size and shape, swimming slowly near the ship. Students on the ship can be heard shouting as the shark disappears into the water.
The sighting of the shark raised concerns, and NASA was contacted to check it out. Fortunately, it turned out that the shark wasn't a threat. Satellite footage revealed that the mysterious shadow in the water was actually a group of harmless microbes. Even though the shark wasn't dangerous, the video created a lot of excitement and got people interested in the idea that megalodons might still be living in our oceans.
Do you think megalodons still exist under the deep ocean? Tell us your theories in the comments.
if you enjoyed this article you might also be interested in a sea monster that attacked four teens off the coast of Florida or the Hook Island Sea Monster.
Human-Bear Cryptid Sighting told in 1883 Newspaper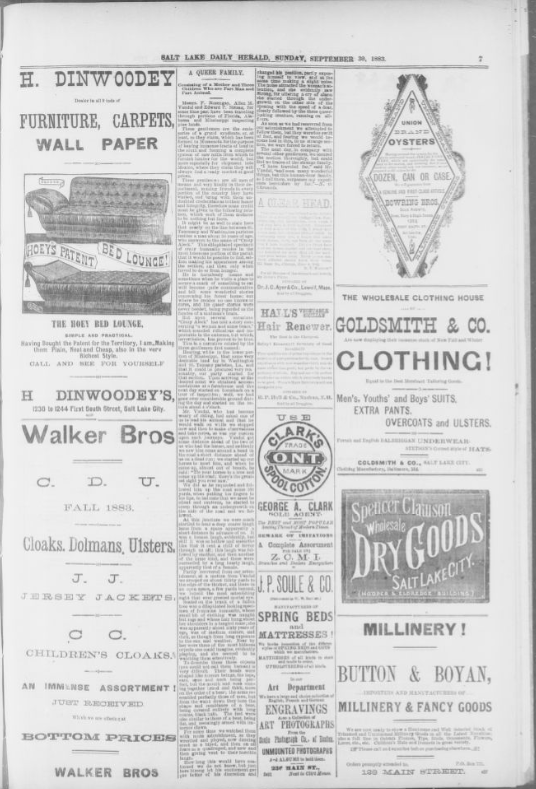 The newspaper article from 1883 discussing the sighting of three human-bear cryptids.
The Salt Lake Herald featured a story in 1883 about three businessmen who stumbled upon a wild woman with three children who seemed to be half human and half bear.
The Human-Bear Cryptid Sighting in Louisiana
The newspaper article can be viewed in context here. We have reproduced it below.
A Queer Family: Consisting of a Mother of Three Children Who are Part Man and Part Animal
The Salt Lake Herald, Sunday 30th September, 1883
Messrs. F. Rosengay, Allen M. Vandal and Edward P. Strong, for some time past have been traveling through portions of Florida, Alabama and Mississippi inspecting pine lands.
These gentlemen are the emissaries of a grand syndicate. Or, at least, so they claim, which has been formed in Minnesota for the purpose of buying immense tracts of land in the south and forming a complete system of saw mills from which to furnish lumber for the world, but more especially for shipment into Mexico, where they claim they will always find a ready market at good prices.
These gentlemen are all men of means and very kindly in their deportment, making friends in every portion of the country they have visited, and bring with them undoubted credentials as to their honor and integrity, therefore some credit must be given to the following relation, which each of them declares to be nothing but facts.
It might be as well to state here that nearly on the line between St. Tammany and Washington parishes resides a man about 50 years of age, who answers to the name of "Crazy Aleck." This dilapidated specimen of crazy humanity resides in the most lonesome portion of the parish that it would be possible to find, seldom making his appearance among the settlers, and then only when forced to do so from hunger.
He is harmlessly insane and sometimes when he visits a place to secure a snack of something to eat will become quite communicative and tell some wonderful stories concerning his forest home; but where he resides no one knows or cares, and his queer stories were never heeded, being regarded as the fancies of a madman's brain.
But upon several occasions "Crazy Aleck" has told a story concerning "a woman and some bears" which sounded ridiculous and improbable in the extreme, but which, nevertheless, has proved to be true.
This is the narrative related by the three gentlemen first named:
Hearing while in the lower portion of Mississippi, that some very desirable land lay in Washington and St. Tammany parishes, LA., and that is could be procured very reasonably, our party started for that section. Upon arriving at the desired point we obtained accommodations at a farmhouse and the next day started on horseback in a tour of inspection; well, we had gone over considerable ground during the day and started on the return about 4 o'clock.
Mr. Vandal, who had become weary of riding, had asked one of us to lead his animal and that he would walk on while we stopped now and then to make observations and take notes, as was our custom upon such journeys.
Vandal got some distance ahead of the two of us who had the horses, and suddenly we saw him come around a bend in the road a short distance ahead of us on a dead run; we started up our horses to meet him, and when he came up, almost out of breath, he said: "Tie your horses to a tree and come up the road; there's the greatest sight you ever saw."
We did as he requested and followed him up the road some 300 yards, when putting his fingers to his lips, to indicate that we must be silent and cautious, he started to creep through an undergrowth on the side of the road and we followed.
At this juncture we were much startled to hear a deep coarse laugh issue from a space apparently a short distance in advance of us.
It was a human laugh, evidently, but still it was so hollow and unearth like that it sent a chill of terror through us all; this laugh was followed by another, and then another of the same kind, and these were succeeded by a long hearty laugh, apparently that of a female.
Partly recovered from our astonishment, at a motion from Vandal we creeped on about thirty yards to the edge of the thicket, and there in an open space, a few yards beyond, we beheld the most astonishing sight that ever greeted mortal eye.
Seated on the trunk of a fallen tree was a dilapidated looking specimen of feminine humanity, whose small bit of clothing was naught but rags and whose hair hung about her shoulders in a tangles mass; she was apparently about sixty years of age, was of medium stature, and dark, as though from long exposure to the sun and weather.
Near by her were three of the most hideous objects one could imagine, evidently playing, and she seemed to be watching them attentively.
To describe these three objects (you could not call them human) is very difficult.Their heads were shaped like human beings, the tops, ears, eyes and neck being perfect, but the mouth and nose coming together broad and thick, more on the order of a bear; the arms resembled perfectly those of men, but from the waist down they bore the shape and semblance of a bear, being covered entirely with long, coarse, black hair. The feet were also similar to those of a bear, being flat, and seemingly armed with immense claws.
For some time we watched them with mute astonishment, as they wrestled and played, now dancing erect as a biped, and then on all fours as a quadruped, and now and then giving a vent to their horrible laugh.
How long this would have continued we do not know, but jut here Strong let his excitement get the better of his discretion and changed his position, partly exposing himself to view, and at the same time making a slight noise. The noise attracted the woman's attention, and she evidently saw Strong, for uttering a cry of alarm she started through the under growth on the other side of the opening with the speed of a deer, closely followed by the three queer-looking creatures, running on all fours.
As soon as we had recovered from our astonishment we attempted to follow them, but they were too swift of foot, and fearing we would become lost in this, to us strange section, we were forced to return.
The next day in company with several other gentlemen, we scoured the section thoroughly, but could find no traces of the strange family. "I have traveled far," said Mr. Vandal, "and seen many wonderful things, but this human-bear family, as I call them, surpasses my experience heretofore by far.
Theories about the Human-Bear Cryptid Children
If we assume this story is credible, what could be going on here?
Some cryptozoologists believe the wild woman in this account may have found some orphaned bigfoot children and chosen to raise them as her own. Bigfoot and other strange cryptids have been spotted all over America and it's possible that these young creatures were simply an undiscovered species being cared for by a reclusive woman.
It's somewhat more likely that the children were in fact human but perhaps horribly deformed. The extreme body hair and strange facial features could be a genetic abnormality. The "claws" could have simply been unkempt toenails that had grown to an unsightly length.
Perhaps the children were actually bear cubs that that the woman had taken. If they had mange it's possible that they would resemble humans a bit more closely. A recent viral video showing a bear in a Chinese zoo that people believed was actually human shows that some bears can be uncannily human-like.
A video of a bear showing strangely human qualities.
What do you think the truth is about the part-human- part bear family? Let us know in the comments.
If you enjoyed this article you might also be interested in the Stick Indians or the story of a Bigfoot being hit by a train in the 1800s.