Parallel Universe Has Been Discovered – Soon Other Dimensions Too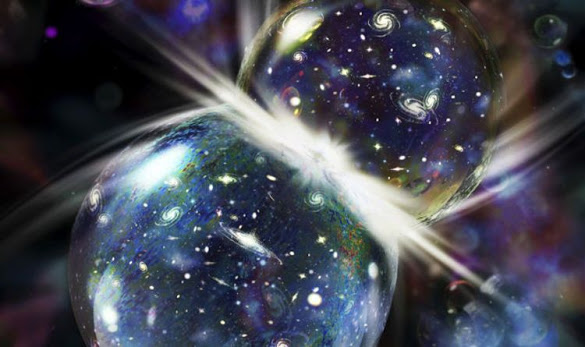 Leading Scientists believe that they may have discovered another alternate Universe on the outer edge of the Universe we live in, making this quite possibly one of the biggest discoveries yet for mankind.
After hours of studying intense amounts of data in California it now appears that a new Universe has been discovered beyond our own (well the one we live in).
Ranga-Ram Chary studied the data of the European Space Agency's Planck telescope at its offices at CalTech in California, and he has released his extremely
interesting findings
.
Dr. Ranga-Ram Chary
Through some rather intense studies, he has now discovered another universe which is quite literally bumping into ours with its very own set of physics.
This has to be one of the most important finds ever out in space and could also pretty much prove that there is life out there – even though this is something we already know – many of us have seen the truth with our very own eyes.
A parallel universe could definitely mean life does exist elsewhere. This is not some made up Science Fiction story, but the actual results of some
serious research
which has been conducted over many years.
Scientists are discovering more and more out there in space in recent years, but we guess this finding is going to be one of the most important out of them all.
But the big question is will they, the guys in the know tell us the truth about what they really know?
It was during his studies that Chary discovered the strange "mysterious glow" which could actually be an alternate universe leaking into our very own Universe that we live in.
Chary accidentally come across this discovery while studying the data of the cosmic wave background at the edge of our universe.
This intriguing find has been compared to bubbles bumping into one another.
An interesting way of looking at this exciting find is to consider the time that our Universe was created bumped against another universe, and that alternate universe left behind its mark. UK newspaper The 'Daily Mail' released the comments made by Chary in his study:
"The fine tuning of parameters in the early universe required to reproduce our present day universe suggests that our universe may simply be a region within an eternally inflating super-region. 'Many other regions beyond our observable universe would exist with each such region governed by a different set of physical parameters than the ones we have measured for our universe." He said.
Chary expects a lot of negative criticism over his recent find and he admits that it may be difficult to prove. He noted in his recent study:
"Unusual claims like evidence for alternate universes require a very high burden of proof."
Credit where credit is due, Chary has created an awful lot of interest in his discovery, with many leading Scientists reaching out to him to give their views and opinions.
One of the Scientists that are full of positivity was Jens Chluba of the University of Cambridge thinks there is something to Chary's finding. Chluba said:
"To explain the signals that Dr Chary found with the cosmological recombination radiation, one needs a large enhancement in the number of [other particles] relative to photons.
"In the realm of alternative universes, this is entirely possible. I am certain he made every effort to ensure that the analysis is solid. It will be important to carry out an independent analysis and confirm his finding."
At this moment in time it is not possible to confirm whether another Universe has been discovered or not, but one thing is for sure these are extremely exciting times and we are on the edge of a new awakening for the Human Race.
Hillary Clinton Claims Global Warming Is Killing 500,000 People Per Year


Speaking at this year's UN Climate Change Conference in the
United Arab Emirates over the weekend, Hillary Clinton engaged in some
more climate change fearmongering.
She said extreme heat, due to global warming, kills 500,000 people
per year and that the majority of the victims are "women and girls."
Without data to back her allegations, Clinton claimed: "We're seeing and
beginning to pay attention and to count and record the deaths that are
related to climate and by far the biggest killer is extreme heat"
InfoWars reports: That's right, she "knows" based on estimates that they "probably could" measure the number of deaths.
Clinton continued, "Even in Europe last summer, which has the ability to count and figure out what happened, they recorded 61,000 deaths because of the heat in Europe. We don't have that kind of number yet from Africa, Asia, Latin America, but we know and estimate that we probably could measure about 500,000 deaths. And, the majority of those are women and girls, and particularly pregnant women."
The failed presidential candidate's comment is debatable at best and more than likely a flat-out lie.
A 2021 peer-reviewed study in the Lancet found deaths during cold weather were much more common than heat-related deaths throughout Australia for nearly two decades.
In 2022, the Lancet published another study finding cold weather deaths in England and Wales from 2000 to 2019 were astronomically higher than hot weather deaths.
"Each year in England and Wales, there were on average nearly 800 excess deaths associated with heat and over 60,500 associated with cold between 2000 and 2019," The Lancet Planetary Health study stated.
GOP presidential candidate Vivek Ramaswamy also recently posted about cold weather killing more people than heat, calling the claim, "An inconvenient TRUTH for the Climate Cult."
More and more people are waking up to the globalist climate scam being used to roll out a dystopian technocracy enslaving humanity while the elite live in luxury.
Private Jets Headed To Global Warming Conference "Literally Frozen On Runway"

While
world leaders spoke at a 'global warming' conference in Dubai, located
in the heart of the Arabian Desert, discussing the usual: banning gas
stoves, cow farts, and petrol-powered vehicles, a powerful snowstorm
grounded all flights at Munich Airport in Germany. 
"Private jets
in Munich on the way to Dubai global warming conference are literally
frozen on the runway, which has turned into a glacier," said Ryan Maue, a
meteorologist and former NOAA chief scientist. 
Private
jets in Munich on the way to Dubai global warming conference are
literally frozen on the runway, which has turned into a glacier. https://t.co/Q2s9J5cLkE
— Ryan Maue (@RyanMaue) December 2, 2023
All flights have been canceled at Munich Airport. 
What
Munich Airport traffic usually looks like on a Saturday afternoon
compared to today as the airport has closed due to heavy snowfall. MUC
is expected to reopen tomorrow at 0500 UTC.
Nearly 600 flights at MUC canceled today. pic.twitter.com/1sVaeqSiWr
— Flightradar24 (@flightradar24) December 2, 2023
If not in years, Munich might have received the most significant snowfall on record. 
With 44 cm left on the ground this morning, Munich, Germany has officially experienced its biggest December snowstorm on record.
pic.twitter.com/qMqEHoQiLj
— Nahel Belgherze (@WxNB_) December 2, 2023
Another inconvenient truth… 
Europe hasn't seen a snow cover like this since 2010—60% is blanketed in white! ❄️ pic.twitter.com/zuDB1GfkxM
— Xavi Ruiz (@xruiztru) December 1, 2023
If
world leaders actually believed in global warming, they would've not
flown private jets to the desert. Furthermore,  having a global warming
conference in an area where it snows is just bad optics for these
virtue-signaling elites.