Teen Vogue Teaches 12-Year-Olds How To Use Menstrual Blood in Witchcraft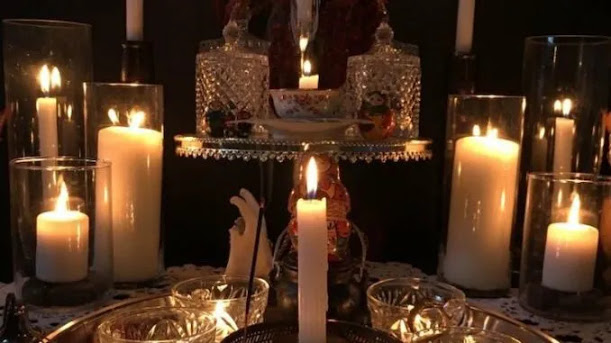 Teen Vogue has published a bizarre article teaching 12-year-olds how to use their menstrual blood for witchcraft.
Yes, really.
The article, entitled "Menstrual Blood Magic: 3 Spells For Your Period," is the latest installment of their "practical magic" witchcraft series.
(Article by Niamh Harrisc republished from NewsPunch.com)
Writer Lisa Stardust begins the article by stating, "We've all seen how that stigma is spread, from tampon commercials showing women discreetly discussing their periods to the way we hide our own menstruation when it's our 'time of the month.' Rather than play into this patriarchal shame, witches and other masters of magic believe menstruation is a gift from nature."
Thegatewaypundit.com reports: Stardust goes on to blabber about how periods are magic especially during the full moon, which forced Teen Vogue to add a disclaimer that the moon does not actually effect your period.
The total weirdo then lists "some ways to use menstrual blood to create your own personal magic."
"Menstrual blood can be used in spells to ward off evil and protect us, if used properly," the author wrote, in a magazine for kids. "
"Collect any pieces of broken glass, tacks, nails, screws or anything else you've collected from your journeys that could injure you in a mason jar with your menstrual blood (or a used tampon), Blue advised. Seal it tight and bury it near your home for protection from others," the article states. Additionally, she quotes "Tarot reader, color magic practitioner, and curator Sarah Potter" with another spell.
"Collect your menstrual blood and add a few drops to a small cup of water to use as ink to write a list of people or situations you wish to release from your life. When your list is completed, set it on fire and picture all of that negativity leaving your energetic field," Potter said. "Afterwards, take a cleansing bath or shower and again picture the negative energy being whisked away from you and washing down the drain."
The magazine for teenagers frequently pushes the boundaries of extremist politics and sexual degeneracy to minors.
In November, Teen Vogue published an article demanding that "White women have to answer for backing the Republican nominee yet again."
In 2019, Teen Vogue faced backlash for an op-ed, titled 'Why Sex Work is Real Work' from people across the political spectrum. Written by Tlaleng Mofokeng, founder of an organization called Nalane for Reproductive Justice, the article calls prostitution to be decriminalized and for children to "fund public campaigns to decrease stigma."
"The clients who seek sex workers vary, and they're not just men. The idea of purchasing intimacy and paying for the services can be affirming for many people who need human connection, friendship, and emotional support. Some people may have fantasies and kink preferences that they are able to fulfill with the services of a sex worker," the article, aimed at children as young as 13, states.
The hyper-political and extremely far-left magazine also published a lengthy article in 2018 glorifying abortion and calling for colleges to offer the procedure on campuses. One of the women featured described how she "wants the world to know how much relief and joy her ability to get an abortion has brought her."
The magazine has also promoted an uncritical "Antifa explainer" which glorified the violent groups and explained to their young audience what they can also do "in their own lives to stop fascism."
Teen Vogue additionally came under fire after they published a how-to explainer on having anal sex that originally did not even mention practicing safe sex or waiting until you're older.
"This is anal 101, for teens, beginners and all inquisitive folk," author Gigi Engle wrote in Teen Vogue's "A Guide to Anal Sex." The original version of the story included nothing about engaging in safe sex — but was later edited to urge their teenage readers to use condoms.
Teen Vogue defended the article by calling concerned parents "homophobic."
"The backlash to this article is rooted in homophobia," Phillip Picardi, the magazine's digital editorial director, wrote on Twitter. "It's also laced in arcane delusion about what it means to be a young person today."
They republished the anal sex explainer again last Christmas.
Hillary Clinton Claims Global Warming Is Killing 500,000 People Per Year


Speaking at this year's UN Climate Change Conference in the
United Arab Emirates over the weekend, Hillary Clinton engaged in some
more climate change fearmongering.
She said extreme heat, due to global warming, kills 500,000 people
per year and that the majority of the victims are "women and girls."
Without data to back her allegations, Clinton claimed: "We're seeing and
beginning to pay attention and to count and record the deaths that are
related to climate and by far the biggest killer is extreme heat"
InfoWars reports: That's right, she "knows" based on estimates that they "probably could" measure the number of deaths.
Clinton continued, "Even in Europe last summer, which has the ability to count and figure out what happened, they recorded 61,000 deaths because of the heat in Europe. We don't have that kind of number yet from Africa, Asia, Latin America, but we know and estimate that we probably could measure about 500,000 deaths. And, the majority of those are women and girls, and particularly pregnant women."
The failed presidential candidate's comment is debatable at best and more than likely a flat-out lie.
A 2021 peer-reviewed study in the Lancet found deaths during cold weather were much more common than heat-related deaths throughout Australia for nearly two decades.
In 2022, the Lancet published another study finding cold weather deaths in England and Wales from 2000 to 2019 were astronomically higher than hot weather deaths.
"Each year in England and Wales, there were on average nearly 800 excess deaths associated with heat and over 60,500 associated with cold between 2000 and 2019," The Lancet Planetary Health study stated.
GOP presidential candidate Vivek Ramaswamy also recently posted about cold weather killing more people than heat, calling the claim, "An inconvenient TRUTH for the Climate Cult."
More and more people are waking up to the globalist climate scam being used to roll out a dystopian technocracy enslaving humanity while the elite live in luxury.
Private Jets Headed To Global Warming Conference "Literally Frozen On Runway"

While
world leaders spoke at a 'global warming' conference in Dubai, located
in the heart of the Arabian Desert, discussing the usual: banning gas
stoves, cow farts, and petrol-powered vehicles, a powerful snowstorm
grounded all flights at Munich Airport in Germany. 
"Private jets
in Munich on the way to Dubai global warming conference are literally
frozen on the runway, which has turned into a glacier," said Ryan Maue, a
meteorologist and former NOAA chief scientist. 
Private
jets in Munich on the way to Dubai global warming conference are
literally frozen on the runway, which has turned into a glacier. https://t.co/Q2s9J5cLkE
— Ryan Maue (@RyanMaue) December 2, 2023
All flights have been canceled at Munich Airport. 
What
Munich Airport traffic usually looks like on a Saturday afternoon
compared to today as the airport has closed due to heavy snowfall. MUC
is expected to reopen tomorrow at 0500 UTC.
Nearly 600 flights at MUC canceled today. pic.twitter.com/1sVaeqSiWr
— Flightradar24 (@flightradar24) December 2, 2023
If not in years, Munich might have received the most significant snowfall on record. 
With 44 cm left on the ground this morning, Munich, Germany has officially experienced its biggest December snowstorm on record.
pic.twitter.com/qMqEHoQiLj
— Nahel Belgherze (@WxNB_) December 2, 2023
Another inconvenient truth… 
Europe hasn't seen a snow cover like this since 2010—60% is blanketed in white! ❄️ pic.twitter.com/zuDB1GfkxM
— Xavi Ruiz (@xruiztru) December 1, 2023
If
world leaders actually believed in global warming, they would've not
flown private jets to the desert. Furthermore,  having a global warming
conference in an area where it snows is just bad optics for these
virtue-signaling elites.