Massive temple spotted on Mars 'identical' to an ancient Japanese tomb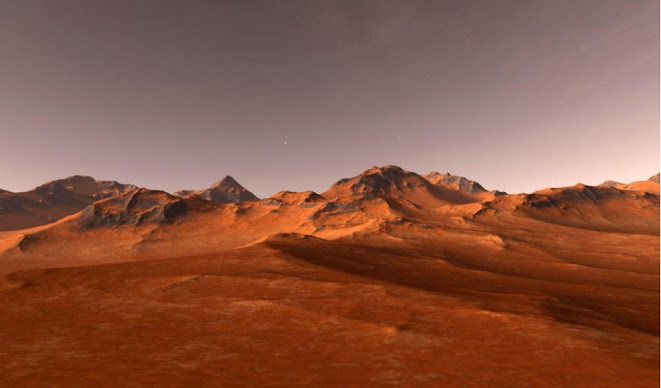 According to satellite images from the red planet, there is a massive temple on Mars that is 'identical' to an ancient Japanese tomb.
(Planet Today) (Article republished from Ancient-Code.com)
There are some truly fascinating things on Mars. A baffling structure located on the surface of Mars eerily resembles a massive temple on Earth, and UFO hunters claim there is a mindboggling connection between the two.
In the last couple of years, intriguing theories have been proposed suggesting that in the distant past a catastrophic event or nuclear war destroyed a sophisticated Martian civilization, forcing its survivors to migrate to Earth and restart civilization.
Now, UFO hunters have discovered a structure on the red planet whose apparent geometry is eerily similar to a temple located on Earth.
The enigmatic structure visible on numerous satellite images of the red planet displays staggering similarities to the ancient Japanese tomb of Kofun.
While there are numerous images of alleged structure on Mars that can easily be dismissed as pareidolia, the massive 'Martian Monument' has fascinating similarities to the funerary complex in Japan, raising speculations that an ancient civilization did, in fact, inhabit Mars, perhaps millions of years ago.
The massive structure on the surface of the red planet is visible on Google Earth (Mars) by entering the following coordinates: 6° 3'57.07?N 92° 4'13.22?E.
To see the similarity between the alleged structure on Mars, visit Google Earth and type in the following coordinates: 36° 7'45.64?N 139°28'52.95?E, which will take you to the Japanese tomb.
A YouTube user who posted a video online believes the similarities between the two structures can only mean one thing: An ancient civilization once existed on Mars, and we are looking at its remains today.
Many UFO researchers agree and claim that the structure identified on Mars probably went through millions of years of erosion, but it's clearly visible shape is a definitive tell-tale sign that an ancient race most likely inhabited Mars.
"The keyhole-shaped mound looks incredibly similar to what we have here in Japan, says a YouTube user during the video. There are many interesting things about this mound that we found on Mars. First of all, it is a massive structure, and it appears in a very isolated, flat empty plain. The sides of the structure have straight edges that run down to a large circular dot formation at its base. Just like the one we have here in Japan."
Interestingly, despite the fact that there are many structures that can be dismissed easily as being natural formations, the two structures exhibit remarkable symmetry.
However, at the insistence of some users, NASA has taken the trouble to respond to alleged claims about the artificial structure on Mars.
The U.S. space agency explained that the straight edges are the result of fractures or a natural hill forming a solid ground that has undergone changes and erosion for billions of years.
Many people disagree with NASA and indicate the similarities cannot go unperceived, and we are looking at the remains of a once mighty Martian civilization that most likely disappeared millions of years ago, after a catastrophic nuclear war took place there, as Dr. Brandenburg suggests.
Dr. John Brandenburg believes that an old Martian civilization was wiped from the face of Mars in the distant past.
Dr. John Brandenburg has a Ph.D. in Theoretical Plasma Physics from the University of California, and he is currently working as a plasma physicist at Orbital Technologies in Madison Wisconsin.
According to Dr. Brandenburg, ancient Martians known as Cydonians and Utopians were massacred in the giant nuclear attack – and evidence of the genocide can still be seen today.
According to scientists, there are very large traces of Xenon-129 on Mars and the only process that we know that produces Xenon-129 is a nuclear explosion.
Read more at: Ancient-Code.com and Discoveries.news
Earth-like world covered by raging volcanoes found in space

Scientists at the University of California have discovered a planet
that may bear a resemblance to Earth. However, unlike our planet, this
peaceful planet is covered with fierce volcanoes. News of the discovery
was published in the journal Nature.
The new planet was discovered using the Kepler telescope, which
explores outer space in search of exoplanets. According to scientists,
the planet is in the life zone of its star and may have conditions for
the development of life.
However, the presence of volcanoes on the surface of this planet may
mean that it is not suitable for life. This is due to the fact that
volcanoes can emit gases into the atmosphere, which can be poisonous to
living organisms.
On the other hand, scientists believe that the presence of volcanoes
on this planet may mean there is a magnetic field that protects it from
harmful cosmic rays. This may be one of the factors contributing to the
development of life on this planet.
Although the planet is 110 light years away from Earth, scientists
hope that it could be the subject of future research. However, this will
require new telescopes and more accurate measurement methods.
Interestingly, the search for exoplanets is one of the hottest topics
in modern astronomy. Scientists around the world are looking for
planets that may have conditions for the development of life. Some of
these planets are only a few light years away from Earth.
In addition, there is a theory that life on Earth may have originated
through volcanic activity. Volcanoes may have created the conditions
for the formation of the first organic compounds, which then led to the
emergence of life.
Asteroid 1994 XD: Threat to Earth or opportunity for space exploration?

On June 12, 2023, the asteroid 1994 XD, which is over 500 meters in
diameter, will approach Earth. Despite the fact that it will be 3.1
million kilometers away, which is 8 times the average distance to the
Moon, many are asking – can this asteroid become a threat to our planet?
It is worth noting that asteroids, like comets, pose a threat to the
Earth, but the probability of collision with them is very low. In
addition, there are many programs and projects to track space bodies,
which allow you to identify a potential threat in time and take measures
to prevent it.
However, asteroids are also of interest to scientists and space
research. Studying the composition and structure of these bodies can
help scientists better understand the origin of the solar system and the
possibilities for life in space.
For example, asteroids may contain water and other elements necessary
for life, which could be used to build space stations and bases on
other planets. In addition, studying asteroids can help scientists
develop methods to defend against potential threats from space.
The asteroid 1994 XD was discovered in 1994 by the Kitt Peak
Observatory and has not posed a threat to Earth since then. Its close
approach to our planet will be an opportunity to study this cosmic body
in more detail and expand our knowledge of space.