White dwarfs going supernova detonate like a nuclear bomb, study suggests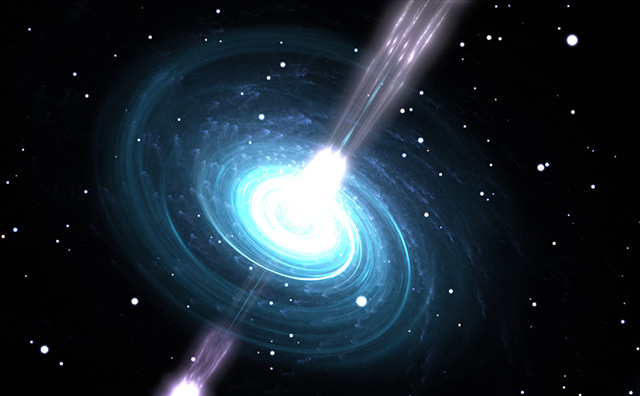 (Planet Today) A new study published in the Physical Review Letters suggests that the remnant cores of dead average-size stars can explode like a nuclear bomb.
(Article by Virgilio Marin republished from NaturalNews.com)
Known as white dwarfs, these dense cores are packed with heavy radioactive elements called actinides that can spontaneously undergo nuclear fission – the splitting of atoms. Depending on certain conditions, these cores can eventually undergo uncontrolled fission, culminating in a massive stellar explosion known as a supernova.
"The conditions to build and set off an atomic bomb seemed very difficult. I was surprised that these conditions might be satisfied in a natural way inside a very dense white dwarf," Charles Horowitz, a nuclear astrophysicist from Indiana University Bloomington and one of the study's researchers, told Space.
"If true, this provides a very new way to think about thermonuclear supernovae, and perhaps other astrophysical explosions," he added.
Nuclear reactions can trigger supernova of white dwarfs
White dwarfs are the dim, Earth-size cores of dead stars. They form when average-sized stars have exhausted their fuel and shed their outer layers. The sun will one day become a white dwarf, as will more than 90 percent of the stars in the Milky Way galaxy.
Past studies show that white dwarfs can die in type Ia supernovae, a type of stellar explosion. Much remains unknown about what triggers type Ia supernovae, but prior research suggests that they can happen when a white dwarf absorbs material from another star. These two celestial objects orbit each other in an arrangement called a binary star system.
In their study, Horowitz and co-author Matt Caplan, a theoretical physicist from Illinois State University, proposed that type Ia supernovae might also occur when a white dwarf undergoes the processes behind the explosion of a hydrogen bomb.
As a white dwarf cools, actinides such as uranium crystallize within its core. The atoms of these elements can spontaneously undergo nuclear fission, which releases energy and neutrons. Neutrons can collide with other atoms and break them up, repeating the process.
If the amount of actinides exceeds a critical mass, these elements can set off an explosive runaway nuclear fission chain reaction. This, in turn, can trigger nuclear fusion, where atomic nuclei fuse with each other and generate enormous amounts of energy in the process. 
The pair's calculations and computer simulations showed that a critical mass of uranium could indeed crystallize from the mixture of elements in a white dwarf. If this heavy uranium were to explode due to a nuclear chain reaction, the white dwarf would become so hot and pressurized as to trigger the fusion of lighter elements, resulting in a supernova. A hydrogen bomb also works the same way – a nuclear chain reaction is initiated to set off a nuclear fusion explosion.
Horowitz said that this mechanism could be responsible for around half of all type Ia supernovae in the cosmos. These stellar explosions should occur within a billion years of a white dwarf's formation since uranium takes a very long time to decay.
The pair recommended running more computer simulations to definitively answer whether fission chain reactions in white dwarfs could indeed trigger nuclear fusion. Though the study was compelling, Horowitz admitted that there were plenty of physical processes that occur during a supernova, which meant there were many potential uncertainties.
For more fascinating studies about stars and space, visit Cosmic.news.
Alien space debris stuck in Earth's orbit, researchers say

Recently, a group of experts from Harvard University, led by physics
professor Avi Loeb, announced the possible presence of alien space
debris in Earth's orbit, reports the Daily Star.
Leading
space research expert Professor Loeb is confident that the discovery of
such "interstellar objects could help expand our knowledge of possible
alien civilizations and technologies. A team of scientists is conducting
research to confirm that some of the objects in our orbit may be
connected to other star systems.
During an interview with Live
Science, Professor Loeb explained that these objects could enter the
solar system from interstellar space, defying Jupiter's gravitational
pull and occupying limited orbits around the sun.
Some of them may
have technological origins similar to the probes sent by mankind into
interstellar space, such as Voyager 1 and Voyager 2, Pioneer 10 and 11
and New Horizons.
However,
despite these interesting assumptions, Professor Loeb did not specify
what specific objects he was talking about. In his research report, he
notes that there could be "a significant number" of potentially
detectable objects in Earth's orbit.
To confirm their assumptions,
the team of scientists uses computer simulations and the Vera Rubin
Observatory (Chile) with a high-resolution camera of 3.2 billion pixels.
This will allow for regular observations of the Southern sky and the
possibility of detecting several captured objects about the size of a
football field.
It is assumed that these interstellar objects passed through the
boundaries of the solar system and may carry unique information about
other civilizations and their technologies. If we could confirm the
origin of these objects, the mysteries that open before us, this would
be a real breakthrough in space exploration.
Professor Loeb
expresses hope that the new research will not only help expand our
knowledge of extraterrestrial technologies, but may also lead to the
discovery of new alien civilizations . Answers to such questions can be
of global significance and influence our understanding of the place of
mankind in the Universe.
And
while there are still many questions and assumptions, the study by
Professor Loeb and his team opens a new chapter in space exploration.
Each new discovery can be the key to deciphering the mysteries of the
cosmos and the possibility of encountering alien life forms.
Betelgeuse is acting strange again

Betelgeuse, a red giant on the brink of death, continues to show
unusual behavior. After the Great Blackout, which occurred in late 2019
and early 2020, the star became unusually bright. It is now the seventh
brightest star in the sky, while it normally ranks tenth. This has led
to speculation that Betelgeuse is preparing to explode in a
spectacularly large supernova.
However, scientists believe it's too early to tell, and it's likely
that this behavior is due to ongoing fluctuations after the Great
Blackout of 2019, and the star will return to normal within a decade.
Betelgeuse is one of the most interesting stars in the sky. It is
about 700 light-years from Earth and is a red giant in the last stage of
its life. It is also an unusual star for a red giant because it was
previously a monster blue-white O-type star, the most massive class of
stars.
Betelgeuse has changed its spectral type because it has almost
exhausted its hydrogen reserves. It now burns helium into carbon and
oxygen and has expanded to a gigantic size: about 764 times the size of
the Sun and about 16.5 to 19 times its mass.
Eventually it will run out of fuel to burn, become a supernova, eject
its outer material, and its core will collapse into a neutron star.
Before the Great Blackout, Betelgeuse also had periodic fluctuations
in brightness. The longest of these cycles is about 5.9 years and the
other is 400 days. But it seems that the Great Blackout caused changes
in these oscillations.
A new paper by astrophysicist Morgan McLeod of the
Harvard-Smithsonian Center for Astrophysics has shown that the 400-day
cycle appears to have been halved. This pulsational cycle is probably
caused by expansion and contraction within the star. According to
simulations carried out by MacLeod and his colleagues, the convective
flow inside Betelgeuse may have risen and become material that separates
from the star.