Ancient Nanostructures: Aliens Or Lost Civilizations?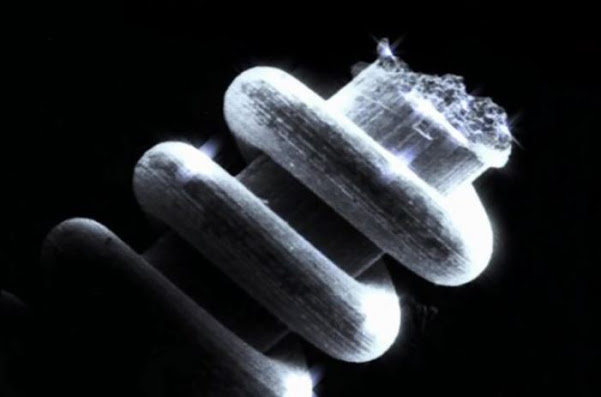 An out of place artifact (oopart) is the name given to a prehistoric object found in an unusual or impossible context. Ooparts are usually described as objects created with technology too advanced for the level of civilization characteristic to the era to which they have been dated.
Many view ooparts as evidence that mainstream science is omitting important areas of knowledge, either willfully or through ignorance.
In 1991, researchers performing geological surveys on several Russian river banks discovered hundreds of tiny coil-shaped artifacts, some as small as 1/10,000th of an inch.
A magnified image of one of the nano coils found in the Ural Mountains. Photo credit: Mysteries of the World, Herbert Genzmer and Ulrich Hellenbrand
The researchers were doing mineralogical studies for prospecting in the Ural mountains and one can imagine their bafflement at the discovery.
They were found at depths between 10 and 40 feet (3-12 meters) and could be anywhere between 20,000 and 318,000 years old.
The largest ones are 1.18 inches (3 centimeters) in length while the smallest are only 2.5 microns long. For comparison, the average strand of hair is about 100 microns wide. The larger coils are made from copper while the smaller ones are made from tungsten or molybdenum.
Their shape suggests they are not naturally occurring metal fragments and they actually resemble modern nanotechnology components.
These ooparts have sparked a heated debate that continues to this day. The mysterious microscopic structures have been dated at 300,000 years old. Was Earth home to a technologically advanced society at the time or are these artifacts evidence of some other intelligence headquartered on our planet?
Our current society has developed nanotechnology only recently due to numerous and well-known limitations. Mainstream science does not accept a technological level beyond the occasional use of fire for humans that inhabited the Earth 300 millennia ago.
Scientists were not able to determine who or what produced these particular structures but one thing is for certain: they are not natural since no known process is able to produce such items.
Though some have asserted that these tiny structures are merely debris left behind from test rockets being launched from nearby Plesetsk space station, a report from the Moscow Institute determined that they are far too old to have come from modern manufacturing.
In 1996, Dr. E.W. Matvejeva, from the Central Scientific Research Department of Geology and Exploitation of Precious Metals in Moscow, writes that, despite being thousands of years old, the components are of a technological origin.
Facilities from Helsinki and St. Petersburg have also backed up the claims that the coil-shaped objects are manufactured and indeed very old.
The artifacts have been studied at four different facilities in Helsinki, St. Petersburg, and Moscow. However, further research into these tiny structures seems to have ended in 1999 with the death of Dr. Johannes Fiebag, a principal researcher of the find.
This finding raises many questions. Were humans able to master nanotechnology in the Pleistocene era? At the time of Homo erectus, who mastered such advanced industrial science? Was Earth home to a long-lost civilization or are these artifacts remnants of alien visitors?
We might never know.
By Leonardo Vinti, source: Epoch Times
Private Jets Headed To Global Warming Conference "Literally Frozen On Runway"

While
world leaders spoke at a 'global warming' conference in Dubai, located
in the heart of the Arabian Desert, discussing the usual: banning gas
stoves, cow farts, and petrol-powered vehicles, a powerful snowstorm
grounded all flights at Munich Airport in Germany. 
"Private jets
in Munich on the way to Dubai global warming conference are literally
frozen on the runway, which has turned into a glacier," said Ryan Maue, a
meteorologist and former NOAA chief scientist. 
Private
jets in Munich on the way to Dubai global warming conference are
literally frozen on the runway, which has turned into a glacier. https://t.co/Q2s9J5cLkE
— Ryan Maue (@RyanMaue) December 2, 2023
All flights have been canceled at Munich Airport. 
What
Munich Airport traffic usually looks like on a Saturday afternoon
compared to today as the airport has closed due to heavy snowfall. MUC
is expected to reopen tomorrow at 0500 UTC.
Nearly 600 flights at MUC canceled today. pic.twitter.com/1sVaeqSiWr
— Flightradar24 (@flightradar24) December 2, 2023
If not in years, Munich might have received the most significant snowfall on record. 
With 44 cm left on the ground this morning, Munich, Germany has officially experienced its biggest December snowstorm on record.
pic.twitter.com/qMqEHoQiLj
— Nahel Belgherze (@WxNB_) December 2, 2023
Another inconvenient truth… 
Europe hasn't seen a snow cover like this since 2010—60% is blanketed in white! ❄️ pic.twitter.com/zuDB1GfkxM
— Xavi Ruiz (@xruiztru) December 1, 2023
If
world leaders actually believed in global warming, they would've not
flown private jets to the desert. Furthermore,  having a global warming
conference in an area where it snows is just bad optics for these
virtue-signaling elites. 
Gaza war worsening climate change threats, says Jordan's king

Jordan's king said Friday that war was making the threats from climate change even worse in the Gaza Strip, as hostilities resumed between Israel and Hamas after a week-long truce.
King Abdullah II told the UN's COP28 climate talks in Dubai that "we
cannot talk about climate change in isolation from the humanitarian
tragedies unfolding around us".
"In Gaza, over 1.7 million Palestinians have been displaced from
their homes. Tens of thousands have been injured or killed in a region
already on the front lines of climate change," he told a gathering of
world leaders.
"The massive destruction of war makes the environmental threats of water scarcity and food insecurity even more severe.
"In Gaza our people are living with little clean water and the bare
minimum of food supplies, as climate threats magnify the devastation of
war."
The Gaza war has been a major talking point at COP28, where
delegations from around the world will try to hammer out a fresh
agreement to tackle the climate crisis.
The conflict flared after Palestinian Hamas militants killed about
1,200 people, mostly civilians, and kidnapped about 240, according to
Israeli authorities, in an unprecedented attack on October 7.
In response, Israel vowed to eliminate Hamas and unleashed an air and
ground military campaign in Gaza that the Hamas government says killed
around 15,000 people, also mostly civilians.
Iran's delegation walked out of the COP28 talks on Friday in protest
at Israel's presence, which delegation chief Ali Akbar Mehrabian said
was "contrary to the goals and guidelines of the conference", according
to the official IRNA news agency.
Israeli President Isaac Herzog is conducting talks on hostage
releases on the sidelines of the conference, while his Palestinian
counterpart Mahmoud Abbas cancelled a planned visit.
Agence France-Presse (AFP) is a French international news agency
headquartered in Paris, France. Founded in 1835 as Havas, it is the
world's oldest news agency.