The new solar cycle bares its teeth: Powerful solar flare jams radio signals over the Pacific Ocean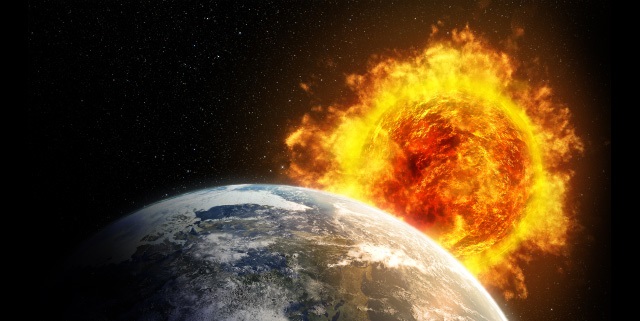 (Planet-today) The sun unleashed a powerful solar flare after one of its sunspots erupted late Monday, April 19. It released a pulse of X-rays and ultraviolet rays toward Earth, ionizing the top of the atmosphere and causing a shortwave radio blackout over the Pacific Ocean. Mariners and ham radio operators in the area might have noticed unusual propagation conditions at frequencies below 10 megahertz.
(Article by Virgilio Marin republished from NaturalNews.com)
The solar event was classified as an M1-class flare, which is considered moderate in intensity. Satellite images of the solar flare, which were taken by the National Aeronautics and Space Administration (NASA), showed a brief, violent flash of energy exploding out of sunspot AR2816.
The flare might have also released a coronal mass ejection (CME), a powerful expulsion of charged particles from the sun's corona. If Earth happens to be on the path of a CME, charged particles from the explosion can mess up the planet's magnetic field. This, in turn, can knock down satellites and the power grid, blacking out entire regions that are reliant on electricity.
NASA won't know for sure whether a CME accompanied the solar flare until it collected enough data. The space agency is currently monitoring the sun through the Solar and Heliospheric Observatory, a spacecraft that it co-created with the European Space Agency.
In a joint report with the Air Force, the National Oceanic and Atmospheric Administration (NOAA) forecast a slight chance of another M1-class flare on Friday, April 23. It also predicted that Earth's magnetic field would be at "quiet to unsettled levels" on the same day.
Is Solar cycle 25 going to be catastrophic?
The solar cycle is the cycle that the sun's magnetic field goes through around every 11 years. During the solar cycle, the sun's magnetic poles gradually reverse position, increasing solar activity in the process. Solar activity then gradually settles back down to a minimum before another cycle begins.
The sun entered Solar Cycle 25 (SC25) in December 2019. It had been mostly quiet in the past few months but could become a little more violent in the next few years. But some experts have predicted that SC25 would be on the milder side of past solar cycles.
The Solar Cycle 25 Prediction Panel, an international group of experts co-sponsored by NOAA and NASA, forecast that the current cycle would peak in July 2025, give or take eight months. It said that the sun would form around 115 sunspots. Panel co-chair Lisa Upton noted that their predictions had mostly matched the sun's actual activity so far.
"The sun is performing as we expected, maybe even a little better," she remarked. "The current behavior of the sun is consistent with an early onset near the beginning of our predicted range."
If current trends persist SC25 could peak as early as 2024. Activity during this cycle would be similar in strength to the relatively weak cycle that preceded it. Solar Cycle 24 peaked with a maximum sunspot number of 116.
"I'm not surprised that people are grumbling about SC25 being a dud," Upton shared. "Weak cycles are typically preceded by long stretches of spotless days, and they are slow to ramp up. All of this is consistent with our prediction."
Conversely, a study led by the federally-funded National Center for Atmospheric Research predicted that SC25 would be among the strongest since record-keeping began. Researchers forecast that the sun would form a maximum of 210 to 260 sunspots. This would make SC25 one of the strongest ever observed.
Space.news has more space weather updates and the cosmic disasters that humanity has to watch out for.
Alien space debris stuck in Earth's orbit, researchers say

Recently, a group of experts from Harvard University, led by physics
professor Avi Loeb, announced the possible presence of alien space
debris in Earth's orbit, reports the Daily Star.
Leading
space research expert Professor Loeb is confident that the discovery of
such "interstellar objects could help expand our knowledge of possible
alien civilizations and technologies. A team of scientists is conducting
research to confirm that some of the objects in our orbit may be
connected to other star systems.
During an interview with Live
Science, Professor Loeb explained that these objects could enter the
solar system from interstellar space, defying Jupiter's gravitational
pull and occupying limited orbits around the sun.
Some of them may
have technological origins similar to the probes sent by mankind into
interstellar space, such as Voyager 1 and Voyager 2, Pioneer 10 and 11
and New Horizons.
However,
despite these interesting assumptions, Professor Loeb did not specify
what specific objects he was talking about. In his research report, he
notes that there could be "a significant number" of potentially
detectable objects in Earth's orbit.
To confirm their assumptions,
the team of scientists uses computer simulations and the Vera Rubin
Observatory (Chile) with a high-resolution camera of 3.2 billion pixels.
This will allow for regular observations of the Southern sky and the
possibility of detecting several captured objects about the size of a
football field.
It is assumed that these interstellar objects passed through the
boundaries of the solar system and may carry unique information about
other civilizations and their technologies. If we could confirm the
origin of these objects, the mysteries that open before us, this would
be a real breakthrough in space exploration.
Professor Loeb
expresses hope that the new research will not only help expand our
knowledge of extraterrestrial technologies, but may also lead to the
discovery of new alien civilizations . Answers to such questions can be
of global significance and influence our understanding of the place of
mankind in the Universe.
And
while there are still many questions and assumptions, the study by
Professor Loeb and his team opens a new chapter in space exploration.
Each new discovery can be the key to deciphering the mysteries of the
cosmos and the possibility of encountering alien life forms.
Betelgeuse is acting strange again

Betelgeuse, a red giant on the brink of death, continues to show
unusual behavior. After the Great Blackout, which occurred in late 2019
and early 2020, the star became unusually bright. It is now the seventh
brightest star in the sky, while it normally ranks tenth. This has led
to speculation that Betelgeuse is preparing to explode in a
spectacularly large supernova.
However, scientists believe it's too early to tell, and it's likely
that this behavior is due to ongoing fluctuations after the Great
Blackout of 2019, and the star will return to normal within a decade.
Betelgeuse is one of the most interesting stars in the sky. It is
about 700 light-years from Earth and is a red giant in the last stage of
its life. It is also an unusual star for a red giant because it was
previously a monster blue-white O-type star, the most massive class of
stars.
Betelgeuse has changed its spectral type because it has almost
exhausted its hydrogen reserves. It now burns helium into carbon and
oxygen and has expanded to a gigantic size: about 764 times the size of
the Sun and about 16.5 to 19 times its mass.
Eventually it will run out of fuel to burn, become a supernova, eject
its outer material, and its core will collapse into a neutron star.
Before the Great Blackout, Betelgeuse also had periodic fluctuations
in brightness. The longest of these cycles is about 5.9 years and the
other is 400 days. But it seems that the Great Blackout caused changes
in these oscillations.
A new paper by astrophysicist Morgan McLeod of the
Harvard-Smithsonian Center for Astrophysics has shown that the 400-day
cycle appears to have been halved. This pulsational cycle is probably
caused by expansion and contraction within the star. According to
simulations carried out by MacLeod and his colleagues, the convective
flow inside Betelgeuse may have risen and become material that separates
from the star.