Who Made It And Why: Mystery Of The Maree Man Modern Geoglyph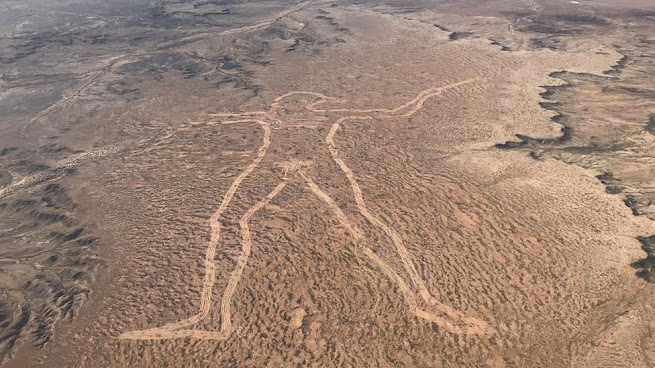 The Marree Man geoglyph depicts a 4.2km-long reproduction of a giant Aboriginal figure man holding either a woomera (a throwing stick once used to disperse small flocks of birds) or a boomerang which carved into a desert plateau 20 years ago.
Although it is one of the largest geoglyphs in the world, its origin remains a mystery, with no one claiming responsibility for its creation nor any eye-witness having been found. Speculation and rumour have swirled around the red desert sands due to its size and the mystery surrounding how it came to be there.
Trec Smith, a charter pilot flying between Marree and Coober Pedy in the remote north of South Australia, first spotted the figure from the air on 26 June 1998.The discovery of the geoglyph fascinated Australians due to its size and the mystery surrounding how it came to be there.
Comparison of two satellite images from NASA's Landsat-5 satellite over Australia's Marree Man site. Image on left was taken May 27, 1998 and shows desert area untouched. Image on the right, taken June 12, 1998, taken over the same area, shows the completed Marree Man figure.
Marree Man has been a subject of fascination since its discovery in the desert about 700km north of Adelaide. It has gained popularity on tourism flights because it is too large to be viewed from the ground. With an outline measuring a total of 28km, Marree Man had an initial depth of about 35cm (14 inches), according to local media reports.
On July 1998, the description "Stuart's Giant" was used in anonymous faxes sent to media as "Press Releases", in a reference to the explorer John McDouall Stuart.
It was reported that a small glass jar had been found in a trough freshly dug at the site containing a satellite photo of Marree Man together with a note bearing a US flag and references to the Branch Davidians and "Stuart's Giant".
By December 1998, it had been noted that the outline matched, in reverse, that of the Artemision bronze sculpture raised from the bottom of the Adriatic Sea in 1928.
The Arabana people are the traditional owners of the land on which Marree Man was created. Arabana Aboriginal Corporation manager Lorraine Merrick said its appearance in 1998 had initially upset some Aboriginal people who viewed it as a desecration of their land.
However, Ms Merrick said the corporation – which administers the land – recognised that Marree Man had become an icon.
Bardius Goldberg, a Northern Territory artist who died in 2002 and lived at Alice Springs, has been suggested as the creator of the work. Goldberg, who was known to be interested in creating a work visible from space, refused when questioned to either confirm or deny that he had created the image.
Several years ago, adventurer and entrepreneur Dick Smith decided to find out whodunit. Smith and his team set up a private and comprehensive website that includes exhaustive lists of contacts, images, videos and cuttings.
Yet, despite huge amounts of work and research, the makers of Marree Man remain largely ­hidden, leaving Smith stumped but not defeated. His ­research continues and he is offering a $5000 ­reward for any evidence on who conceived and executed the artwork.
Private Jets Headed To Global Warming Conference "Literally Frozen On Runway"

While
world leaders spoke at a 'global warming' conference in Dubai, located
in the heart of the Arabian Desert, discussing the usual: banning gas
stoves, cow farts, and petrol-powered vehicles, a powerful snowstorm
grounded all flights at Munich Airport in Germany. 
"Private jets
in Munich on the way to Dubai global warming conference are literally
frozen on the runway, which has turned into a glacier," said Ryan Maue, a
meteorologist and former NOAA chief scientist. 
Private
jets in Munich on the way to Dubai global warming conference are
literally frozen on the runway, which has turned into a glacier. https://t.co/Q2s9J5cLkE
— Ryan Maue (@RyanMaue) December 2, 2023
All flights have been canceled at Munich Airport. 
What
Munich Airport traffic usually looks like on a Saturday afternoon
compared to today as the airport has closed due to heavy snowfall. MUC
is expected to reopen tomorrow at 0500 UTC.
Nearly 600 flights at MUC canceled today. pic.twitter.com/1sVaeqSiWr
— Flightradar24 (@flightradar24) December 2, 2023
If not in years, Munich might have received the most significant snowfall on record. 
With 44 cm left on the ground this morning, Munich, Germany has officially experienced its biggest December snowstorm on record.
pic.twitter.com/qMqEHoQiLj
— Nahel Belgherze (@WxNB_) December 2, 2023
Another inconvenient truth… 
Europe hasn't seen a snow cover like this since 2010—60% is blanketed in white! ❄️ pic.twitter.com/zuDB1GfkxM
— Xavi Ruiz (@xruiztru) December 1, 2023
If
world leaders actually believed in global warming, they would've not
flown private jets to the desert. Furthermore,  having a global warming
conference in an area where it snows is just bad optics for these
virtue-signaling elites. 
Gaza war worsening climate change threats, says Jordan's king

Jordan's king said Friday that war was making the threats from climate change even worse in the Gaza Strip, as hostilities resumed between Israel and Hamas after a week-long truce.
King Abdullah II told the UN's COP28 climate talks in Dubai that "we
cannot talk about climate change in isolation from the humanitarian
tragedies unfolding around us".
"In Gaza, over 1.7 million Palestinians have been displaced from
their homes. Tens of thousands have been injured or killed in a region
already on the front lines of climate change," he told a gathering of
world leaders.
"The massive destruction of war makes the environmental threats of water scarcity and food insecurity even more severe.
"In Gaza our people are living with little clean water and the bare
minimum of food supplies, as climate threats magnify the devastation of
war."
The Gaza war has been a major talking point at COP28, where
delegations from around the world will try to hammer out a fresh
agreement to tackle the climate crisis.
The conflict flared after Palestinian Hamas militants killed about
1,200 people, mostly civilians, and kidnapped about 240, according to
Israeli authorities, in an unprecedented attack on October 7.
In response, Israel vowed to eliminate Hamas and unleashed an air and
ground military campaign in Gaza that the Hamas government says killed
around 15,000 people, also mostly civilians.
Iran's delegation walked out of the COP28 talks on Friday in protest
at Israel's presence, which delegation chief Ali Akbar Mehrabian said
was "contrary to the goals and guidelines of the conference", according
to the official IRNA news agency.
Israeli President Isaac Herzog is conducting talks on hostage
releases on the sidelines of the conference, while his Palestinian
counterpart Mahmoud Abbas cancelled a planned visit.
Agence France-Presse (AFP) is a French international news agency
headquartered in Paris, France. Founded in 1835 as Havas, it is the
world's oldest news agency.