The Horror Of Lobotomy – The Ice Pick Cure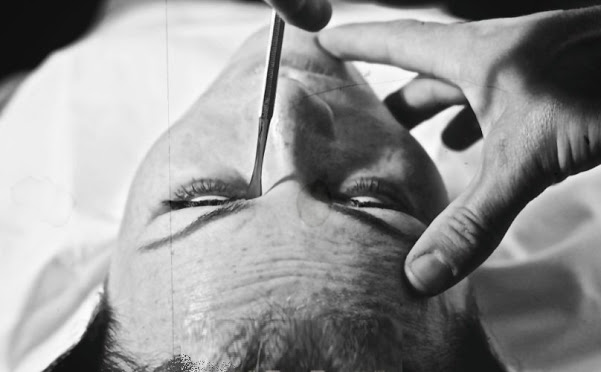 Psychiatric medicine has come a long way in the 21st century. While the mind still holds many mysteries, at the very least we now have many non-invasive treatments, typically drug therapies but also talk therapies like cognitive behavioral therapy, that bring relief to millions suffering from mental illnesses every year.
Fifty or sixty years ago, however, many of the treatments taken for granted today were not available. Families, caretakers, and patients alike were desperate to find a cure for mysterious mental ailments that seemed to defy all treatment.
This desperation, in many cases, led them to turn to a controversial treatment that today is viewed as barbarous: lobotomy.
Surgery for the soul
A lobotomy is a procedure where the prefrontal cortex's connections to the rest of the brain are severed. It was intended to ease the symptoms of such severe mental disorders as schizophrenia, manic depression, obsessive compulsive disorder, panic disorders, and severe depression.
Research had established that these ailments stemmed from malfunctions in the brain itself, although just how these malfunctions arose was anyone's guess.
Some claimed the brains of patients suffering from these disorders functioned differently on a fundamental level, that their brains were morphologically different than healthy brains.
Dr. Walter Freeman performs a lobotomy using an instrument similar to an ice pick that he invented for the procedure on July 11, 1949. (Bettmann/Contributor/Getty Images)
Another school of thought, the one that informed those who performed lobotomies, believed that the brains of those with mental illness were structurally the same as healthy brains, but that disordered thinking trapped certain neuronal circuits in loops that could only be broken by physically destroying the neurons.
While it's obvious to the modern observer that this wasn't the case, we have to remember that the modern diagnostic techniques like fMRI and CT scans didn't exist at that point in time, so really anyone's hypothesis could have been correct because there wasn't any way to tell.
If that sounds like a faulty basis to perform a surgery on…well, it is. Especially a surgery like a lobotomy. Initially, the procedure was performed in an operating room, with the patient under anesthesia. Holes would be drilled into the front and back of the skull, and then alcohol was injected into the front hole to dissolve the white matter.
Horrifying though that is, for Walter Freeman–a lobotomy pioneer–the procedure wasn't enough. Psychiatric hospitals and asylums were not exactly wealthy institutions, and many lacked the funds or facilities to perform the procedure outlined above.
An outpatient procedure was needed, one that could be performed with little training and relatively simple tools.
Illustration of the prefrontal cortex (highlighted in orange) from Gray's Anatomy.
The ice-pick cure
Freeman hit on the so-called ice pick lobotomy, known in clinical circles as a suborbital lobotomy, where an instrument that looked like an ice pick (hence the name) was placed into the corner of the eye, then hammered through the back of the skull into the brain.
Then the instrument was twisted around, destroying the prefrontal cortex's tissue. The instrument was withdrawn and then repeated on the other side.
No anesthesia was necessary, although usually patients were given electroshock therapy to knock them out before the procedure was performed. The surgery took approximately ten minutes.
Sounds pretty awful, right? Awful though it was, for many families this was the only option to attempt to cure their loved ones.
Sadly, in many cases the procedure was forced on people for less noble reasons, as families or caretakers who tired of trying to care for an unruly loved one saw the procedure as a way to make the patient more docile and easier to handle.
For these and other reasons, lobotomy became something of a craze (maybe a poor choice of words) in the fifties and sixties.
In truth, results from the procedure were mixed. There was no real precision involved, as the surgery was essentially performed blind. Some patients saw improvement of symptoms with no significant side effects.
Other patients saw their symptoms become worse, to the point where some became suicidal. Still others reverted back to a child-like mentality where they acted essentially like a full grown toddler.
Some, including John Fitzgerald Kennedy's sister Rosemary, became little more than vegetables. In all groups, seizures were a common side effect.
End of an era
Lobotomies fell out of vogue with the rise of antipsychotic medications like chlorpromazine, thorazine, and others. These drugs could have similar effects as lobotomies, but with less risk of permanent brain injury or death.
As for Walter Freeman, he continued to champion the procedure even as the psychiatric world moved on. He performed the final lobotomy of his career in February, 1967. His patient was named Helen Mortenson, and she died later of a brain hemorrhage.
A before-and-after photo comparison of a lobotomy patient from the Freeman and Watts collection.
Freeman's career ended with her death. he spent the rest of his life traveling the country in a camper, trying to reconnect with his former patients, to show that his now-infamous procedure had improved their lives. He died of cancer in 1972.
Today, lobotomies are not performed, although in their place a similar sounding but altogether different procedure has arisen – the loboectomy.
This procedure essentially separates the two hemispheres of the brain, and it is used in severe cases of epilepsy to reduce the risk of permanent brain injury from epileptic seizures.
Psychiatry in particular and medicine in general has come a long way in the past sixty-odd years. It's easy to look back now from our era of advanced technology and be horrified at this barbaric procedure.
And we should be, because this was an often ineffective and many times unnecessary procedure inflicted on people, often without their consent, by care givers who simply wanted to silence them.
However, in the cases where the procedure was undertaken in good faith it did provide hope for those in suffering, and while in some circles it was criticized frankly at the time there was no better alternative.
Sources: "'My Lobotomy': Howard Dully's Journey." NPR.org. November 16, 2005. NPR. May 18, 2014; "Introduction: The Lobotomist." American Experience. PBS.org. May 18, 2014; Levinson, Hugh. "The Strange and Curious History of Lobotomy." BBC.com. November 8, 2011. BBC News
Hillary Clinton Claims Global Warming Is Killing 500,000 People Per Year


Speaking at this year's UN Climate Change Conference in the
United Arab Emirates over the weekend, Hillary Clinton engaged in some
more climate change fearmongering.
She said extreme heat, due to global warming, kills 500,000 people
per year and that the majority of the victims are "women and girls."
Without data to back her allegations, Clinton claimed: "We're seeing and
beginning to pay attention and to count and record the deaths that are
related to climate and by far the biggest killer is extreme heat"
InfoWars reports: That's right, she "knows" based on estimates that they "probably could" measure the number of deaths.
Clinton continued, "Even in Europe last summer, which has the ability to count and figure out what happened, they recorded 61,000 deaths because of the heat in Europe. We don't have that kind of number yet from Africa, Asia, Latin America, but we know and estimate that we probably could measure about 500,000 deaths. And, the majority of those are women and girls, and particularly pregnant women."
The failed presidential candidate's comment is debatable at best and more than likely a flat-out lie.
A 2021 peer-reviewed study in the Lancet found deaths during cold weather were much more common than heat-related deaths throughout Australia for nearly two decades.
In 2022, the Lancet published another study finding cold weather deaths in England and Wales from 2000 to 2019 were astronomically higher than hot weather deaths.
"Each year in England and Wales, there were on average nearly 800 excess deaths associated with heat and over 60,500 associated with cold between 2000 and 2019," The Lancet Planetary Health study stated.
GOP presidential candidate Vivek Ramaswamy also recently posted about cold weather killing more people than heat, calling the claim, "An inconvenient TRUTH for the Climate Cult."
More and more people are waking up to the globalist climate scam being used to roll out a dystopian technocracy enslaving humanity while the elite live in luxury.
Private Jets Headed To Global Warming Conference "Literally Frozen On Runway"

While
world leaders spoke at a 'global warming' conference in Dubai, located
in the heart of the Arabian Desert, discussing the usual: banning gas
stoves, cow farts, and petrol-powered vehicles, a powerful snowstorm
grounded all flights at Munich Airport in Germany. 
"Private jets
in Munich on the way to Dubai global warming conference are literally
frozen on the runway, which has turned into a glacier," said Ryan Maue, a
meteorologist and former NOAA chief scientist. 
Private
jets in Munich on the way to Dubai global warming conference are
literally frozen on the runway, which has turned into a glacier. https://t.co/Q2s9J5cLkE
— Ryan Maue (@RyanMaue) December 2, 2023
All flights have been canceled at Munich Airport. 
What
Munich Airport traffic usually looks like on a Saturday afternoon
compared to today as the airport has closed due to heavy snowfall. MUC
is expected to reopen tomorrow at 0500 UTC.
Nearly 600 flights at MUC canceled today. pic.twitter.com/1sVaeqSiWr
— Flightradar24 (@flightradar24) December 2, 2023
If not in years, Munich might have received the most significant snowfall on record. 
With 44 cm left on the ground this morning, Munich, Germany has officially experienced its biggest December snowstorm on record.
pic.twitter.com/qMqEHoQiLj
— Nahel Belgherze (@WxNB_) December 2, 2023
Another inconvenient truth… 
Europe hasn't seen a snow cover like this since 2010—60% is blanketed in white! ❄️ pic.twitter.com/zuDB1GfkxM
— Xavi Ruiz (@xruiztru) December 1, 2023
If
world leaders actually believed in global warming, they would've not
flown private jets to the desert. Furthermore,  having a global warming
conference in an area where it snows is just bad optics for these
virtue-signaling elites.