Alex Jones Stops Child Traffickers From Illegally Smuggling Kids At the Border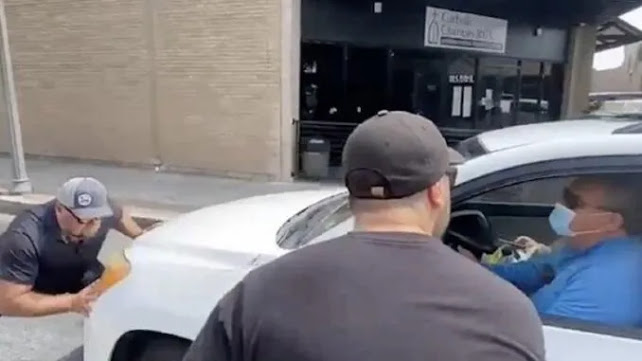 Alex Jones was filmed on Wednesday stopping smugglers from illegally transporting children at the U.S.-Mexico border. While documenting the border crisis in Texas, Jones and his crew witnessed a man secretly shoving several young kids into the luggage compartment in the back of his vehicle.
According to Jones, children were being taken "from the dirt floor child camp under the International Bridge in McAllen" to a processing camp in Donna, TX.
The migrants were then transported to a COVID processing center in downtown McAllen, before being brought to Catholic Charities of the Rio Grande Valley.
Thegatewaypundit.com reports: The charity, according to the Infowars report, provides the illegal migrants with airplane or bus tickets to any city they choose in the US and a debit card with $1,200 per person. They are then transported by staff to the airport or bus station. On their website, they claim to "have assisted" over 23,000 individuals who have illegally travelled into this country.
"When the crew was walking to the Christian Charity center near the bus station, they witnessed five children and an adult exiting the center and being loaded in a hatch back car," Infowars reports. "Three of these children were loaded into the luggage compartment where no seat belts were present. This video picks up where the crew sprung into action."
Jones immediately stood in front of the vehicle to prevent it from moving, while members of his crew attempted to get police to the scene.
Investigative journalist Drew Hernandez was also present and demanding that police intervene.
After police arrived, the driver removed the children from the back of the vehicle and brought them back inside the building. He claimed that their mother was with them.
Hillary Clinton Claims Global Warming Is Killing 500,000 People Per Year


Speaking at this year's UN Climate Change Conference in the
United Arab Emirates over the weekend, Hillary Clinton engaged in some
more climate change fearmongering.
She said extreme heat, due to global warming, kills 500,000 people
per year and that the majority of the victims are "women and girls."
Without data to back her allegations, Clinton claimed: "We're seeing and
beginning to pay attention and to count and record the deaths that are
related to climate and by far the biggest killer is extreme heat"
InfoWars reports: That's right, she "knows" based on estimates that they "probably could" measure the number of deaths.
Clinton continued, "Even in Europe last summer, which has the ability to count and figure out what happened, they recorded 61,000 deaths because of the heat in Europe. We don't have that kind of number yet from Africa, Asia, Latin America, but we know and estimate that we probably could measure about 500,000 deaths. And, the majority of those are women and girls, and particularly pregnant women."
The failed presidential candidate's comment is debatable at best and more than likely a flat-out lie.
A 2021 peer-reviewed study in the Lancet found deaths during cold weather were much more common than heat-related deaths throughout Australia for nearly two decades.
In 2022, the Lancet published another study finding cold weather deaths in England and Wales from 2000 to 2019 were astronomically higher than hot weather deaths.
"Each year in England and Wales, there were on average nearly 800 excess deaths associated with heat and over 60,500 associated with cold between 2000 and 2019," The Lancet Planetary Health study stated.
GOP presidential candidate Vivek Ramaswamy also recently posted about cold weather killing more people than heat, calling the claim, "An inconvenient TRUTH for the Climate Cult."
More and more people are waking up to the globalist climate scam being used to roll out a dystopian technocracy enslaving humanity while the elite live in luxury.
Private Jets Headed To Global Warming Conference "Literally Frozen On Runway"

While
world leaders spoke at a 'global warming' conference in Dubai, located
in the heart of the Arabian Desert, discussing the usual: banning gas
stoves, cow farts, and petrol-powered vehicles, a powerful snowstorm
grounded all flights at Munich Airport in Germany. 
"Private jets
in Munich on the way to Dubai global warming conference are literally
frozen on the runway, which has turned into a glacier," said Ryan Maue, a
meteorologist and former NOAA chief scientist. 
Private
jets in Munich on the way to Dubai global warming conference are
literally frozen on the runway, which has turned into a glacier. https://t.co/Q2s9J5cLkE
— Ryan Maue (@RyanMaue) December 2, 2023
All flights have been canceled at Munich Airport. 
What
Munich Airport traffic usually looks like on a Saturday afternoon
compared to today as the airport has closed due to heavy snowfall. MUC
is expected to reopen tomorrow at 0500 UTC.
Nearly 600 flights at MUC canceled today. pic.twitter.com/1sVaeqSiWr
— Flightradar24 (@flightradar24) December 2, 2023
If not in years, Munich might have received the most significant snowfall on record. 
With 44 cm left on the ground this morning, Munich, Germany has officially experienced its biggest December snowstorm on record.
pic.twitter.com/qMqEHoQiLj
— Nahel Belgherze (@WxNB_) December 2, 2023
Another inconvenient truth… 
Europe hasn't seen a snow cover like this since 2010—60% is blanketed in white! ❄️ pic.twitter.com/zuDB1GfkxM
— Xavi Ruiz (@xruiztru) December 1, 2023
If
world leaders actually believed in global warming, they would've not
flown private jets to the desert. Furthermore,  having a global warming
conference in an area where it snows is just bad optics for these
virtue-signaling elites.