US Navy's "UFO Patents" include device that can "engineer reality"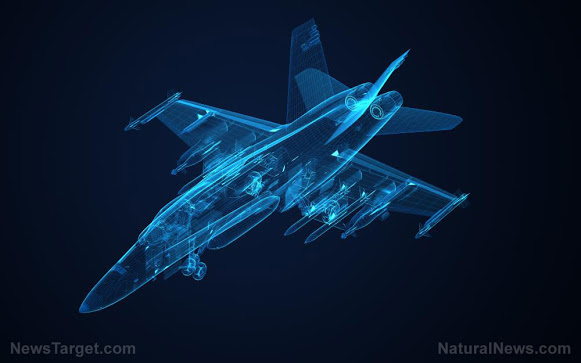 (Planet-Today) A series of patents for some futuristic and outlandish technology held by the U.S. Navy recently surfaced. Dubbed "the UFO patents," these include inventions by Dr. Salvador Cezar Pais that have been claimed to be able to "engineer reality."
(Article by Franz Walker republished from NaturalNews.com)
Several of the patent, such as one describing a "hybrid aerospace-underwater craft" that can supposedly reach extreme speeds on water and in space, sound so farfetched that a primary patent examiner at the Patent and Trademark Office (USPTO) couldn't help but double-check. But James Sheehy, Chief Technology Officer of the Naval Aviation Enterprise, personally wrote a letter to the examiner stating that the U.S. needed to patent the technology since the Chinese were also "investing significantly" in these same technologies.
Pais' patents describe outlandish, paradigm-changing technologies
Most of the patents are the work of Pais, whose various patents over the years have attracted attention for their futuristic-sounding technology and potential military and energy-producing applications.
One of Pais' patents describes an aerospace-underwater craft capable of incredible speed and maneuverability underwater, in the air and in even out in space. The cone-shaped craft can supposedly achieve this by creating a "quantum vacuum" around itself with a very dense polarized energy field. This field allows it to repel any molecule that comes into contact with the craft, no matter the medium.
At the same time, manipulating "quantum field fluctuations in the local vacuum energy state" would supposedly help reduce the craft's inertia, giving it its extreme maneuverability.
Furthermore, the patent claims that if the vacuum-creating technology can be engineered, it would allow scientists to "engineer the fabric of our reality at the most fundamental level." This could possibly lead to significant advancements in aerospace propulsion and power generation, on top of other reality-changing outcomes.
Other patents by Pais also stem from similar thinking, outlining pieces of technology necessary to make his creations come to fruition. One idea, which he also presented in a paper in 2019, proposes a system that would be able to achieve superconductivity at room temperatures. Doing so with existing technology currently requires very low temperatures.
Pais said that such a technology would be "a highly disruptive technology, capable of a total paradigm change in Science and Technology."
Meanwhile, another Pais patent describes an electromagnetic generator that could create an "impenetrable shield" for military assets based on sea, land and space.
Patents highlight mysterious nature of Salvatore Pais
The outlandish nature of Pais' patents has led many to wonder about what exactly is going on with them. One theory is that the patents simply proactive, looking to make sure that the Navy already has them when the technologies become feasible. Another is that they're simply part of a misinformation campaign meant to lead the country's adversaries on a wild goose chase.
Adding to the mystery is Pais himself. Little is known about Pais and he has virtually no presence on the web. What is known is that he supposedly received a Ph.D. in Mechanical and Aerospace Engineering from Case Western Reserve University in 1999.
Pais at the Naval Air Warfare Center Aircraft Division (NAWCAD) headquarters at Naval Air Station Patuxent River in Maryland – the Navy's top aircraft test base – before transferring to the Navy's Strategic Systems Program organization in June 2019. He has since transferred to the U.S. Air Force this past February.
The Navy itself has only recently opened up about the results of experiments involving Pais' patents.
In a recent email to The Drive, NAWCAD Communications Director Timothy Boulay confirmed that testing on Pais' electromagnetic field generator took place between October 2016 and September 2019. As part of this, Boulay confirmed that Pais' claims could not be proven.
But it remains unclear why the Navy was hesitant to talk about the experiments until recently. This was despite the fact that it knew all along that the experiments resulted in what has been described to be a "scientific dead-end" where Pais' theories were not verified.
Is the U.S. Navy (and soon, the U.S. Air Force) working with Pais in the hopes that some of the technologies he envisions actually come to fruition? Is this all a massive ruse to confuse American's enemies? Does Pais even actually exist?
Follow MilitaryTechnology.news for more on this and other mysterious projects the U.S. military may be working on.
Sources include:
The story of Bigfoot, hit by a train in 1880

Cryptozoologist Scott White of the International Bigfoot Society spoke to an elderly woman named Rita Swift, who told him a story told by her grandfather.
Her grandfather's name was George Huhn, and in the late 19th century he worked as an engineer on a train that ran along the US-Canada border.
One night, while they were passing through a forest somewhere in the middle of nowhere, their train hit something on the tracks and it was something so large that it damaged the cowcatcher – a device made of metal rods that was attached to the front of the train.
Below is her story:
"My name is Rita Swift. I live in Orange Co. California. In 1945, my grandfather George Huhn told me a story about the time his train hit a large Ape creature and bent the cow catcher on his train.
"This was in the 1880's and he was an engineer on a train that ran along the borders of the US and Canada. It was night, and all of a sudden their train hit something and they stopped the train, because the cowcatcher was dragging on the tracks.
At first they thought it was a moose, but when they all got out with their lanterns, they discovered this huge smelly Ape, hung up in the catcher. They had only lanterns for light, and they were in the forest, basically in the middle of nowhere.
"It took most of the crew to pick it up and lift it into an open flat car. They noticed it was structured differently from a Gorilla of Ape, and smelled so bad, the crew got the smell on them.
"They left it on the flat car, because it took at least 2 hours to straighten out the cow catcher. Good thing my great grandfather was also a blacksmith. They were at least 2 hours from the next water tower and station of sorts.
"The break man noticed Indians sneaking around in the forest, but thought they had disappeared. When they were ready to go, the crew checked on their smelly passenger, but he was gone.
"They looked for tracks and decided the Indians had dragged it away into the forest and across a stream. They found the tracks and pieces of hair and of course the smell. They washed up in the stream and were glad to get rid of it. The smell had even remained in the flat car.
"My great grandfather took pieces of the hair back, and gave it to a doctor he knew in Michigan. They had all decided the creature had escaped from a circus or sideshow. Great grandfather thought it was 8 feet tall and weighed at least 500 lbs.
"It took six men to carry it off the tracks. When my daughter was a student at California State University at Fullerton in 1986, I met a Professor of Anthropology. The reason I was there, was I donated Indonesian Fighting Swords to her dept.
"They were very old and had belonged to my husband. I just didn't feel comfortable having them in my home anymore. I noticed in her office she had information on the walls about Big Foot. I told her the story and she believed it was documented.
"My grandfather said the Ape had a different face than what he remembered of a Gorilla. He said the teeth were like humans, but extremely wide and large. The body hair was thick dark brown, with light tipping and the eyes were large and dark. He said they agreed it was a male because of it's genitalia.
"Grandfather continued as a railroad engineer on the Colorado Wyoming line until he retired in 1925. He fought off outlaws with his six shooter from the cab. I have a photo of Grandfather with the crew, stopped in Eads, Colorado, with a large cannon hole in the side of the engine.
"This was in 1898, when some outlaws on horses pulled up an old Confederate cannon along the tracks, and fired at the engine. The crew chased them away, but left the train damaged. They were on their way to Durango carrying bank money from Denver.
"Grandfather would never tell stories that were not true. He was a devout Methodist, and said his prayers so loud every night, the whole house could hear him.
"He had originally come from Amish in Mercer, Co., Pa., but left to fight for the Union in the Civil War. His father did not accept his decision, and he never returned to Mercer Co. He was born in 1845 and died in 1947, in Claremont California."
Moehau: New Zealand's Bigfoot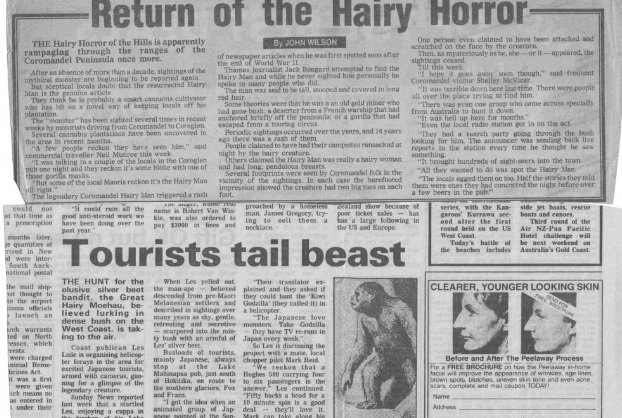 Tony Lucas's depiction of a Moehau. Photo:Cryptidz.Fandom
The Moehau is a legendary monster in Maori mythology, originating from the central plateau region of the North Island of New Zealand. It is said to be a large, hairy, man-like creature that inhabits the dense forests of the region and is known for its fearsome roar and aggressive behavior.
Description of the Moehau
The Moehau is described in Maori legend as a large, hairy, human-like creature with a fierce appearance. It is said to have long arms that reach down to its knees, and sharp claws on its hands and feet. Its hair is described as dark and shaggy, covering its entire body, and its face is said to be savage and frightening.
The Moehau is typically depicted as being six-seven feet tall, with a powerful build and an intimidating presence. Some legends describe the creature as having a mane of hair around its neck and glowing eyes that can be seen from a distance in the darkness of the forest.
Moehau Sightings
Reports of sightings of the Moehau are rare and mainly come from the central plateau region of the North Island of New Zealand, where the creature is said to inhabit. However, these reports are largely anecdotal and lack concrete evidence.
The sightings are often described as fleeting and difficult to verify, with people claiming to have seen a large, hairy, human-like creature moving quickly through the forest or hearing its distinctive roar echoing through the trees.
The most common evidence of the Moehau is found in the form of footprints.
Rex Gilroy holds up plaster casts of possible Moehau footprints. Photo: Haunted Auckland
In 1903 some very large footprints were found in the Karangahake Gorge in the Coromandel.
In 1971 a trail of huge footprints was discovered on snow-covered ground by a park ranger in the Karangahake Gorge.
In 1983 a man hunting a deer came across fresh footprints near the Heaphy River that appeared to be far larger then a normal human's.
In 1991 in the Cameron Mountains of the South Island some campers hastily abandoned their camp after finding some unsettlingly large footprints near their site.
Newspaper articles about the Moehau. Photo: Haunted Auckland
Several witnesses report having been attacked or chased by a Moehau. In 1970 some campers in the Coromandel abandoned their camp after a 6ft tall hairy man beast continued to screamed loudly and threw rocks at them.
Just two years later in the same area a hunter watched as a 6ft tall, ape-like creature worked its way through the bush on the other side of the gully. The hunter went to investigate and found large footprints left behind.
An undated report in New Zealand's Sunday News told of the owner of the Lake Mahinapua Pub on the South Island's West Coast regularly having his garden raided by a huge man-beast. The Moehau was particularly fond of his silver beet.
Killed by Moehau?
A few early account existed where people were reportedly killed by Moehau. The headless body of a prospector was found in the Martha Mine in 1882 and was blamed on a Moehau. A few years later, not far from the Martha Mine, a woman was dragged from her shack and found dead with a snapped neck a few hundred meters away.
Was the Moehau an Escaped Gorilla?
The theory that the Moehau is an escaped gorilla is a relatively recent and controversial one. It suggests that the creature may have escaped from a zoo or animal park in New Zealand and survived in the wild, leading to reports of sightings and encounters. This theory is based on the idea that the description of the Moehau as a large, hairy, man-like creature with sharp claws and a fearsome appearance is consistent with the physical characteristics of gorillas.
However, this theory is largely speculative and lacks concrete evidence. Gorillas are native to Africa and are not found in the wild in New Zealand, so it is unlikely that one could have escaped and survived in the wild there. Additionally, the forested regions of the central plateau are remote and inhospitable, making it unlikely that an escaped gorilla would be able to thrive there. The majority of experts in the field reject the idea that the Moehau is an escaped gorilla, and it remains a creature of legend and myth in Maori culture.
A video describing the Moehau, Maori Bigfoot
Have you ever seen a Moehau or something similar in your neck of the woods? Let us know in the comments!
If you enjoyed this article you may be interested in the Moehau's cousins: Bigfoot and Batutut.