Two Black Girls Murder Uber Driver in Broad Daylight, Walk Past His Body to Look for Cellphone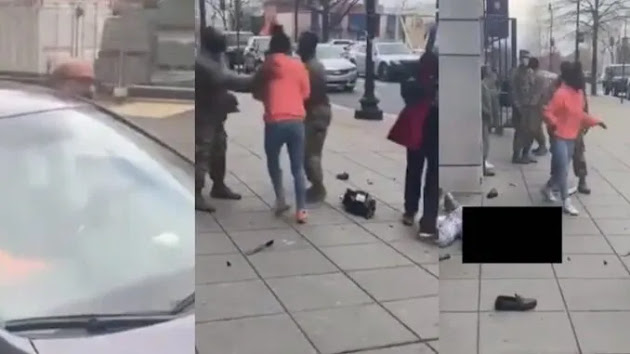 Two African American teenage girls have been charged with felony murder after killing an Uber driver in DC during an armed carjacking. 
Instead of fleeing the scene, the girls were caught on camera calmly looking for their cellphone inside the vehicle right next to the victim's dead body.
The girls are only 13 and 15 years old
Thegatewaypundit.com reports: Their Pakistani victim, Mohammad Anwar, 66, of Springfield, Virginia, was driving for Uber Eats when the girls attempted to steal his car and tased him.
The horrific scene was caught on camera by a witness.
Warning, the video is extremely graphic and disturbing:
The incident took place on Tuesday and murder charges were announced on Wednesday.
"We are devastated by this tragic news and our hearts go out to Mohammad's family during this difficult time," an Uber spokesperson said, according to affiliate WTOP. "We're grateful the suspects have been arrested and thank the Metropolitan Police Department for their diligence with this investigation."

Private Jets Headed To Global Warming Conference "Literally Frozen On Runway"

While
world leaders spoke at a 'global warming' conference in Dubai, located
in the heart of the Arabian Desert, discussing the usual: banning gas
stoves, cow farts, and petrol-powered vehicles, a powerful snowstorm
grounded all flights at Munich Airport in Germany. 
"Private jets
in Munich on the way to Dubai global warming conference are literally
frozen on the runway, which has turned into a glacier," said Ryan Maue, a
meteorologist and former NOAA chief scientist. 
Private
jets in Munich on the way to Dubai global warming conference are
literally frozen on the runway, which has turned into a glacier. https://t.co/Q2s9J5cLkE
— Ryan Maue (@RyanMaue) December 2, 2023
All flights have been canceled at Munich Airport. 
What
Munich Airport traffic usually looks like on a Saturday afternoon
compared to today as the airport has closed due to heavy snowfall. MUC
is expected to reopen tomorrow at 0500 UTC.
Nearly 600 flights at MUC canceled today. pic.twitter.com/1sVaeqSiWr
— Flightradar24 (@flightradar24) December 2, 2023
If not in years, Munich might have received the most significant snowfall on record. 
With 44 cm left on the ground this morning, Munich, Germany has officially experienced its biggest December snowstorm on record.
pic.twitter.com/qMqEHoQiLj
— Nahel Belgherze (@WxNB_) December 2, 2023
Another inconvenient truth… 
Europe hasn't seen a snow cover like this since 2010—60% is blanketed in white! ❄️ pic.twitter.com/zuDB1GfkxM
— Xavi Ruiz (@xruiztru) December 1, 2023
If
world leaders actually believed in global warming, they would've not
flown private jets to the desert. Furthermore,  having a global warming
conference in an area where it snows is just bad optics for these
virtue-signaling elites. 
Gaza war worsening climate change threats, says Jordan's king

Jordan's king said Friday that war was making the threats from climate change even worse in the Gaza Strip, as hostilities resumed between Israel and Hamas after a week-long truce.
King Abdullah II told the UN's COP28 climate talks in Dubai that "we
cannot talk about climate change in isolation from the humanitarian
tragedies unfolding around us".
"In Gaza, over 1.7 million Palestinians have been displaced from
their homes. Tens of thousands have been injured or killed in a region
already on the front lines of climate change," he told a gathering of
world leaders.
"The massive destruction of war makes the environmental threats of water scarcity and food insecurity even more severe.
"In Gaza our people are living with little clean water and the bare
minimum of food supplies, as climate threats magnify the devastation of
war."
The Gaza war has been a major talking point at COP28, where
delegations from around the world will try to hammer out a fresh
agreement to tackle the climate crisis.
The conflict flared after Palestinian Hamas militants killed about
1,200 people, mostly civilians, and kidnapped about 240, according to
Israeli authorities, in an unprecedented attack on October 7.
In response, Israel vowed to eliminate Hamas and unleashed an air and
ground military campaign in Gaza that the Hamas government says killed
around 15,000 people, also mostly civilians.
Iran's delegation walked out of the COP28 talks on Friday in protest
at Israel's presence, which delegation chief Ali Akbar Mehrabian said
was "contrary to the goals and guidelines of the conference", according
to the official IRNA news agency.
Israeli President Isaac Herzog is conducting talks on hostage
releases on the sidelines of the conference, while his Palestinian
counterpart Mahmoud Abbas cancelled a planned visit.
Agence France-Presse (AFP) is a French international news agency
headquartered in Paris, France. Founded in 1835 as Havas, it is the
world's oldest news agency.