COVID-19 is code for eliminating masculinity and advancing feminism … next "treatment" involves injecting men with female hormones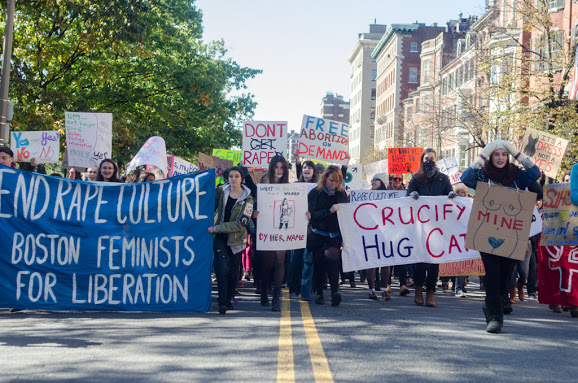 (Planet-Today) A study out of California claims that injecting men with estrogen and other female hormones will "cure" the Wuhan coronavirus (Covid-19), revealing that this whole charade is once again about destroying men and elevating feminism.
(Article by Ethan Huff republished from NaturalNews.com)
Sara Ghandehari from Cedars-Sinai Medical Center in Los Angeles says she tested the effects of progesterone injections in 40 men who tested "positive" for the Chinese virus. The alleged result was that some of the men experienced decreased symptoms, which Ghandehari says serves as "evidence" that female sex hormones can help men stay "safe" and "healthy."
"One group acted as a control sample, for comparison, and received only the standard medical care given at that time for the disease," a summary of the paper explains.
"The experimental group, meanwhile, also received 100-milligram injections of progesterone twice daily for five days during the time they were hospitalized. All the patients were assessed by the team daily for either 15 days or until they were discharged from hospital."
On the seventh day, each participating man was ranked on a seven-point scale of clinical status, with seven meaning "not hospitalized, no limitations on activities," and one meaning "death."
Compared to the control group, the men that received female hormone therapy supposedly scored a median of 1.5 points higher on the scale than men whose natural hormones remained intact.
Though the sample size was small and means nothing since it was composed primarily of obese people, who are already prone to sickness being the most likely demographic to suffer and die after testing "positive" for the Wuhan flu, the mainstream media ran with the results as if they "prove" that effeminizing men will "cure" the spread of Chinese germs.
"Furthermore, while the trial was randomized and featured a control group, it was also unblinded – meaning the research team, physicians, and patients all knew who had received the experimental treatment," reports further indicated.
More of the latest news about the Chinese virus, by the way, can be found at Pandemic.news.
No, feminizing men will not "cure" the Chinese virus
Such junk science never would have been taken seriously had it not supported the anti-male agenda of the establishment.
Had this same exact study been conducted on hydroxychloroquine (HCQ) and green tea, for instance, producing the same results, the media would have ignored or denigrated it as defying what the "experts" claim about how only masks and vaccines prevent the "spread" of Chinese germs.
Not only does this junk study drum up more fear about the Wuhan flu, but it also establishes the notion that being a man is somehow "high risk" for suffering complications from a "positive" Wuhan coronavirus (Covid-19) test. This is like killing two birds with one stone for the establishment.
At least Ghandehari admits that her study has some serious "limitations" and should not necessarily be taken as gospel truth. Too bad the fake news media missed the memo as it pushes men to feminize themselves for the sake of "science."
"Further research is necessary in larger, more heterogeneous populations, including postmenopausal women and at other treatment centers," Ghandehari is quoted as saying.
Hopefully, our readers are smart enough to see the agenda being pushed with all this. Destroying male hormones is never a good idea, especially since the male population at large is already on the verge of no longer being able to reproduce without "technology."
"Why not just use known and effective Covid-19 treatments instead of using hospitalized patients as guinea pigs," asked one commenter at the Daily Mail Online.
"In that case, Democrat men should be immune with all that femininity coursing through their veins," joked another.
Sources for this article include:
Private Jets Headed To Global Warming Conference "Literally Frozen On Runway"

While
world leaders spoke at a 'global warming' conference in Dubai, located
in the heart of the Arabian Desert, discussing the usual: banning gas
stoves, cow farts, and petrol-powered vehicles, a powerful snowstorm
grounded all flights at Munich Airport in Germany. 
"Private jets
in Munich on the way to Dubai global warming conference are literally
frozen on the runway, which has turned into a glacier," said Ryan Maue, a
meteorologist and former NOAA chief scientist. 
Private
jets in Munich on the way to Dubai global warming conference are
literally frozen on the runway, which has turned into a glacier. https://t.co/Q2s9J5cLkE
— Ryan Maue (@RyanMaue) December 2, 2023
All flights have been canceled at Munich Airport. 
What
Munich Airport traffic usually looks like on a Saturday afternoon
compared to today as the airport has closed due to heavy snowfall. MUC
is expected to reopen tomorrow at 0500 UTC.
Nearly 600 flights at MUC canceled today. pic.twitter.com/1sVaeqSiWr
— Flightradar24 (@flightradar24) December 2, 2023
If not in years, Munich might have received the most significant snowfall on record. 
With 44 cm left on the ground this morning, Munich, Germany has officially experienced its biggest December snowstorm on record.
pic.twitter.com/qMqEHoQiLj
— Nahel Belgherze (@WxNB_) December 2, 2023
Another inconvenient truth… 
Europe hasn't seen a snow cover like this since 2010—60% is blanketed in white! ❄️ pic.twitter.com/zuDB1GfkxM
— Xavi Ruiz (@xruiztru) December 1, 2023
If
world leaders actually believed in global warming, they would've not
flown private jets to the desert. Furthermore,  having a global warming
conference in an area where it snows is just bad optics for these
virtue-signaling elites. 
Gaza war worsening climate change threats, says Jordan's king

Jordan's king said Friday that war was making the threats from climate change even worse in the Gaza Strip, as hostilities resumed between Israel and Hamas after a week-long truce.
King Abdullah II told the UN's COP28 climate talks in Dubai that "we
cannot talk about climate change in isolation from the humanitarian
tragedies unfolding around us".
"In Gaza, over 1.7 million Palestinians have been displaced from
their homes. Tens of thousands have been injured or killed in a region
already on the front lines of climate change," he told a gathering of
world leaders.
"The massive destruction of war makes the environmental threats of water scarcity and food insecurity even more severe.
"In Gaza our people are living with little clean water and the bare
minimum of food supplies, as climate threats magnify the devastation of
war."
The Gaza war has been a major talking point at COP28, where
delegations from around the world will try to hammer out a fresh
agreement to tackle the climate crisis.
The conflict flared after Palestinian Hamas militants killed about
1,200 people, mostly civilians, and kidnapped about 240, according to
Israeli authorities, in an unprecedented attack on October 7.
In response, Israel vowed to eliminate Hamas and unleashed an air and
ground military campaign in Gaza that the Hamas government says killed
around 15,000 people, also mostly civilians.
Iran's delegation walked out of the COP28 talks on Friday in protest
at Israel's presence, which delegation chief Ali Akbar Mehrabian said
was "contrary to the goals and guidelines of the conference", according
to the official IRNA news agency.
Israeli President Isaac Herzog is conducting talks on hostage
releases on the sidelines of the conference, while his Palestinian
counterpart Mahmoud Abbas cancelled a planned visit.
Agence France-Presse (AFP) is a French international news agency
headquartered in Paris, France. Founded in 1835 as Havas, it is the
world's oldest news agency.